Looking for a little holiday cheer?  Delight in over 20 illuminated trees throughout Morro Bay during the month of December.  And these aren't just any trees – the town celebrates its commercial fishing roots during the festive period with lighted holiday displays made from old crab pots!  For the perfect evening activity, that the whole family can enjoy, use this guide and visit all Morro Bay's crab pot trees.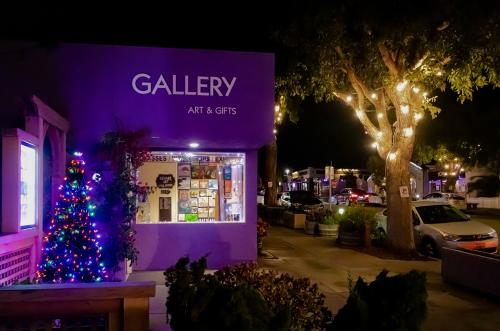 How to tour the crab pot holiday trees:
This time of year, the sky gets dark early, making it the perfect time to fully appreciate the lights.  After the sunset it's time to take a walk or a drive and become a part of the age-old tradition of looking at outdoor holiday lights.    
By Car –
The tree hunt starts as soon as you take the Morro Bay Boulevard exit and pull off Highway 1 into town.  Or wait until after checking into your hotel.  Jump in the car, bring some warm drinks, turn on the holiday tunes, and watch out the windows as trees pass by.  This guide of Downtown and the Embarcadero is the perfect place to start before heading to the neighborhoods for more decorative lights.      
By Foot –
Take an after-dinner stroll past the crab-pot trees, gather friends and family for a festive tour of Morro Bay, and sing some carols along the way.  Visit all 19 locations taking food, drink, and shopping breaks along the way, or spread it out and see a couple each day.  You could even make it into an advent calendar activity where you check a tree off everyday of the month!   
(Access the complete interactive route for directions)
Don't miss:
This year, the Morro Bay Commercial Fisherman's Organization's large commercial crab pot tree (stop #10) is located on the waterfront in Anchor Park.  Topped with a crab instead of a star, you'll find this tree at the heart of the Embarcadero with uninterrupted views of the bay and Morro Rock – perfect for the family holiday photo-op.  Look for the Morro Bay selfie stop to help you line up the perfect shot!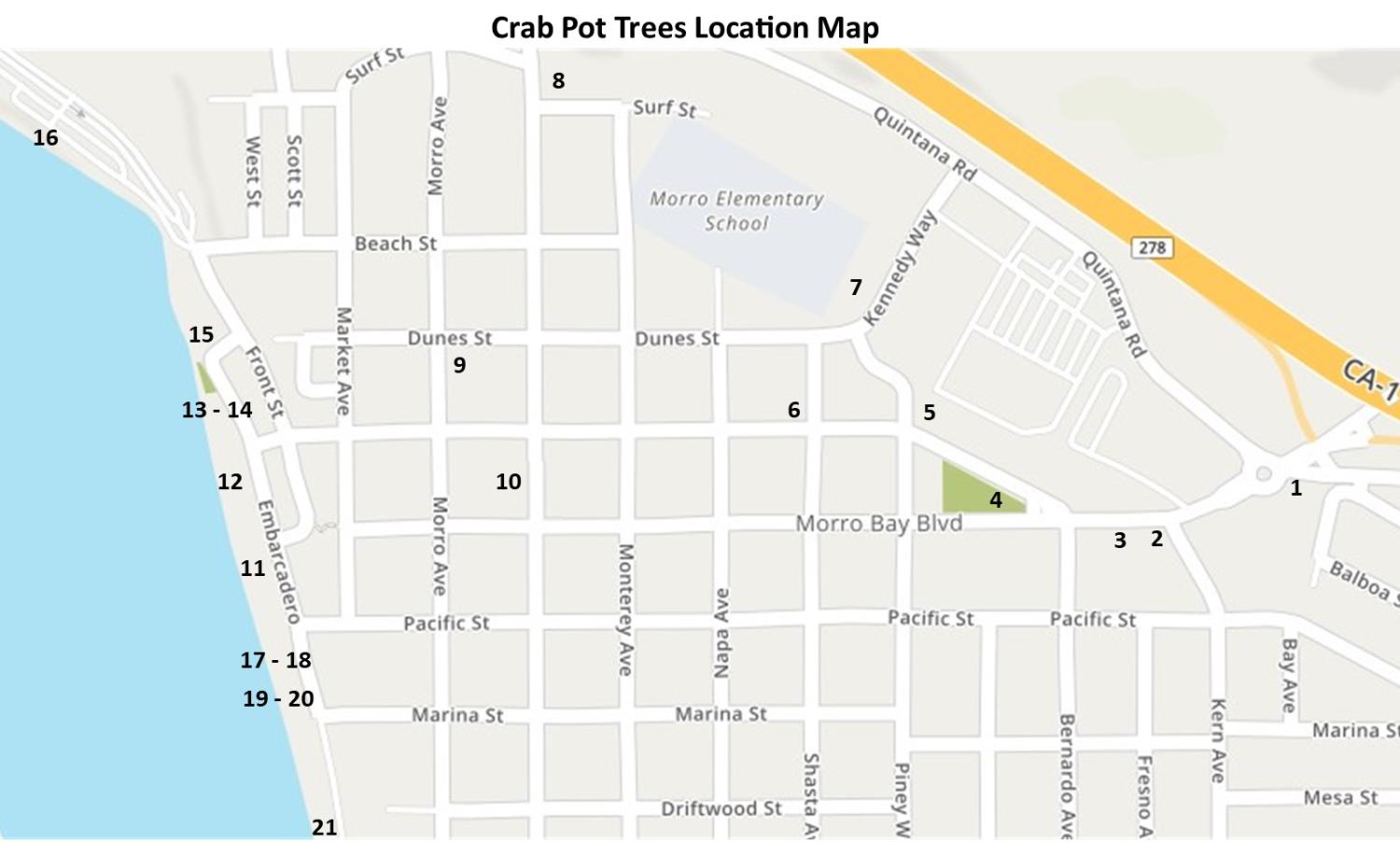 Sinclair Gas Station - Morro Bay Boulevard & Quintana Road
Pacific Premier Bank – 898 Morro Bay Boulevard
Morro Bay Police Station – 850 Morro Bay Boulevard
City Park Official City Tree – 734 Harbor Street
Morro Bay Fire Station – 715 Harbor Street
Morro Bay City Hall – 595 Harbor Street (look up)
Morro Bay Community Center – 1001 Kennedy Way
Masterpiece Hotel – 1206 Main Street
La Serena Hotel – 990 Morro Avenue
Art Center Morro Bay – 835 Main Street
The Mermaid Boutique - 725 Embarcadero
Under the Sea Gallery - 833B Embarcadero
Anchor Park Commercial Crab Pot Tree – 925 Embarcadero
Poppy – 911 Embarcadero
Giovanni's Fish Market & Galley – 1001 Front Street
South T-Pier – 1185 Embarcadero (three trees)
Tango – 699 Embarcadero
Windows on the Water – 699 Embarcadero
Suite 1 Gallery – 601 Embarcadero
Marina Square – 601 Embarcadero
Estero Inn – 501 Embarcadero
Local Tip: Still want more décor after touring all the crab pot trees?  Head to Hearst Castle decorated for the holidays...with a giant tree or two of its own. 
Morro Bay is ready for the holidays all month long.  With over 20 trees celebrating the town's commercial fishing history around town, use this guide to find them all!  And be sure to check out the event page for more festive activities or call the Visitor Center at 805-225-1633 for more information.