Indulge in a true Morro Bay tradition of Dungeness Crab for the holidays!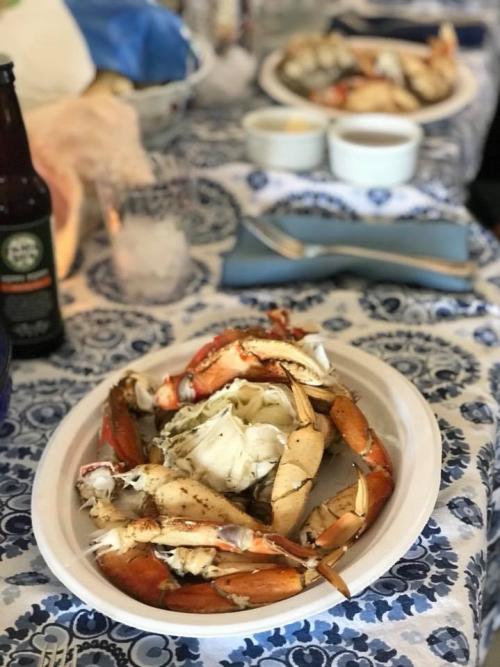 In Morro Bay we don't miss an opportunity to incorporate seafood into any occasion, and the festive period is no different.  This time of year is all about crab.  Dungeness crab is now available in the local fish markets - it time for all your New Year's celebrations.  Make this year stress free and easy by ordering pre-prepared fresh Dungeness crab for New Year's.
Dungeness is the main crab species caught off the California coast.  It is found in the clean waters of Morro Bay late November through late spring – perfect timing to secure a spot on the holiday table.  The flavor profile is often compared to lobster with a clean, delicate, slightly sweet taste but a softer texture.  Dungeness crab is easily distinguishable with a wide and dark purple shell. 
This season can be stressful with travel, parties, and gifts to buy.  So, take the stress out of your New Year's celebration and spend less time in the kitchen by ordering a Dungeness Crab feast!  Order crab in advance and get it pre-prepared – cooked, cleaned, cracked, and ready to enjoy.  Pick it up and bring it back to your vacation rental, or room where you're staying, for a festive dinner that looks elegant and special but is as easy as getting out the plates.  Oh, and it's delicious!
Where can you order fresh Dungeness Crab?
Giovanni's Fish Market & Galley
(805) 772-2123 | 1001 Front Street | giovannisfishmarket.com
Giovanni's Fish Market has been family owned and operated in Morro Bay for over 25 years and has a great reputation in the community. Dine out on Giovanni's patio or if you'd rather do the cooking yourself, you can buy Crab LIVE or COOKED on the spot, or call ahead of time and they'll have your order ready when you get there.  You can also stop by the live tank out front to see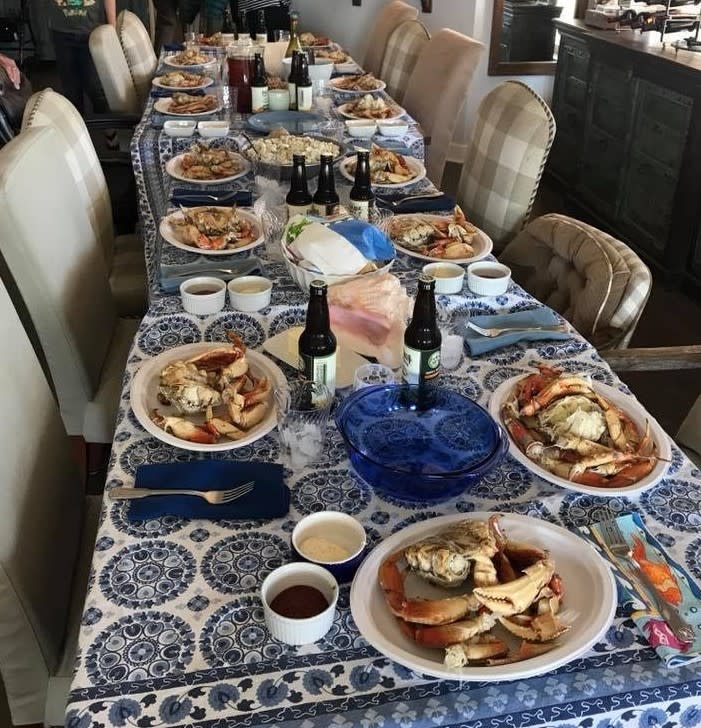 the Dungeness' purple shells firsthand. 
Tognazzini's Dockside Too Fish Market
(805) 772-8120 | 1235 Embarcadero | morrobaydockside.com
Tognazzini's Dockside Fish Market takes great pride in offering the highest quality local seafood available.  Boats arrive to their dock daily.  Catches are transferred directly from the boat to the case where you can pick your crab or cut of fish and its preparation.  Enjoy your meal on the outdoor patio as live music floats through the salty air or purchase fresh seafood back at your home.  Call for the catch of the day items.
Spencer's Fresh Market
(805) 772-8103 | 2650 Main Street | spencersfreshmarkets.com
Local grocer Spencer's Fresh Market also carries Dungeness crab if you're looking to purchase it fresh and prepare a meal back at your rental.  Just be sure to call ahead to make sure they have some in the case, or rest easy by pre-ordering in advance.
How far in advance do you need to pre-order?
During the holidays be sure to place your order 48 hours in advance of pick up.  After the festive season has past, only an hour or two notice is necessary. 
How much should you order?
Plan on about one crab per person if you're serving crab as a main or one crab for every two guests as an appetizer. 
Crab accompaniments:
Keep it simple with drawn butter, lemon, and old bay seasoning, or spice it up with a variety of dipping sauces.  Check out these recipes for some inspiration. 
And if you want to enjoy a chilled beverage with your crab, try a local buttery chardonnay, the traditional New Year's glass of champagne, or craft wheat beer which all pair nicely without overpowering the delicate crab meat. 
For New Year's, celebrate like a Morro Bay local with a table full of fresh Dungeness crab.  Tasty and easy, you can't go wrong with crab for the holidays!  Cooked, cleaned, cracked, and ready for you to ring in the new year Morro Bay style.  For more information call our local fish markets or the Visitor Center at (805) 225-1633.