Fall is finally here, meaning the long-awaited school and winter vacations are only weeks away. And, Morro Bay is as excited as you are.
During November and December, Morro Bay is a playground for kids and their parents. All children 12 and under that stay in a Morro Bay hotel receive a passport to several of the most kid-approved places in town. Your kids will enjoy FREE fun stuff, with more than $140 worth of offers enclosed in the passport. Pressure is off for parents, as it will lead you through a vacation the kids won't forget. Click HERE to learn more about this passport. 
Create a winter tradition in Morro Bay your whole family will enjoy (even your doggy). With breathtaking natural beauty and an inviting waterfront, the bay holds the setting for a variety of unique outdoor experiences. Here are some of our most kid-approved activities.
SHRED SOME DIRT: MORRO BAY BIKE PARK
Morro Bay hosts the only bike park in SLO County, with an intricate half-acre space dedicated to BMX and mountain bike lovers. Almost a year old, this park holds the heart of many bikers, both locals and visitors alike. Filled with trails, dirt jumps and obstacles, many kids (and adults, too!) spend hours navigating the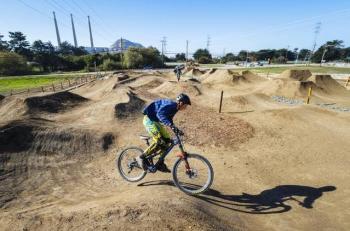 park. It is a safe and fun environment for riders of all ages and skill sets. The park is open from sunrise to sunset and is available to the public with no admission cost. Only non-motorized bicycles allowed. To check out bike rental options, click HERE.
KAYAK TO "ADVENTURE ISLAND:" THE SANDSPIT
The calm and protected waters of the bay make for perfect paddling, whether you're a first-time or seasoned kayaker. In a kayak, you will have access to much that is not visible from shore. Two dozen threatened or endanger species live in the area including the Peregrine Falcon, Brandt Goose, Brown Pelican, Sea Otter and Snowy Plovers. Bring your camera along to capture the sight of these unique creatures. However, one of the most treasured areas of Morro Bay is the 5-mile sandspit that forms the bay. Kayak across the bay to dock at this quiet landmass, and spend hours adventuring through the untainted dunes.Bring your lunch along as this is a peaceful location for a picnic.
WATCH THE LIVE BATTLE SAIL: BRING YOUR PIRATE HAT!
The Hawaiian Chieftain and Lady Washington will be visiting Morro Bay this year for an extended period of time!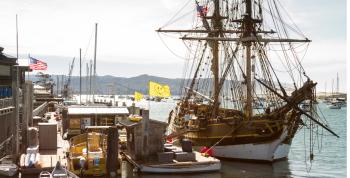 Come tour the tall ship replicas and enjoy reliving two of the most utilized ships in history. On December 9th and 10th, the ships will be engaging in a Battle Sail. This popular 3-hour event features booming cannons, close-quarter maneuvers, and a taste of 18th-century maritime. Children 12 and under must be accompanied by an adult. Dress like a pirate and join the fun! 
 The tall ships are also open for FREE tours as well as 2-hour adventure sails on the weekends. 
Lady Washington: Arrival November 23.
Hawaiian Chieftain: Arrival December 4.
Both ships will depart on December 12. 
Written by: Shannon McCallister
Shannon McCallister is a Central Coast native that grew up in Arroyo Grande, California. She pursued her passion for writing, earning a B.S. in journalism at Cal Poly San Luis Obispo with a minor in women's and gender studies. Through her endeavors, she worked at the County of San Luis Obispo Administrative Office before becoming the marketing and communications coordinator for Morro Bay Tourism and enjoys promoting the city as a travel destination.