Morro Bay is a charming coastal destination on CA Highway 1 that honors its nautical heritage and multi-generational fishing community, a big part of the city's economy. This time of year, it's all about the crab. The main crab species caught off of California's coast is Dungeness and the waters off of Morro bay offer enough crab to keep eight families busy throughout the season. This variety is found in the clean waters of Morro Bay from November through late spring, which means lots of fresh crab on the menu and in fish markets along the Embarcadero, just in time for all your holiday celebrations! 
French Crabbers
There are eight families in Morro Bay that depend on Dungeness crab to feed their family. One is the French family. They've been crabbing out of Morro Bay for three generations now. It all started with Al French, one of the pioneers for catching Rock crab in Morro Bay, which started in the 1950's. 
Today, Al's sons, Jeff and John continue the family business. Under their dad's watchful eye they learned the ropes while they fished their way through college. After graduating from Cal Poly, San Luis Obispo and University of California, Santa Barbara respectively, the brothers became commercial fishermen in Morro Bay. Jeff's son Lorrin fished his way through an architecture degree, and is currently working as a deck hand in the family business. Both Lorrin and his cousin Ryan are in line to take over the business when that time comes, which seems like the natural thing to happen. 
Jeff's wife, Lori French helps with the business too, participating with a watchful eye as the director of Pacific Coast Federated Fishermen's Association, a statewide commercial fishing organization, and as the recent past president of Central Coast Women for Fisheries. While holding down the family avocado orchard, another commodity Morro Bay is known for, Lori writes about commercial fishing family life for the National Fishermen Magazine.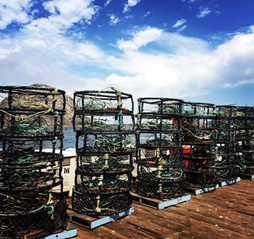 "Crabbers make the majority of their income between the opening of crab season on November 15 until the Chinese New Year in January," says French. "It's our family tradition to serve crab on Christmas. We make a spread out of some of the viscera with butter and garlic for chunks of bread."
The French family has seen it all. They've crabbed the Morro Bay waters since the 1950s. Some years, their boat is pushed to holding capacity with Dungeness overflowing the holding tanks, and other years not so much. "Still, in our family, my husband always finds his way home for Christmas Eve, even if it means both he and Lorrin spend Christmas Day asleep," French continued. "Crabbing is physically demanding and in the beginning of the season sleep is a luxury."
Crab for Christmas
Crabbing in Morro Bay is dependent on family businesses, so it only seems right to share a meal of Morro Bay crab with your family this holiday season. You can purchase fresh, cracked or cooked Dungeness Crab from one of our fish markets and celebrate like the locals do.  
The Tognazzini's of Dockside Too Fish Market are a fishing family, and it shows.  They offer seafood directly from the boat, serving the same quality available in their restaurants. To ensure they have enough Dungeness crab onsite to fulfill your order, call ahead to make your reservation.
Giovanni's Fish Market has been family owned and operated in Morro Bay for over 25 years. The market is open daily 9am to 6 pm, but closed on Christmas Day, so be sure to pickup your Christmas Crab early. You can also purchase fresh Dungeness crab from Giovanni's website. 
Fresh Crab on the Menu in Morro Bay
Visitors will find plenty of great places to eat and drink featuring local ocean-to-table cuisine like crab. Here are the restaurants where you can find cracked crab on Christmas this year: 
Voted best seafood in SLO County for 12 years in a row, the Great American Fish Company's crab legs are so yummy, you'll want to come back for more. They are open on Christmas Eve and Christmas Day from 12-6pm. 
Rose's Landing Bar & Grille is a family friendly restaurant and sports bar that sits directly on the Embarcadero. Enjoy the view while you crack open a crab leg at their all you can eat crab special on Tuesdays, including Christmas Day (11am-7pm).