2019 AMGEN VIP PACKAGES
From 12/05/2018 To: 05/19/2019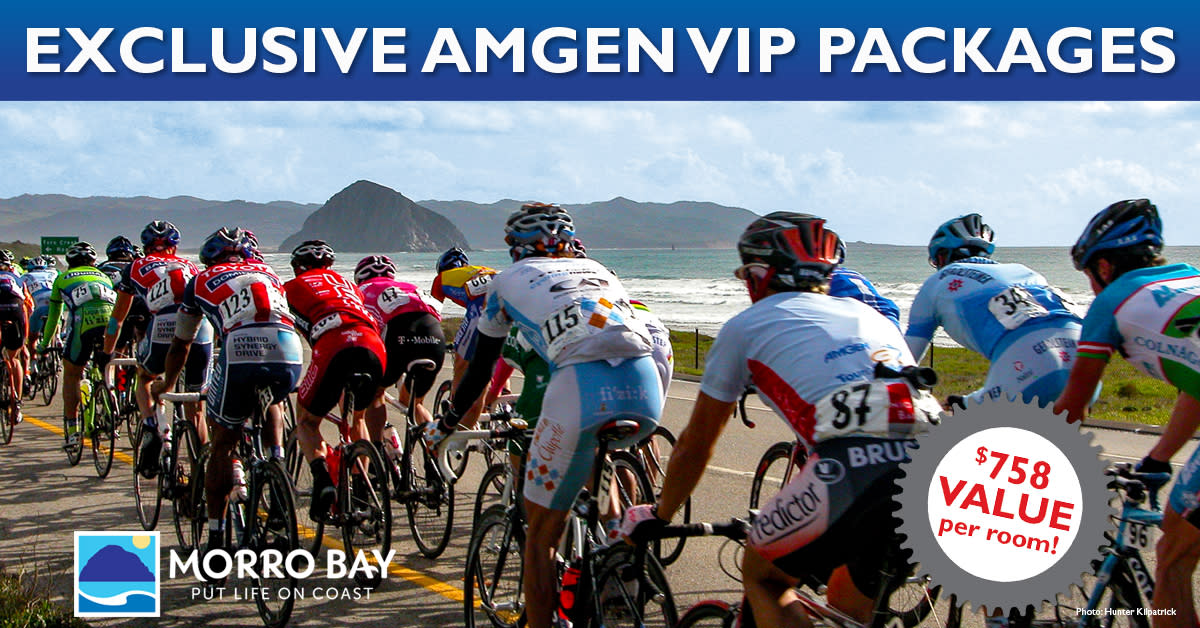 AMGEN Stage 4 finish in Morro Bay May 15th, 2019
VIP PACKAGES JUST FOR YOU - A $758 VALUE PER ROOM! *
There is lots to do and lots to see in Morro Bay when it comes to Amgen Tour of California! From a Pre-Event Morro Bay Bike Ride that allows participants to sprint over the Amgen Stage 4 Finish Line, to a Pro Cyclists Meet & Greet at the Siren, Morro Bay is THE #multisportmecca on the Central Coast. And, you can volunteer on race day and be a part of the action. No matter your jam, there are lots of reasons to take a #MorroBaycation!

Fantastic Lodging Choices
Book your stay at a hotel along the Amgen Tour of California route to get a front row seat as the riders pass by. Or, book your stay at a suite or waterfront room in one of the participating Morro Bay hotels and receive exclusive access into the Amgen Tour of California VIP tent filled with perks and goodies!
Hospitality Passes provide exclusive access into the main VIP Hospitality Tent located adjacent to the FINISH Line. VIP Hospitality Includes:
*Disclaimer: This package requires a two-night stay in a hotel room with a daily rate of $200/per night or higher to be eligible for the VIP passes. Proof of reservation will be required to receive package. VIP package has no cash redemption value. VIP Tickets are not for resale but are strictly for use of the specific hotel guests. VIP tickets are non-transferable.
For additional information on hotels in Morro Bay check out our booking engine here.

Would you like to volunteer? CLICK HERE to sign up.