Celebrate 3-nights of Harbor Festival starting with Shopping!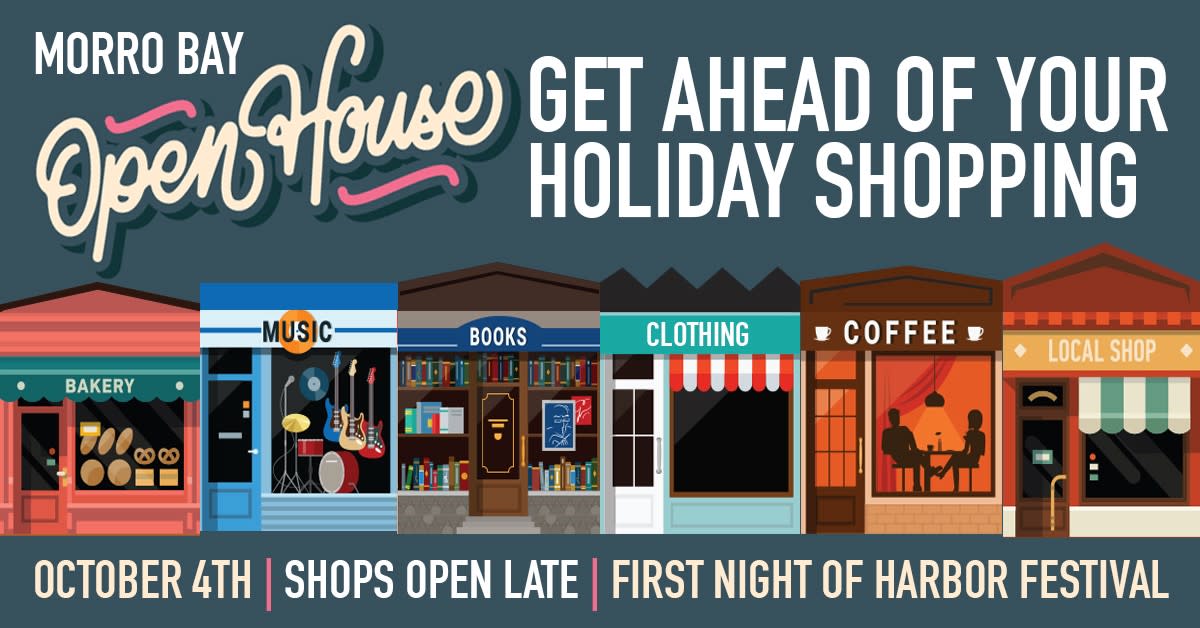 October 4, 2019
START YOUR HOLIDAY SHOPPING EARLY THIS YEAR
Morro Bay retailers will be open extended hours on October 4th, offering specials, discounts, food, drink, and live music to make finding something for everyone on your list easy and fun!  From décor to sweet treats you can find it all in Morro Bay.  And no box stores mean one of a kind gifts you can't find anywhere else.
MAKE A NIGHT OF IT 
Enjoy an evening on the town exploring Morro Bay's walkable shopping district.  Or get into town early in preparation for Harbor Festival's "Sunset Rhythm Kick-Off Concert" and spend your time browsing locally owned stores while you wait for Cracker and Peter Case to start. 
October 4th will be filled with food, drink, handcrafted gifts, and savings.  You won't want to miss it!  And your future self will thank you for getting some holiday shopping done early - before the crowds. 
FEATURED LOCATIONS
Downtown:
Grandma's Frozen Yogurt & Waffle Shop - $1 off stuffed waffles and crapes
Open until 10 pm
307 Morro Bay Boulevard
Satisfy your sweet tooth during this shopping event with $1 off every stuffed waffle and crape at Grandma's Frozen Yogurt.  All waffle and crape purchases include coffee, tea or cocoa AND a side of REAL or almond milk frozen yogurt. 
Mike's Barber Shop - 20% off all merchandise after 5 pm
Open until 10 pm
208 Morro Bay Boulevard
Receive 20% off all merchandise between 5 and 10 pm.  This includes pomades, gels, beard oils, shirts, hats, sweatshirts, Mike's Morro Bay Rum, and signature Mike's 2 in 1 Shampoo and Conditioner!  AND free sticker with any gift card purchase.  Haircuts and hot towel shaves available by appointment during this time.  
Embarcadero:
Gallery at Marina Square - Art Walk Friday
Open until 9 pm
601 Embarcadero 
Amazing art from over 60 local artists!  Converse with many talented artists about their works.  Light refreshments will also be available.  
Junque Love - 20% off storewide Mingle & Jingle Party
Open until 9 pm
699 Embarcadero #1
Junque Love features artists from all over California that repurpose vintage items into something new.  Take advantage of 20% off storewide and enjoy food, beverages and live music throughout the night!   
The Mermaid Boutique - complimentary wine
Open until 8 pm
735 Embarcadero
Know a mermaid or ocean lover?  The Mermaid boutique is the perfect spot to find beachy gifts.  And after you found your treasures be sure to stop at Octopus Garden shop just down the street for complimentary wine and more great shopping.
Morro Bay House of Jerky - FREE lollipop and jerky
Open until 8 pm
1130 Front Street
Come by for great tasting Premium Jerky or be adventurous and try some hand dipped Chocolate Covered Bacon!  Everyone gets a FREE old fashioned cube lollipop, and spend more than $20 and get a FREE 1 oz bag of your choice of premium jerky.  Discover unique gifts and huge old time Root Beer & Sarsaparilla selection in this fun western themed shop on the waterfront, only steps form the entrance of the Harbor Festival. 
Paula Radke Art Glass - FREE gift with purchase over $25 
Open until 9 pm
701 Embarcadero
Paula Radke has been making art glass for over 30 years!  Shop her waterfront store and receive a free gift with every purchase of over $25.  
Poppy - 15% off any purchase of $60 or more
Open until 8 pm
911 Embarcadero
Receive 15% off when you spend $60 or more on October 4th and 5th!  Boutique shopping at its finest, Poppy is a perfect spot for women's apparel, accessories, candles, ceramics, and more.  
Seashells & Sawdust - 20% off storewide Mingle & Jingle Party
Open until 9 pm
699 Embarcadero #1
Seashells & Sawdust is a vintage home and salvage line that can now be found inside Junque Love.  Enjoy food, drink, and live music alongside 20% savings.
Under the Sea Gallery - complimentary wine while you shop
Open until 8 pm
833 Embarcadero
Be sure to visit the Under the Sea Gallery's sister store: Octopus Garden.  Just around the corner, past the otter mural, and through the outdoor courtyard for complimentary wine to enjoy while you're perusing the gifts that line the panoramic windows with views of Morro Rock and the bay.