Come for the Ho-Ho-Holidays & Stay for the Fun, & the Shopping!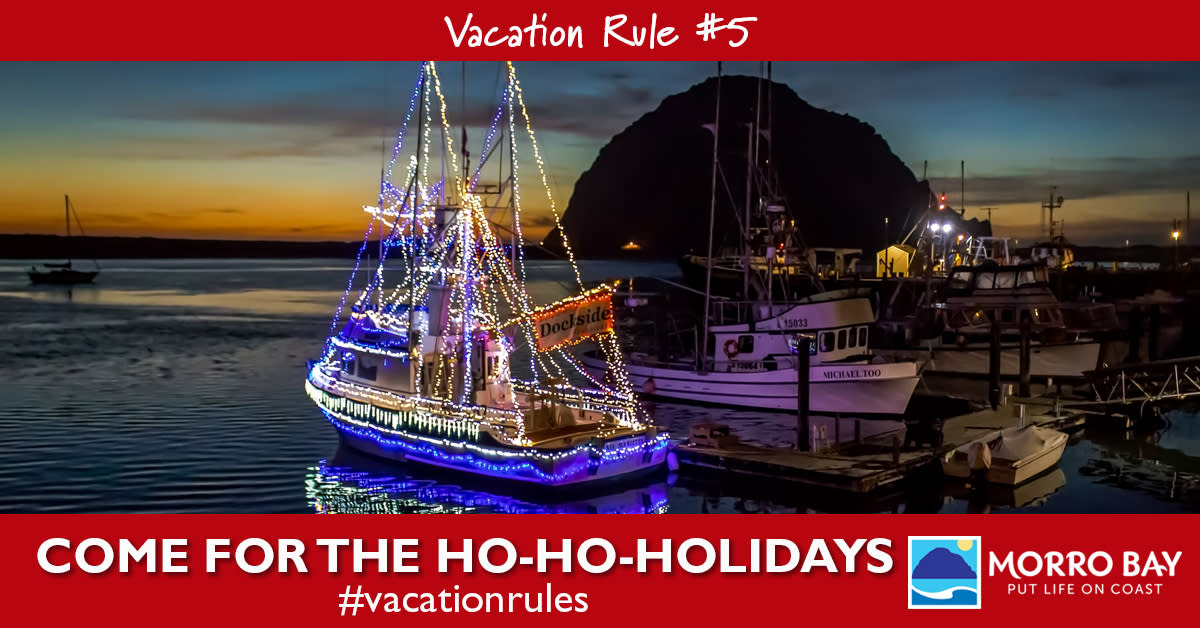 The holidays in Morro Bay celebrate our true nautical roots with bright lights on holiday trees made from old crab pots, brightly decorated boats sailing the harbor, and Santa Claus hanging out in his house on the waterfront Embarcadero waiting to spread holiday cheer to all those who are near. See below for more Winterfest 2019 event details.
Holiday Shopping 2019
Winterfest 2019 in Morro Bay is a seasonal affair, but that is not all there is to do this holiday season.
If you're looking for gifts outside the big-name box shopping centers, discover Morro Bay's artisan makers. From handmade glass beads, craft olive oils, and locally caught Dungeness crab, to custom leather goods and fresh saltwater taffy, Morro Bay has a distinct #craftculture and is filled with unique products that make great gifts for the holidays. Click here for more holiday shopping ideas!
Fantastic #OutdoorGoals Holiday Destination
If you like to travel, get out and make waves in the winter, Morro Bay is your holiday destination! Mild weather and an abundance of outdoor activities keep locals and visitors moving and shaking over the holidays. From hiking, cycling and kayaking, to kite surfing or paddleboard yoga, there is an adventure to suit everyone in your active family. Check out these #outdoorgoals video shorts!
Go Wild this Season
It's the time of year for winter wave watching and wildlife viewing in Morro Bay.  Otters, seals, sea lions, birds, butterflies, and more are active and waiting for you!  Boat, kayak, and walking tours are offered throughout the season.  Including multiple Monarch Butterfly Tours where you can learn about their amazing migration to the Central Coast while witnessing thousands of butterflies in the eucalyptus groves.  #wildmorrobay
Holiday Events
Visit Santa's House
Every Friday and Saturday | December 6 – 2 1, 2019
Santa's coming to the Embarcadero! Come visit and get a picture with Jolly ol' Saint Nick.  You can find the man of the season in his house located next to the Giant Chess Board on the Embarcadero every weekend in December until Christmas.
City Wide Holiday Tree Lighting Celebration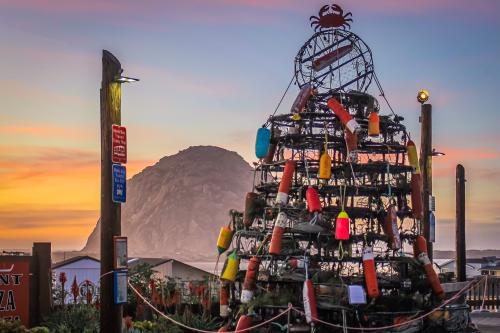 December 6, 2019 | Beginning at 3:30 pm | City Park & city wide
Starting at 3:30 pm in City Park, enjoy holiday performances and festive treats.  There's a chance to visit with Santa, and of course the main event…the lighting of the City Park tree for the holidays. Crab pot trees throughout town will also be lit, so after the celebration take a trip around town and see if you can find them all. 
Lighted Boat Parade Weekend!
Friday Night Lights
December 6, 2019 | 6 – 8 pm | Embarcadero
Make your dinning reservation for a night of great food and holiday sights as local large vessels and commercial boats cruise up and down the Embarcadero waterway.  The parade of holiday spirit starts at dusk. A local affair, Friday Night Lights is brought to you by these waterfront restaurants: Blue Sky Bistro, Dutchman's Seafood House, The Great American Fish Company, Giovanni's Fish Market & Galley, Hofbrau, The Libertine Pub, Port House, STAX Wine Bar & Bistro, Window's on the Water. Be sure to call and make reservations in advance!
Lighted Boat Parade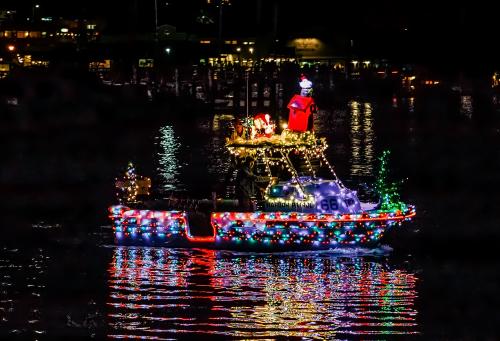 December 7, 2019 | 6 – 8 pm | Embarcadero
Don't miss the 34th Annual Lighted Boat Parade along the waterfront. The Morro Bay fishing, leisure, and yachting community compete for prizes by stringing up mesmerizing lights that celebrate holiday cheer. It's the night to celebrate holiday wonder along the Embarcadero. 
Holiday Paddle Parade
December 8, 2019 | 11 am – 1 pm | Embarcadero
The non-motorized paddle cruise rounds out a great weekend of festive parades on the bay.  Kayaks, Standup Paddleboards, small sailboats, surfboards, or any craft that floats take to the water. Costumes, boat décor, and lots of fun are in store!
Rockin' New Year's Party
December 31, 2019 | 7:30 | The Siren
Ring in the new year with great music, cocktails, and food.  Be sure to get your tickets before they're gone!
New Year's Day First Walk
January 1, 2020 | 8:30 am | Morro Bay Beach
Join a Morro Bay new year tradition with a walk along the beach at low tide to celebrate the New Year!  Low tide is at 8:39 am.