Sip & Savor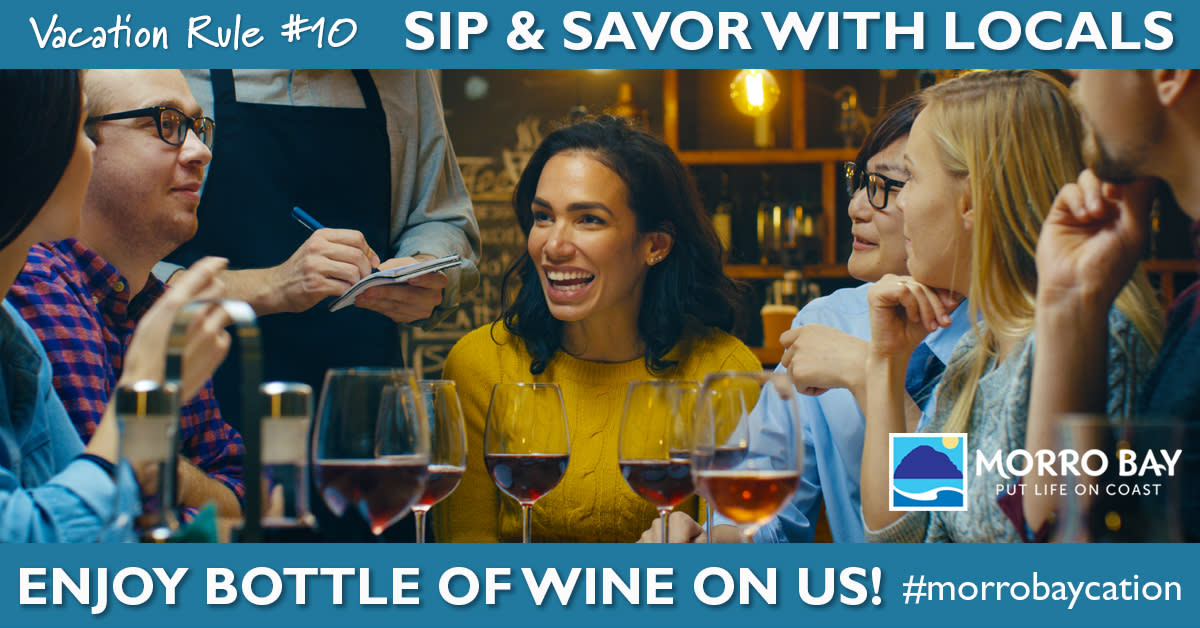 September and October, 2019
Book a 2-night stay and get a bottle of wine on us!
This September and October check-in to ANY hotel in Morro Bay and receive a coupon redeemable for a bottle of wine from STAX Wine Bar & Bistro*, located right on the waterfront! It's THAT EASY!
 
#Morrobaycation
Located along California's Central Coast on scenic Highway 1 just minutes from Hearst Castle and SLO Coast Wine Country, including Edna Valley, life in this small beach town is reminiscent of how California surf towns used to be: relaxed, fun, quirky, and filled with great outdoor adventure, #locallycaught seafood, #locallyowned restaurants, and #artisanboutiques, not to mention art galleries and museums.
 
#OutdoorGoals
From hiking and biking – mountain, cycle, or BMX – to surfing and paddleboard yoga, we have many #outdoorgoals in Morro Bay. With its miles of open, spacious, and pristine beaches, Morro Bay offers a fantastic location for kite surfing and para motoring. Running or walking along Morro Strand Beach is great exercise, and beach combing for #sanddollars is an attainable #morrobaycation goal.

#LocallyOwned
After all that fun in the sun, winding down is really one of the best parts of the day. Morro bay is lined by locally owned restaurants, funky art galleries, museums and artisan shops that help round out a fantastic day of exploration in this culturally diverse destination – no big box stores here! Morro Bay also offers lodging opportunities that fit any budget, from new boutique waterfront properties, to well-known brands and modernized 50s style boutique motels just blocks from the waterfront.
 
#oysterculture #seafoodieparadise
Locally farmed Morro Bay Oysters are a big part of our #sustainablefishing focused small commercial fishing community. The flavor profiles of local Pacific Golds and Grassy Bars are distinct, and locals and tourists just can't get enough. Their shell colors make it even easier to tell them apart: Grassy Bars commonly have a green swirl whereas Pacific Golds display a touch of purple.  Morro Bay oysters often have a cucumber-melon flavor from the volcanic, nutrient-rich, soil's minerality, and a sweetness due to the fresh water flowing into the bay.  These conditions create a combination of tastes you cannot find anywhere but Morro Bay, California. 
 
SLO Coast Wine Country
Shaped by fog, wind, earth and sea, the SLO Coast Wine Collective consists of 30 boutique wineries located in the coastal valleys right in Morro Bay's backyard. Many wine touring companies come to Morro Bay and will pick you up at your hotel for a day of tasting in elegant SLO Coast Wine Country. There is no shortage of fun things to do on your #morrobaycation!
Paso Robles Wine Country
Paso Robles is home to more than 250 wineries, many of whom are small boutique producers dotting the countryside amongst Paso Robles' 32,000 planted vineyard acres. Although the region is largely known for its stellar Rhone varietals and big Cabernets, there are more than 40 wine grape varietals produced - from Spanish to Italian to Bordeaux and Rhône, including the area's heritage variety Zinfandel.  Wine lovers can visit a large variety of tasting rooms, many of which offer picnic areas and specialty winemaker dinners.

Click here to find rates and availability!

For more travel information follow Morro Bay Tourism on Facebook, Instagram, Twitter and Pinterest.

*Disclaimer: Proof of stay will be required; cash redemption is not available but you can trade in and upgrade your wine. Must be redeemed during 2-night stay.