YUM FACTOR MATTERS HERE!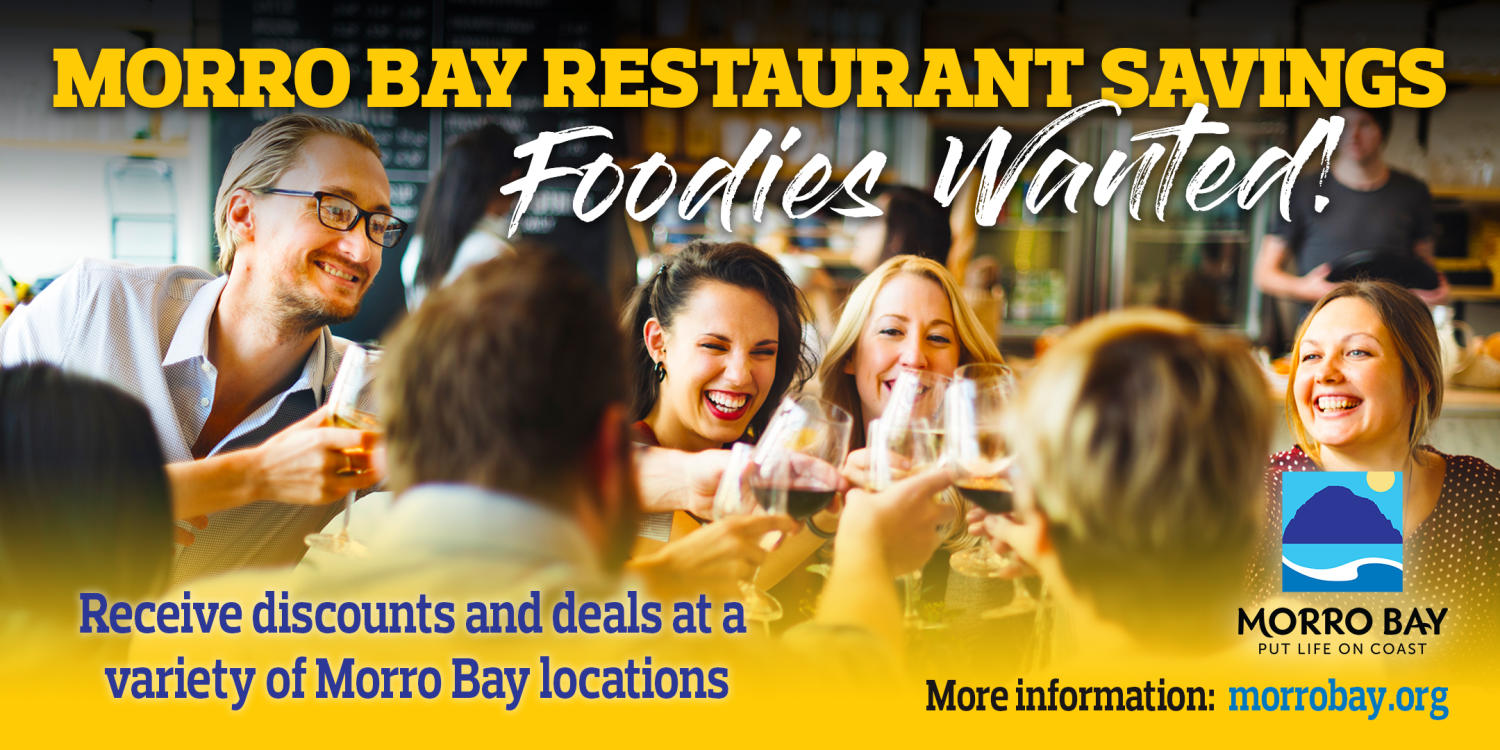 1/2/2020 - 2/29/2020
Enjoy a delicious time at the coast this winter in Morro Bay! This fun-filled fishing village serves up the freshest ocean-to-table cuisine, including two types of Morro Bay oysters and a plethora of local sustainably caught seafood. Morro Bay is also bursting with farm fresh produce, local wines, craft beer and fresh roasted coffee houses, not to mention decadent homemade desserts. After dining along the active waterfront, tour one of the many museums and art galleries that line the Embarcadero. Head out to Morro Rock along the Harbor Walk and engage in a little wildlife watching. Sea otter families, harbor seals, pelicans and Peregrine falcons are just some of the #sealebrities in Morro Bay!
 
#FOODIESWANTED: SAVE ON MORRO BAY FOOD & DRINK
Take advantage of insider offers, January 2nd - February 29th, valued at over $100. Simply present your FREE digital ticket on Eventbrite or a hard copy of your ticket(s) at time of purchase to redeem each deal! 
 
THE DEALS:
2 FOR 1 WINE TASTING AT STAX WINE BAR & BISTRO
STAX has an incredible wine selection that pairs perfectly with their delicious menu offering local oysters, crab cakes, charcuterie options and homemade mac & cheese. DELISH!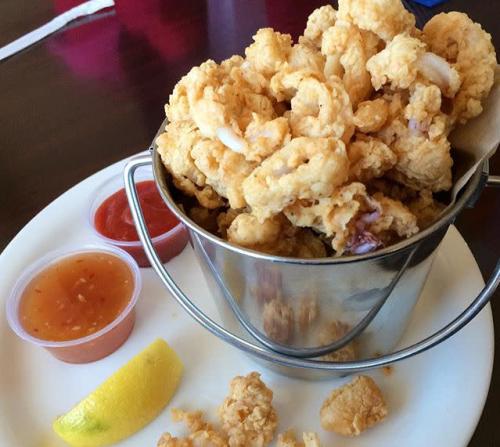 $10 OFF APPETIZER WITH PURCHASE OF 2 ENTREES & 2 DRINKS AT DUTCHMAN'S SEAFOOD HOUSE
Firecracker shrimp, fried calamari, ahi poke nachos, mussels or steamers – whichever starter you choose, only the freshest seafood is found at Dutchman's, likely right off their own dock!
FREE 8OZ CLAM CHOWDER WITH ANY PURCHASE AT GIOVANNI'S FISH MARKET & GALLEY
Known for fresh cooked-to-order seafood, live crab, and fish & chips on a stick, a visit to Morro Bay isn't complete without a cup of creamy and delicious clam chowder.
2 FOR 1 DRAFT BEERS WITH PURCHASE OF THE TRIPLE CONE AT THE SIREN RHYTHM & BOOZE
This is a favorite late-night music venue that offers a variety of brews, craft cocktails and a cool vibe. Their great pub menu includes something for everyone: flash fried brussels, wings, poppers, nachos, the vegan impossible burger, Philly cheesesteak, and delicious tacos. Not to mention the trifecta of fried pickles, seasoned fries and sweet potato fries known as the Triple Cone.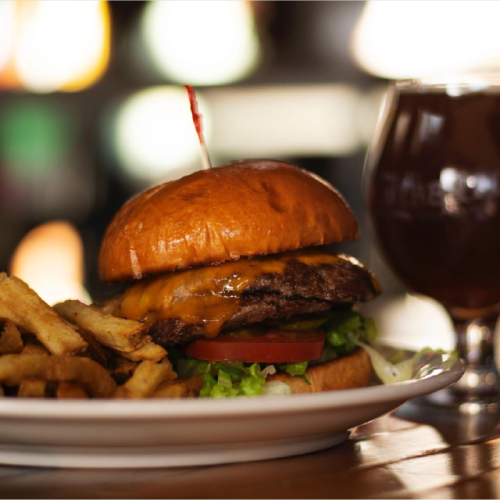 FREE APPETIZER WITH PURCHASE OF TWO ENTREES AT THE LIBERTINE BREWING COMPANY
With over craft 30 beers on tap, you will not go thirsty, or hungry with this offer! Find great pub grub like burgers, tots, soup & salads to go with your free appetizer including fried artichokes, fresh poke, and a pretzel and sausage plate to name a few!
FREE APPETIZER WITH ENTRÉE PURCHASE AT BEACH BURGER
Not your average burger joint, Beach Burger offers patties stuffed with cheese and prepared 12 different ways, and incredible water level views of the bay and rock that can't be beat.
FREE CHEF'S DESSERT WITH DINNER ENTRÉE PURCHASE AT PORT HOUSE
Morro Bay's newest restaurant offers a unique menu including fennel crusted albacore, lobster carbonara, and succulent steaks you can add an oyster, lobster claw or Oscar style crab cake. YUMM!!
FREE CANNOLI DESSERT WITH ENTRÉE PURCHASE AT DISTASIO'S RISTORANTE
Serving up traditional Italian specialties for over 22 years, this family owned and operated restaurant makes seven homemade sauces that transform each meal into something extraordinary.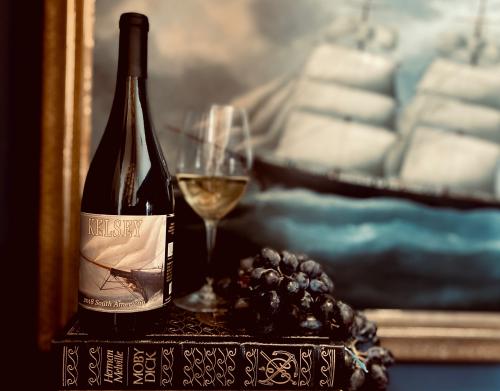 SAVE $26 OFF SIGNATURE BOTTLE OF WINE WHEN YOU SPEND $10 AT THE MORRO BAY MARITIME MUSEUM
The recently opened Morro Bay Maritime Museum has a fleet of four vessels and offers an educational venue filled with maritime history, science and technology. Every year the museum partners with a local winery to create a special wine from which proceeds help to keep the museum admission free!
2 FOR 1 BEVERAGE AT SKIPPER'S BREW COFFEE HOUSE
Skipper's Brew is known for fresh roasted beans, kombucha on tap, a selection of tasty pastries and incredible bay views to start your day. 
FREE HOT TEA WITH GARDEN MUG PURCHASE AT SAN LUIS OBISPO BOTANICAL GARDEN
A collection of gardens spanning 150 acres, this beautiful destination is the perfect place to slow down, have a cup of tea and enjoy your surroundings while supporting a good cause.
Ticket has no cash value and is good for one discount.  Restaurants have the right to cancel offer without notice.  Offer valid January 2, 2020 and expires February 29, 2020.