Morro Bay, CA, December 16, 2019 – It's impossible to mistake Morro Bay for any other California surf town. Not just for the incredible active outdoor environment with working harbor and miles of pristine beaches. Not just for the natural estuary filled with infinite watchable wildlife, not to mention the massive, ancient volcanic plug known as Morro Rock that rises 576 feet from the ocean. Nope. But because it's also filled with incredibly talented artists showcasing works in every art medium imaginable from the fabulous Morro Bay Art Center to funky and fine galleries found all over town. Just wander the charming downtown village or stroll the active Embarcadero located right on the waterfront and you'll see it all for yourself.
"For the artist in many of us, Morro Bay is the perfect place to pull out a camera or easels and document all of its beauty," explains Patricia Newton, President of the Morro Bay Art Association. "It's the perfect place for locals and visitors alike to enjoy breathtaking views where rolling hills meet the sea. Not to mention exploring all of the magnificent ways artists in Morro Bay interpret art and beauty at the plethora of galleries and shops."
NEW EVENT: Morro Bay Plein Air Art Festival, April 13 – 16, 2020
Morro Bay Tourism is excited to share that the inaugural Morro Bay Plein Air Art Festival is scheduled for spring of 2020. There are many ways to participate: watch art demonstrations, take the 2-day workshop, register to participate in the all-day PAINT OUT, enter a quick-draw and attend a VIP party!
What is Plein Air?
Plein Air means leaving the four walls of an indoor studio and painting in the wide-open outdoors. This style of painting was truly made into an art form by the French Impressionists with their desire to paint light and its ever-changing ephemeral qualities. This allowed artists the freedom to paint "en plein air," which is the French expression for "in the open air."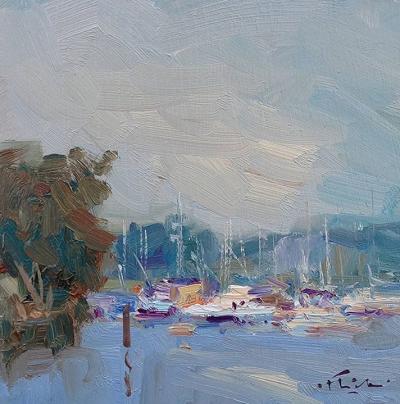 FREE: Plein Air Art Demonstration with International Artist & Instructor Guido Frick
April 13, 2020, 3-5 pm
Don't miss this art demonstration by international artist, Guido Frick at Art Center Morro Bay. Born in Konstanz, Germany, Frick studied art in Prague Czechoslovakia. Frick teaches his Impressionistic style throughout Europe and the western United States. Capturing the mood with oil and watercolor he approaches each subject with bold and vigorous brushwork, using brilliant color. This event is free and open to the public.
Workshop: Plein Air Still Life and Landscape, with Guido Frick 
April 14 & 15, 2020
Day 1: Students will work on a still-life of choice, while painting outdoors to capture the complexity of color working in sunlight. There will be an introduction and theoretical instruction followed by a demo, then students will paint.
Day 2: Students will paint a plein air landscape at a specified location in Morro Bay. A full landscape demo will be provided. Guido Frick will circulate giving personal instruction. At the end of each session he will critique your work and give individual ideas and personalized help.

Register for PAINT OUT
April 16, 2020, 8 am – 2 pm
Spend the day at the plein air PAINT OUT, starting with a continental breakfast at Art Center Morro Bay. Registered painters will go to designated locations throughout Morro Bay to paint "en plein air" until 2 pm, when the party moves to the Inn at Morro Bay located in Morro Bay State Park where the framed, wet paintings will be turned in by 3:30 for judging, awards and a silent auction.
VIP Party, Quick Draw, PAINT OUT Awards, and Silent & Live Auctions at the Inn at Morro Bay
April 16, 2020 4 – 8:30 pm
The VIP Party kicks this afternoon off with live music, wine and light refreshments along with a sneak peek and silent auction pre-bids of completed PAINT OUT works. Then this party rolls right into a Quick Draw competition throughout the elegant Inn at Morro Bay. Painter can set-up in various location both inside and outside the Inn of their choosing. From there the excitement continues with awards, prizes and a live auction of the Quick Draw works of art. Don't miss this fun event!
Check out these #morrobaymaker galleries and be prepared to be inspired:
Art Center Morro Bay
835 Main Street, Morro Bay, CA 93442; (805) 772-2504
Located in historic downtown, Art Center Morro Bay has been the heart of the arts in this community for the past 60 years. Open daily 10am-4pm offering classes, demonstrations, art events and exhibits, the center is known for being a hub for fine art in Morro Bay. Find local paintings, drawings, prints, sculpture, jewelry, cards and more at the Art Center's two spacious galleries, one of the largest Central Coast venues for exhibiting fine art by regional and local artists.
Gallery at Marina Square
601 Embarcadero (upstairs), Morro Bay, CA 93442; (805) 772-1068
Gallery at Marina Square is a family of more than 60 award-winning professional artists who have a passion to express themselves artistically. They rely on one another for support and encouragement, and they love interacting with everyone who steps through their doors. Go and visit their studios in Marina Square along the Embarcadero in Morro Bay and watch for the monthly artists' receptions. Open daily 10am-6pm
David J Rogers Fine Art Gallery
407 Morro Bay Blvd, Morro Bay, CA 93442; (805) 225-5077
This fine art gallery exclusively features the unique and vibrant watercolor paintings of David J. Rogers. Enjoy spectacular and unique watercolor paintings in a warm and inviting atmosphere where David also has a working studio and is often found painting throughout the day. Come and join us for one of David's watercolor workshops. David teaches a unique method of painting that he has developed over 20 years as a self-taught professional artist. 
Fiona Bleu Gallery
900 Embarcadero, Morro Bay, CA 93442; (805) 772-0541
The Fiona Bleu Gallery hosts a collection of modern, funky and fashionable array of artwork. It is hard not to notice the color and creativity emanating from this gallery along the Embarcadero in Morro Bay. Stop in, browse and buy pieces that will last a lifetime. Open daily 10am-6pm
Paula Radke Art Glass
701 Embarcadero, Morro Bay, CA 93442; (805) 459-3329
Spend time visiting the studio and gallery or take classes offered by internationally renowned glass artist Paula Radke. In the gallery you can purchase handmade dichroic glass beads, jewelry and fused art glass plates. Regular workshops are available in a variety of glass techniques including fusing, lampworking, art glass clay and electro forming. Open daily
Forever Stoked
1164 Quintana Road, Morro Bay, CA 93442; (805) 772-9095
The mission of this grass roots art collective is to spread positive energy through artwork. The artists do this though nature with the surf and ocean as the source of inspiration for the collective's many artists. Here you'll find limited edition canvases, paper art prints, unique greeting cards, hemp art, art apparel, hats, patches and much more. Open for paint parties and private viewings
Robert Gray Art Gallery
561 Embarcadero, Morro Bay, CA 93442; (805) 772-3911
The Robert Gray Gallery is a celebration and a collection of local artists coming together in one spot along the Embarcadero to display their works of art. Stop in and get inspired by art pieces big and small to add to your home and your memories of Morro Bay. Open daily
Suite 1 Gallery
601 Embarcadero, Morro Bay, CA 93442; (805) 464-1917
This full-service gallery offers outstanding artwork and instruction by the owners and several local artists. Find beautiful jewelry, art, photography and a working studio on site. Open daily
For more information on all the exciting things to see and do in Morro Bay, visit www.morrobay.org.
###
About Morro Bay
A true #outdoorgoals destination, this active seaside fishing village with bustling waterfront offers a fun and funky getaway for travelers who seek great wine, seafood and outdoor adventures filled with wildlife. Located along coastal Highway 1 in San Luis Obispo County just south of Big Sur, midway between Los Angeles and San Francisco, Morro Bay offers year-round activities in an unspoiled slice of California.  From ocean-side golf, kayaking, sailing, hiking, fishing, surfing, biking, and bird watching, to kite flying, shopping, dining, wine bars, local craft brews and miles of unspoiled beaches, there is something for everyone.
Sitting majestically between the beach and the harbor lays the iconic and historic landmark Morro Rock, welcoming travelers from miles away as they approach Morro Bay. Located just minutes from world-renowned Hearst Castle, historic missions, breathtaking Montana de Oro State Park, and surrounded by vineyards from Paso Robles to Edna Valley, Morro Bay is a destination designed to fit any style and budget for families, couples or groups. Morro Bay also offers a myriad of year-round events including food, wine and music festivals, art fairs and car shows unique to the town. For more travel information visit www.morrobay.org or follow Morro Bay on Facebook, Instagram, twitter and Pinterest.