Morro Bay Frequently Asked Questions
Where is Morro Bay, CA?
Morro Bay is located along coastal Highway 1 in San Luis Obispo County just south of Big Sur, midway between Lost Angeles and San Francisco.  A coastal city, Morro Bay is situated near many local attractions.  The closest airport is 16 miles away in San Luis Obispo.  SBP offers nine direct flights with more flights being added all time.  From the airport rent a car, jump on the route 12 bus, or order a ride for the short trip into Morro Bay.   
What are those three stacks?
Identified by the three 450- foot [smoke] stacks (three stacks for short), the power plant, which has been at its waterfront location before the city was even incorporated, burned natural gas to generate electricity until it was shut in 2014. 
What is Morro Rock? 
Perched majestically on the edge of the Pacific Ocean between Morro Bay harbor and sandy beaches sits the iconic and CA State Historic Landmark Morro Rock.  The Rock stands 576 feet tall and is part of a chain of nine ancient volcanic peaks (sometimes referred to as the Seven Sisters) that extend from San Luis Obispo to Morro Bay.
What is the weather like in Morro Bay?
The ocean helps to keep Morro Bay cool in the summer and warm in the fall.  Temperatures are fairly consistent year-round with average highs in the upper 60's and lows in the 50s.  There can be morning fog, which generally clears by mid-day.  Our water averages 56 degrees F.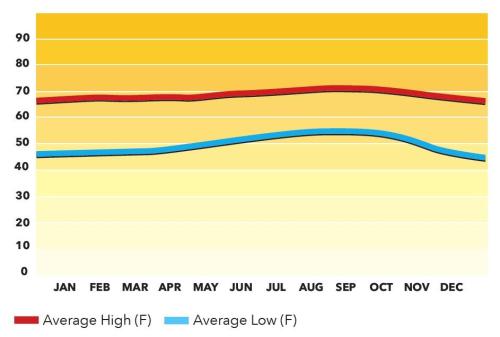 Where is Morro Beach? 
Morro Beach begins at the base of Morro Rock.  Follow the Embarcadero or access the beach off Highway 1.  Morro Bay is home to over 6 miles of beaches – explore all of them here.   
Is Morro Bay dog friendly?
Yes!  We guarantee your pup's tail will be wagging with a stay in Morro Bay.  Dog friendly hotels, beaches, restaurants, and outdoor activities make is easy for you and your pet to enjoy every minute of your trip.  For a list of pet friendly locations click here. 
How do I get to Morro Bay State Park? 
Morro Bay State Park is located at the south end of town along the back bay and National Estuary.  It's home to Black Hill – a popular sunset hike, the Natural History Museum, campground, and a variety of wildlife.  To get to Morro Bay State Park from downtown take Main Street heading south.  Alternatively, you can access the Park from South Bay Boulevard exit off Highway 1.    
Where is the Morro Bay Aquarium? 
The Morro Bay Aquarium, previously located on the Embarcadero, is now closed.  However, a new updated facility is on the horizon.  In the meantime, we suggest taking a nature Paddleboard or Kayak tour to learn more about the local marine wildlife.   
Where is there to stay in Morro Bay? 
Morro Bay hotels and motels are the perfect home away from home when you come to visit.  Locally owned, within walking distance to many local attractions, and often with water views, look no further for your lodging accommodation.    
What is there to see/do in Morro Bay?
There's way too much to do in Morro Bay to list it here, so be sure to check out this page of the website.  However, you don't want to miss Morro Rock, our sea otters, Black Hill, and Morro Bay oysters.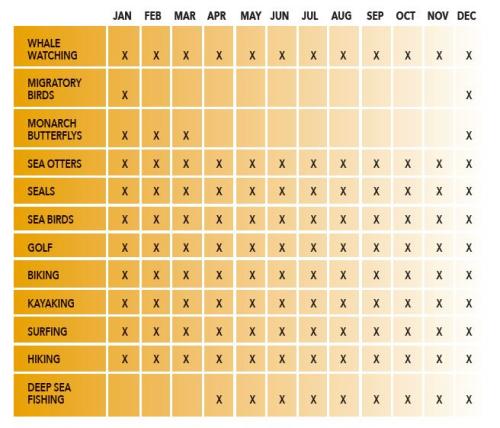 Where should I eat in Morro Bay?
Morro Bay has over sixty restaurants serving a variety of delicious cuisine.  Many locations offer waterfront views, outdoor patios, and the freshest ocean-to-table seafood you can find.  There are also a variety of vegetarian and vegan options to fit any diet.    
Can I go wine tasting in Morro Bay?
You bet!  Morro Bay is close to two local wine regions: SLO Coast and Paso Robles Wine Country.  They are easily accessible by car or take advantage of the wine tours that pick you up.  Don't want leave Morro Bay?  We don't blame you – stop by one of the tasting rooms in town!