About Morro Bay
Visit Morro Bay is governed by the Morro Bay Tourism Business Improvement District Advisory Board. It was established in May of 2009 to promote and increase tourism in the City of Morro Bay by improving and strengthening the condition of the tourism business environment. The objective shall be accomplished through the development and operation of a Tourism Business Improvement District (TBID), plus other marketing, branding and promotional programs and initiatives to benefit Morro Bay and its constituents.
History
Excerpt from: "Images of America: Morro Bay" (Arcadia Publishing 2006) by Roger Castle and Gary Ream for the Historical Society of Morro Bay: Morro Bay, along California's Central Coast, is among the most visually spectacular communities in America. It has a rich early history that stretches back to the Chumash and Salinian Native Americans and includes visits by Juan Rodriguez Cabrillo and the Manila Galleons of the 16th Century.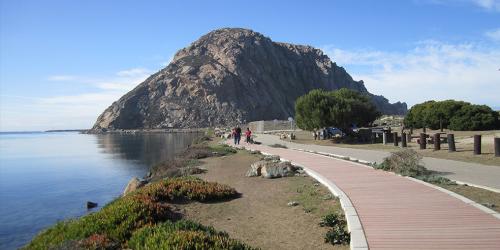 In 1542, Portuguese explorer Juan Rodriguez Cabrillo named Morro Bay's magnificent landmark "El Morro" (Spanish for crown shaped hill). Morro Rock is also sometimes called the "Gibraltar of the Pacific." It is the last of a line of long-extinct volcanoes formed about 23 million years ago, which include nine peaks ranging from San Luis Obispo to Morro Bay. These peaks are aptly named the Nine Sisters because they are all in a row, and in close proximity. Morro Rock is a State Historic Landmark, a bird sanctuary and home to nesting Peregrine Falcons. It is therefore closed to any climbing or disturbance. At a height of 576 feet, Morro Rock has been an important marine navigational aid for over 300 years. It is likely the most photographed of all the Nine Sisters, and serves as Morro Bay's gateway to the Pacific Ocean. 

Its modern history begins with the tragic story of one of the town's founding fathers, Reverend Alden B. Spooner. During the midst of a heavy arctic storm, on the night of February 5, 1877, the Reverend Spooner heard the call of duty. The steamboat Mary Taylor was overdue. Rev. Spooner wasn't feeling well, but he rowed out into the squall in his small boat. He was in the North Channel, near Pilot Rock, when his craft capsized. His body was never found. Prohibition stories of Canadian whiskey on the Rock abound as economically hard-pressed farmers, fishermen, and tugboat operators facilitated the landing of Canadian distillates near Morro Bay. Miles Castle and other refugees from a failed land settlement for English immigrants in the Central Valley joined with Neil Moses, a colorful newspaper editor, Dorothy Gates, a college librarian and Dr. Jack Levitt, a physician from Minnesota, to form a literary society and journal and bring high culture to Morro Bay in the 1930s. In the beginning this history was passed on from family to family during the evenings in this then remote fishing village. Much of this oral tradition was later gathered together by Dorothy Gates, Jane Horton Bailey, and others and preserved in print. As the community at large grew conscious of its rich past, community-based groups were formed. They continue today, gathering both artifacts and images to preserve Morro Bay's history.
Explore the Morro Bay Area
Where is Morro Bay?
Morro Bay is located along the coast of California, midway between San Francisco and Los Angeles. View Map to Morro Bay from Google Maps. Traveling SOUTH from San Francisco: Take U.S. Highway 101 south to Atascadero. Exit on State Highway 41 west, then head south on Highway 1. Exit at Main Street in Morro Bay. Total drive time: about 4 hours. For an alternate, even more scenic route take Highway 280 south to Cupertino. Connect to Highway 85 south, and then take Highway 17 south to Santa Cruz, exiting to Highway 1 south. Total drive time: about 6 hours. Traveling NORTH from Los Angeles: Take U.S. Highway 101 north to San Luis Obispo, exit north on Highway 1 to Morro Bay, take Morro Bay Blvd. exit. Total driving time: about 4 hours. Morro Bay Trolley Enjoy our trolley ride along the Embarcadero out to Morro Rock, to our State Park and out to North Morro Bay. The Trolley begins running on Memorial Day weekend and will run through the 1st weekend in October. View Trolley Route Map from Morro Bay Public Services.
More About The City Of Morro Bay
Morro Bay's charm and mild Mediterranean climate offer an idyllic coastal escape unlike any other. Even here on the Central Coast, Morro Bay is different. The Morro Bay way is fun, casual, relaxing and authentic – the perfect way to recharge on vacation.
Midway between Los Angeles and San Francisco, Morro Bay is home to world-famous Morro Rock, which serves as the backdrop to an abundance of year-round outdoor activities like kayaking, surfing, boating, golfing, hiking and biking. Explore miles of beautiful sandy beaches and dunes, observe wildlife in the estuary and bay, or spend an afternoon antiquing. Foodies delight in its proximity to world-class wineries and bounty of dining options – from fresh seafood straight from the bay to local farm-to-table cuisine.