First-Ever World Surf League Morro Bay Qualifying Series Event, and the Big, Bad & Ugly Surf Invitational
Locate Morro Bay Board Shapers, Surf Shop, Surf Lessons & Summer Camps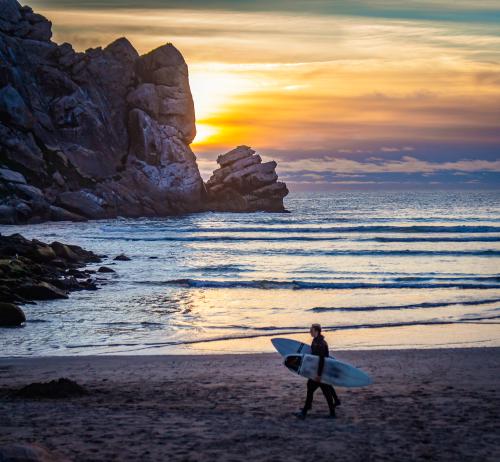 Morro Rock Beach is the place to watch talented up and coming surfers hit the waves February 27 to March 1, 2020 to compete in the first ever men's and women's qualifying series event SLO Cal Open at Morro Bay. Watch as 96 male and 32 female competitors hang ten and ride the waves like you've never seen before. Morro Bay even has its own High School Surf Team, so it's a pretty serious sport in this beach town. This inaugural surfing event from the World Surf League (WSL), is made possible with funding from title sponsor Visit SLO CAL and local nonprofit Surfers of Tomorrow.
"We are stoked to host the World Surf League SLO CAL Open at Morro Bay," explains Morro Bay City Manager Scott Collins. "As a surfer myself and huge fan of the WSL, I can't wait to see the world's top talent shred the waves in Morro Bay." The new contest will follow the 30th annual Big, Bad & Ugly Surf Invitational hosted by the Estero Bay Surf Club on February 15, 2020. "The Ugly," as it's called, is one of the most challenging surfing events on the Coalition of Surfing Clubs schedule.
Perfect Break Locations
Morro Bay is renowned for its #surfculture, offering miles of unspoiled beaches serving up some sweet surf breaks. With the high number of surfable days on the Central Coast combined with Morro Bay's varied coastline, you can find a new spot or sand bar about every 100 yards. Here are some favorites: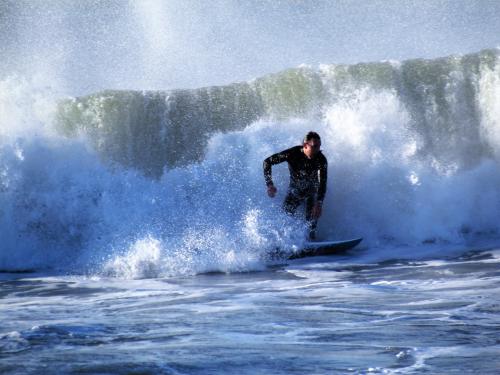 Morro Rock Beach 
It's not surprising that this beach was chosen as the official site of both surfing competitions. Sprawling from the base of Morro Rock to the north, this renowned iconic surfing location has become known as the place to catch a wave on the Central Coast. Surfers can hang ten on multiple peak beach breaks with the massive Rock in the background. Not a surfer yourself? Spread out your towel to watch up and coming surfers from around the world compete.
Morro Strand State Beach
Morro Strand State Beach is located two miles north of Morro Rock Beach and is a sandy paradise where you can explore the dunes, go tide pooling and searching for sand dollars. Surf at dawn or sunset and watch Morro Rock come alive with color while you hang ten.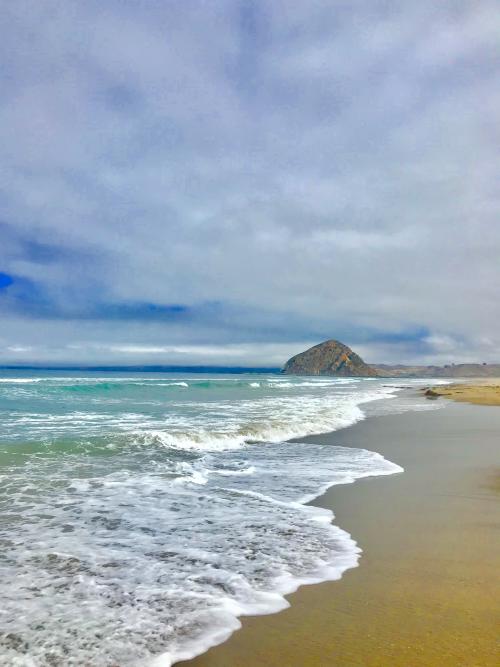 South Jetty Break on the Sandspit
South of Morro Rock, the Sandspit isn't far away from the action, but it feels like an escape. As the most secluded beach in the area, there is only one way for surfers to access the Sandspit from Morro Bay: by paddling across the bay or the harbor entrance. When the swell is right, the South Jetty beach breaks are epic. 
  
Board Shapers, Surf Shops, Surf Lessons & Summer Camps
Joe's Surfboard Shop and Shaping Studio
Joe's believes "good surfboards make happy surfers," and this shaping studio offers a wide variety of high-performance surfboards designed to keep surfing progressive and fun. The added bonus? Joe is very accessible and can be found in the store six days a week building boards and talking shapes.
Nautilus Surf Co.
Local Chandler Richmond also makes customer boards at his local shop. That's where he creates Morro Bay built, hand-crafted, surfboards from start to finish. He started off with ding repairs and worked up to sanding and glassing and eventually shaping. "I love what I do," Richmond says, "and I'm grateful for all the friends and supporters that help me keep my passion alive."
Morro Rock Surf Shop Offers Surf Lessons
Morro Rock Surf Shop sells and rents surfboards, wetsuits, stand up paddleboards and offers surf lessons. They also carry local Central Coast brand AzHiAzIaM (pronounced: As High As I Am), which celebrates the gift of human flight - anything to do with "catching air."
Wavelengths Surf Shop & Rentals
A Morro Bay staple for decades, Wavelengths Surf Shop offers everything a surfer could want. Located on the Embarcadero, Wavelengths rents surfboards, wet suits and other gear, but also is known for selling stylish sweatshirts, t-shirts, shoes, hats, wallets and more.
Project Surf Camp
The City of Morro Bay partners Project Surf Camp (PSC), a charitable organization designed to educate individuals with special needs every July and August. Their mission is to build self-confidence, self-esteem, and self-efficacy by providing opportunities to build social skills, improve physical fitness, develop healthy outlets for stress reduction and foster independence. Registration begins April 1.
SLO CAL Open at Morro Bay Hotel Sponsors
La Serena Inn in Morro Bay is the official hotel for the event. This warm and inviting hotel is within walking distance to the beach making it the perfect choice for those entering the contest or coming to town to watch the surfers hang ten. It is also close to the center of town and the Embarcadero filled with restaurants, shopping and great fun. Other hotel partners include Masterpiece Hotel, a unique and stunning property, decorated with reproductions of great artistic masterpieces. The Spanish-Moorish architecture adds a unique element of style, while the Roman Style Bath provides the ultimate in relaxation. The newly renovated Best Western San Marcos Inn in Morro Bay is also sponsoring the event. Besides offering everything you've come to expect from a Best Wester experience, this atrium style hotel sits just a block and a half up from the Embarcadero and the bay.
###
About Morro Bay
A true #outdoorhub, this active seaside fishing village with bustling waterfront offers a fun and funky getaway for travelers who seek great wine, seafood and outdoor adventures filled with wildlife watching and pristine nature experiences. Located along coastal Highway 1 in San Luis Obispo County just south of Big Sur, midway between Los Angeles and San Francisco, Morro Bay offers year-round activities in an unspoiled slice of California.  From ocean-side golf, kayaking, sailing, hiking, fishing, surfing, biking, and bird watching, to kite flying, shopping, dining, wine bars, local craft brews and miles of unspoiled beaches, there is something for everyone.
Sitting majestically between the beach and the harbor lays the iconic and historic landmark Morro Rock, welcoming travelers from miles away as they approach Morro Bay. Located just minutes from world-renowned Hearst Castle, historic missions, breathtaking Montana de Oro State Park, and surrounded by vineyards from Paso Robles to Edna Valley, Morro Bay is a destination designed to fit any style and budget for families, couples or groups. Morro Bay also offers a myriad of year-round events including food, wine and music festivals, art fairs and car shows unique to the town. For more travel information visit www.morrobay.org or follow Morro Bay on Facebook, Instagram, twitter and Pinterest.