Find Local Oysters Every-Which-Way, Salmon Candy, Pistachio Crusted Scallops, Filet Mignon Crostini,
Cioppino to Die For, Coquilles St. Jacque, Poke and Guac, and California Chowder all on the Menu this Summer
Morro Bay, CA, May 29, 2019 – Fish & chips are the quintessential seaside nosh, and Morro Bay has so many delicious "& chips" options along the waterfront, including local halibut, cod, scallops, shrimp, clams, calamari and oysters, it's off the hook! But that's not all Morro Bay has to offer gastronomic travelers. There are a plethora of locally-owned and operated restaurants that offer specialty dishes, fashioned to showcase the local aqua- and agri-culture, made with lots love and delicious creativity. No matter what you crave this summer, a bevy of cool restaurants stand ready to curb your hunger during your epic #morrobaycation. Oh, and did we mention lots of #otterslivehere, too. You can see them playing from the harbor front restaurants.
Local Oysters Six Ways
#OysterFarming in Morro Bay began in the early 1900's and has been a part of its rich culture ever since. Today Morro Bay is known for cultivating two types of local oysters in the bay: Pacific Gold and Grassy Bar. And if you want to choose from a half dozen ways to eat local oysters while listening to daily live music, overlooking Morro Bay, Tognazzini's Dockside, Too Restaurant is the place for you. Not only do they have local oysters & chips, they sell local BBQ'd oysters in garlic butter, local oysters on the half shell, local oysters Rockefeller, local oyster sandwiches and local Mexican oyster cocktails. Family owned and operated, the specialty at Tognazzini is fresh seafood from the West Coast, most caught on the family's fishing boat The Bonnie Marietta. In fact, Morro Bay is known for leading the way in #sustainablefishing practices along the Pacific Coast. Visitors can watch local fishermen unload their catch of the day and purchase the freshest seafood directly from the docks at a variety of locations along the Embarcadero.
Everything is From Scratch. Really.
If they don't do it from scratch, they don't do it at all. Frankie and Lola's Front Street Cafe is a local original on the waterfront offering breakfast and lunch made with a twist, from scratch, daily. Try scrambles, omelets and burritos with ingredients like house made chorizo, oven-dried tomatoes, edamame pesto, house-cured corned-beef hash and fried-green-tomato benedict. Lunch is no slouch either. Find steamers with Manilla clams, mussels, prawns and scallops steamed with white wine, leeks, garlic, scallions and butter, or pistachio crusted scallops and a grilled pear salad. This restaurant offers a pet-friendly front patio and provides great views of Morro Rock and the harbor.
Fine Dining, Views and Mid-Week Bar Specials
Windows on the Water is a well-known for their floor to ceiling windows offering a panoramic view of Morro Rock, abundant wildlife, the pristine sand spit and an active boat-filled harbor. Not to mention incredible service. It's also known for its delicious seasonal menu (including Pacific Cioppino to die for), outstanding wine list, craft cocktails and mid-week bar specials. Meet Martini Monday: only $4.95 for martinis and live music from a variety of local singer/songwriters, guitarists and jazz musicians. Did we mention Oyster Tuesdays? Well it's quite the rage being that oysters are only $0.94 cents each in the bar from 5 pm 'til close, served your choice of on the half shell, fried or shooter. Slider Wednesday offers a weekly chef created trio of little burgers with big taste served on house made buns. And Thursday's are the new Friday night at Windows with Taco Thursday specials that include $1 tacos, and tequila and beer specials in the bar from open 'til close. Is your mouth watering yet?
Salmon Candy and Shark Jerky
Sounds a bit unusual, and it is. But if you like seafood, you'll love these specialty dishes made in house at family-owned and operated Giovanni's Fish Market & Galley. Salmon Candy is a Pacific Northwest tradition first invented by Native Americans. This sweet smoked salmon is also known as "Squaw Candy" because if it's brown sugar coating and sweet flavor. Another incredibly addictive seafood snack, Shark Jerky is made from fresh thresher shark marinated in brown sugar, soy sauce, garlic and black pepper. You'll definitely get hooked on this one! This #seafoodieparadise is where guests watch the catch of the day being unloaded from the boats, order it fresh off the menu, have it prepared the way they choose, and dine on the patio overlooking Morro Rock and the bay. Choose from a creative menu including fried fish on a stick, ahi or salmon poke bowls, blue crab sandwich, or surf and turf burritos.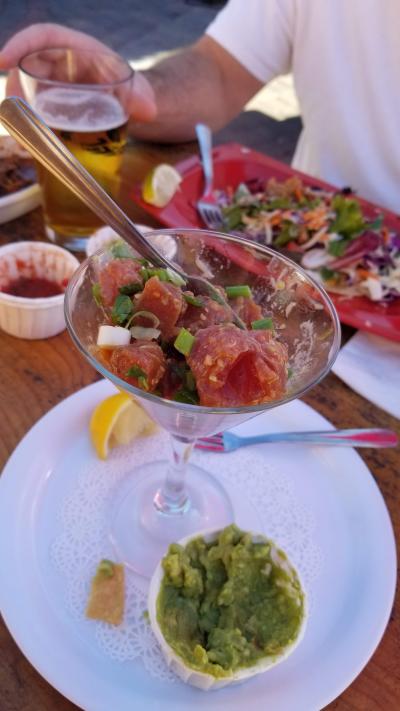 Over the Top Gourmet Tacos
A local favorite and recently recognized in Sunset Magazine, Taco Temple is North Morro Bay's #seafoodie hangout. Known for their over the top tacos from fresh seafood options like fresh halibut, blackened scallops, fried calamari and crab cake tacos, to veggie and meat options like sweet potato enchiladas, overflowing crispy carnitas platters, or chile verde tostadas all topped with handfuls of  fresh cabbage and creamy lime dressing, this is gourmet Mexican at its finest. And don't overlook the appetizer menu featuring ahi poke tossed with ponzu, soy, ginger and sesame seeds. It's served in an overflowing martini glass, fresh and ice cold. Pair it with Taco Temple's house made guacamole and chips and it's the perfect meal after a hot summer day at the beach.
One Family and 67 Years of Waterfront Dining
Seafood is at the heart of the menu at Dorn's Original Breakers Cafe, offering #localflavor for breakfast, lunch and dinner since 1942. Dorn's is situated up above the Embarcadero offering gorgeous views overlooking all Morro Bay waterfront, harbor and beaches north of Morro Rock. It works up quite the appetite just taking it all in! Nancy's House Salad with romaine, avocado, blue cheese with garlic vinaigrette is a staple on this menu, named after Nancy Dorn, a first generation owner. She ranks pretty high on the list because she also has another salad to her claim. Nancy's Other Salad (the actual name) is a version of the classic iceberg blue cheese wedge salad with the addition of shrimp and is super refreshing. Dorn's also offers incredible daily breakfast options but is probably best known for their weekend brunch. Eggs benedict, eggs Florentine, eggs Sardou and huevos rancheros make that list. And, of course, what would brunch be without Mimosas and Bloody Mary's on the menu, too.
Everything is Vegan. Really.
Morro Bay's first natural food restaurant, Shine Cafe opened in 1998 and serves fresh vegan cuisine using only natural, local ingredients, including a variety of gluten and soy free options. Located inside Sunshine Health Foods, which opened on Morro Bay Boulevard in downtown Morro Bay in 1973, this fun and funky restaurant with street side patio offers fresh salads, black bean tostadas, hummus wraps and tempeh tacos. Pretty solid vegan fare, but they really know how to take it up a notch on items like their tempeh Reuben with cilantro dressing, mustard, sauerkraut (add avocado at no extra charge), soups, salads and salad dressings like tamarind citrus and lemon and roasted garlic are all terrific. And, we have to talk about the spring rolls. A local favorite, rice paper spring rolls are filled with fresh veggies, avocado, and seasoned tempeh and sesame ginger dressing. They round out their menu with fresh juices, smoothies and solid breakfast items like buckwheat pancakes and tofu scrambles. Delish!
California Chowder
Open for lunch and dinner, diners enjoy some of the freshest seafood, pasta, salads, soups, sandwiches and Mexican specialties at Bayside Café, located in the Back Bay Marina in the Morro Bay State Park. A local favorite established in 1986 by a Cal Poly graduate who loved to cook and brought her recipes to life at Bayside, this out of the way waterfront café serves up tasty grub with an incredible view. Enjoy bacon wrapped albacore skewers flame broiled with teriyaki sauce for appetizer, a delicious crab cake sandwich with rock crab, red bell peppers, green onions and spices on a pretzel bun for lunch, or Coquilles St. Jacque made with puff pastry, scallops, sherry and cream for dinner. The ingredients are fresh, the variety is fun and the food satisfying. Of everything on the menu, be sure to try the Bayside Café specialty on the menu: California Chowder. A mixture of Bayside Café's clam chowder and their spicy green chile soup, this unbelievably delicious soup is worth the drive not matter where you live.
Wine and Craft Beer
For wine lovers, the Morro Bay Wine Seller offers a selection of local and regional wines for taste or purchase and weekly live music, along with specialty cheeses, olive oils and craft beers to pick up and take with you for that romantic picnic planned for your loved one. Or, stop by Stax Wine Bar & Bistro for a bite on the bay while relaxing by a romantic fire on a plush leather couch. STAX features over 100 wines from the Central Coast and their menu changes weekly. Enjoy their Tapas Menu featuring charcuterie, Panini sandwiches, filet mignon crostini, croque monsieur, salads and more. Are craft brews your elixir? Look no further. The Libertine Pub offers #craftculture, inviting patrons to enjoy a cozy atmosphere, live music and an expansive beer selection with 48 beers on tap, including their own on-site brews that focus on barrel aged "wild ales." And Morro Bay now has a Nano brewery called Three Stacks and a Rock Brewing Company. A Nano brewery produces in small batches of three barrels or less, turning out very customized flavors that are all hand crafted.
Morro Bay's Avocado Ranching Culture
Avocado and Margarita Festival celebrates the local avocado ranching culture in Morro Bay and takes place Saturday, September 7, 2019. Indulge in top-shelf premium margaritas and on the region's amazing fresh-off-the-tree variety of truly delicious California avocados. Avocados grown in Morro Bay's groves are unlike any other in the world. Coastal fog breathing into the valleys from the Pacific Ocean covers these groves each night and burns off late in the mornings. The avocado trees growing in the valleys close to the ocean are able to respire for longer (this is called diurnal temperature variation and is common lingo in coastal CA viticulture) which slows the ripening of the fruit. This cycle is what makes it possible for avocado fruit to stay on a Morro Bay grown tree for up to 18 months before it's ripe enough to be hand-picked. In fact, it's very common for one tree to hold two different harvests at the same time. That's unique - just like Morro Bay.
For a full listing of dining options in Morro Bay, please visit https://www.morrobay.org/restaurants/