Students & Families –
With Cal Poly Week of Welcome (WOW Week) underway, it's time to explore your second home for the next four years.  It can feel overwhelming when everything is new.  So, here is a quick guide on how to get to the beach, the best places to take a study break, and why to stay in Morro Bay during family visits. 
Beach
What's the first thing you should do after unpacking your things?  Head to the beach of course.  Yes, college is serious business focused on learning, but it's also important to scope out the best beach so that in your downtime, or when you just need a bit of a break, you know right where to head.  And Morro Bay has over 6 miles of beach for you to find your own perfect slice of sand without the crowds!   
Getting Here
Morro Bay is only 13 miles away from Cal Poly, but feels like a true getaway!  To get here, simply drive north on Highway 1, catch the Route 12 bus from campus (only $5.50 for a day pass), reserve a car share, or order a uber/lyft/taxi service for the ride.  And once you get into town it's super easy to move around.  All of the major attractions, shops, restaurants, and activities are walkable.  Or throw your bike on the bus or car rack and ride Morro Bay's bike path system.  Additionally, the Morro Bay Trolley runs all the way from Morro Strand State Beach in the north end of the city down to Morro Bay State Park on the south edge of town. 
Back to Nature
Benefits to spending time in nature include stress reduction, improved short-term memory, restored energy, improved concentration, and better mental health just to name a few.  Morro Bay has no shortage of natural wonders including several beaches, the national estuary, and state park that are sure to hit that re-set button.
Morro Rock
Head to The Rock, a 576 feet tall long-extinct volcano, and find miles of beach to the north.  Pack the books, a picnic, or beach games and spend the day listening to the waves crash and feeling the sand beneath your feet.  Our expansive west facing beach dunes are also prime sunset watching locations.  Who needs Netflix when you have front row seats to the sky coming alive with changing colors as the sun dips below the horizon?  As the night falls roast s'mores around one of the designated fire pits near Morro Rock.  And on a clear night the stars will keep you company until you make the return trip to SLO.
Estuary
A protected habitat, the Morro Bay National Estuary is filled with diverse plants and animals – including our famous sea otters!  The estuary is easily explored from the water or on the shore.  Public grills along the water's edge are the perfect place for lunch or dinner with a view, and many local restaurants boast waterfront dining as well.
Morro Bay State Park
Morro Bay has its own State Park with miles of trails to discover.  Black Hill is a local favorite.  It is an easy hike just above Morro Bay Golf Course which offers sweeping views of Morro Bay, the National Estuary, and beyond. 
Get Moving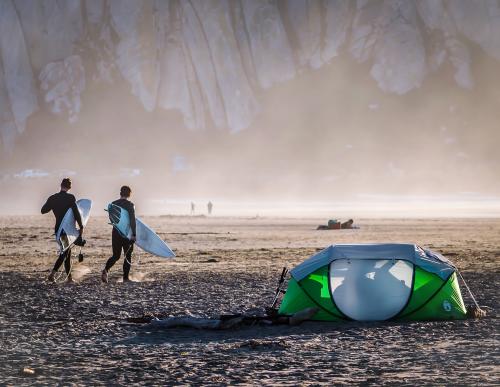 Take a break and get active!  Morro Bay is a recreational hub for outdoor activities.  Kayaking, fishing, hiking, mountain biking, paddleboarding, surfing, trail running – you can find it all.  A number of equipment rentals in town make it extremely easy to get our there and get moving!  From the protected bay to the open ocean, learn more about all our diverse water adventures here. 
Bonus Tip: Morro Bay may be a small town, but it hosts some great, first-class musical acts.  Be sure to add it to your concert venue list during your years at Cal Poly.  
Study
You can only study in the library so many hours until you need a change of scenery.  Morro Bay has plenty of parks for an outdoor session and numerous coffee shops to hunker down and get that paper written.  Get re-focused and inspired. 
Stay
This one's for the parents!  Did someone say family beach getaway?  Staying in Morro Bay while visiting your student is a great excuse to spend some time in the sand.  Morro Bay offers a variety of hotel and motel options – including waterfront, group accommodation, and pet friendly properties.  You can be close by to campus, have immediate access to the beach, and easily get to popular attractions such as Hearst Castle and Big Sur to the north. 
The next four years will go faster than you think.  Be sure to take the time to fill them with epic memories.  Use this student guide to Morro bay as a jumping off point to get off the beaten path and really discover all that your new home has to offer. 
So, let's review.  If you only take away two things from this guide, here are the cliff notes version:
- Morro Bay is one of the closest beaches to campus, with the most space to spread out. 
- Morro Bay is the perfect spot to stay for guests when they want to visit, but also want to enjoy a beach vacation.
There's just one last thing to say: welcome to the neighborhood!  For more information visit morrobay.org or call the Visitor Center at (805) 225-1633.