Just two blocks from the water in the heart of Morro Bay you'll find a walkable downtown filled with original makers, boutiques, and intimate dining options.  The restaurants here are unique - an extension of the cities' vibrant artistic community.  Many owners handcraft the menu and food they sell, making your dining experience truly one of a kind.
Variety
When you book your stay at a Morro Bay hotel it's just a short walk to a variety of eateries.  Many hotel properties are located downtown, which means restaurants, as well as shopping and activities, are right outside your front door.  With everything at your fingertips, the real question now is what are you craving for dinner? 
Within a few blocks you'll find burgers, pasta, sandwiches, salads, traditional Thai cuisine, Mexican plates, pizza pies, Mediterranean specialties, barbeque, vegetarian fare, smoothie bowls, sushi, sweet treats, happy hour snacks and more – food to satisfy any desire.  And the use of locally grown produce, fresh local seafood, craft drinks, and personal recipes make every meal uniquely Morro Bay.
Downtown eateries also run the gamut of indoor and outdoor spaces.  So, feel free to bring your pet along and enjoy dinning al fresco.  Pizza Port's outdoor space is a great example of a place the whole family can enjoy equipped with  games and homemade pizza.  And check out all the pet friendly dining options in Morro Bay here.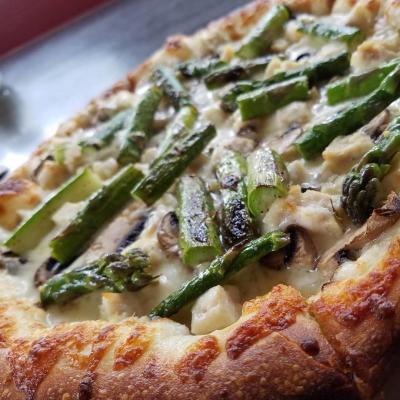 Photo: Pizza Port
Arriving late and looking for a quick snack?  The Siren has sharables and appetizers available late, along with a full bar and live music to round out your evening.  Or looking for someplace to visit early to get your day full of Morro Bay activities started?  Kitty's Kitchen has the classic diner feel to accompany your hearty breakfast cooked from scratch. 
Ingredients
You can't talk about local Morro Bay ingredients without talking about seafood.  Multi-generational fishing families continue to work in the waters off Morro Bay brining in their catch daily to supply local fish markets and restaurants with the freshest seafood.  Calamari, Dungeness Crab, Salmon, Lingcod, Tuna, and homegrown Oysters are some local favorites.  Seafood can be found on many menus around town, including at Dorn's Breakers Café, where they have been serving since 1942 with water views. 
Local fruits and vegetables are the base of many Morro Bay restaurants.  This is especially true at Shine Café where the highest quality organic produce is used to craft vegan food and drinks.  From made to order smoothies to their famous Tempeh Tacos you can't ignore the flavor of freshly grown ingredients.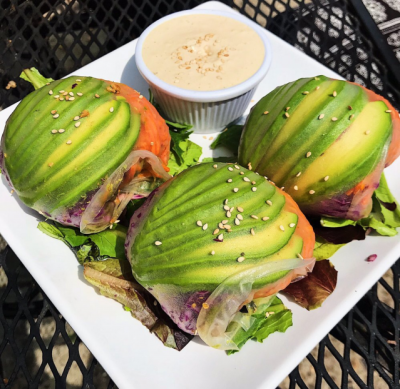 Photo: Shine Cafe
Local Tip:  Take the taste of Morro Bay home to your own kitchen by visiting one of our weekly famer's markets.  Every Saturday, from 2:30 – 5:30, the downtown market offers a wide assortment of farm fresh seasonal produce.          
Handcrafted
Because they are locally owned and operated, Morro Bay's downtown restaurants can offer intimate dining options, unique amenities, and specialized menus.  Owner specialties around downtown include:
Grape Leaf – "Abe's special tahini dressing"
Brickhouse BBQ – award winning BBQ sauces
DiStasio's – traditional marinara sauce, made using their 100-year-old family recipe, pictured above
Buttercup Bakery – homemade croissants and cakes for every occasion
You can also find craft drinks in Morro Bay.  When you book a two-night stay in September or October receive a bottle of wine on us!  Local wines are also available for purchase at many Morro Bay restaurants as well as central coast beers.  And did you know that Top Dog personally roasts all the coffee they serve in their café?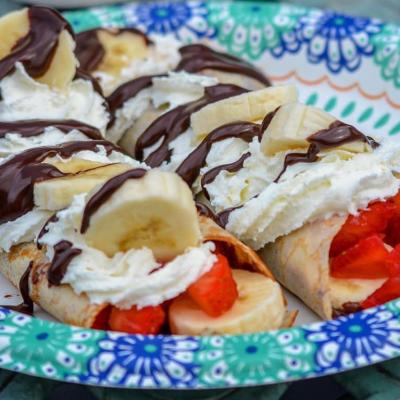 Photo: Grandma's Frozen Yogurt & Waffle Shop
Morro Bay's downtown is filled with locally owned and operated restaurants providing handcrafted food and variety just minutes form your hotel room.  Book your visit today by visiting morrobay.org or call the Visitor Center at 805-225-1633 for more information.