School is out, summer is here. 
Morro Bay is a great place to escape the heat at the coast.  Follow these tips and tricks for maximum fun during your summer break.
Tip #1: At the Beach
With six miles of beaches, Morro Bay has lots of shoreline for water activities.  When spending time at the beach, watch out for differences in water color and waves.  This can be an indication of rip currents.  If you find yourself in a rip, don't fight the current, swim parallel to shore.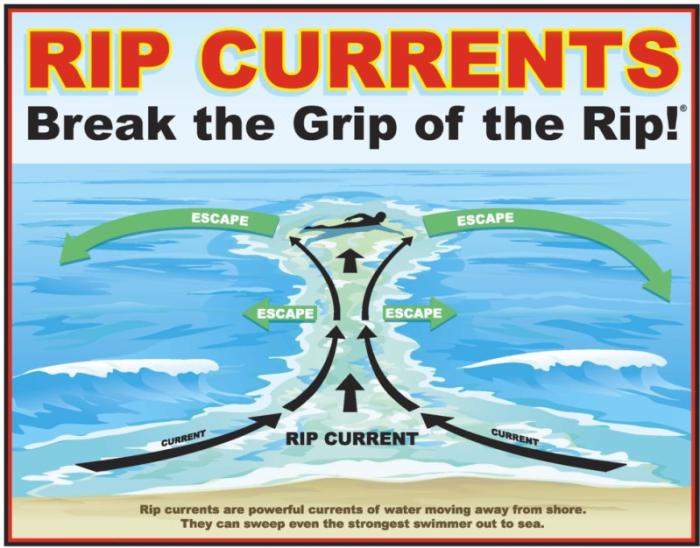 Beachgoers are also reminded to always swim near a Lifeguard.  Morro Beach lifeguard towers are manned seven days a week in the summer.  And don't hesitate to ask your local guards for the latest beach and other information.
Tip #2: On the Water
Most of us are aware of what traffic signals look like on the road, but do you know what the buoys on our waters mean?  If you're in a boat, remember this phrase "red, right, returning."  When you are traveling towards the shore (from open water), keep red buoys on your right. Looking to boat in Morro Bay?  You can rent a boat for the day or join a cruise and enjoy the ride.
For more information on boater safety contact the Harbor Department at 805-772-6254.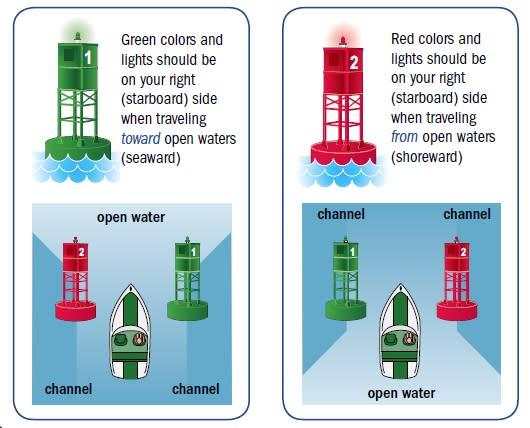 Graphic from U.S. Coast Guard
Tip #3: While you're Hiking
Morro Bay has some great hiking trails for a variety of skill levels.  For the best experience while you're enjoying our natural areas and beautiful vistas, keep these guidelines in mind: stay on marked paths, keep an eye out for poison oak (look for scalloped edge leaves in groups of three), don't hike alone and observe trail hours.  Be sure to check out these popular trails while you're in town!
For trail information in Morro Bay State Park, call 805-772-7434.
Tip # 4: During Water Sports
Bring your own equipment and launch your craft at Coleman Beach, or rent your gear once you arrive.  For the best kayak and paddleboard adventure, paddle with the tide.  The best way to determine the tide direction is with a tidebook, but a quick look at how the sailboats are facing in the moorings can be a good indication.  The tide will swing these boats so that their bow (front of the boat) is facing into the tide.  For example, if the tide is going out of our bay all the boats will have their bow facing towards Los Osos – this is the perfect time to paddle towards Morro Rock.  
Tip #5: When You Encounter Wildlife
Sea otters, shore and sea birds, sea lions and many more animals call Morro Bay home.  By keeping your distance and watching quietly, you'll be able to view these animals for longer and get a realistic idea of how they spend their day.  Morro Bay is the perfect place to view Sea Otters in the wild.  Here are some otter savvy viewing guidelines: do give them space, do remain alert, do pass parallel, do wait your turn.  Responsible observing helps to keep these animals healthy.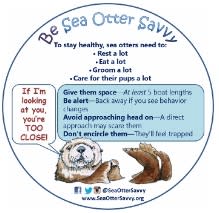 Tip #6: While you're Biking
Share the trail.  Help keep everyone safe on bike paths, roads and mountain bike trails by following the rules of the road.  If you are on two wheels avoid walking lanes and be sure to use signals when passing.  And if you are on four wheels be sure to watch out for bicyclists in town.  Peddle along the Morro Bay bike path near the rock or click here for more challenging bike routes.
Tip #7: For Next Time
While you are enjoying your Morro Bay visit, make your return trip great by picking up after your group.  Be sure not to overfill garbage cans, as the wind will blow garbage into our water.  Even better – pack up trash whenever possible.  Morro Bay is proudly dog friendly.  Bring your furry friend to enjoy the beach but be sure to pick up after them.  This is an important way to keep our bay clean and healthy for you to enjoy!
To learn more about how to keep our bay clean, visit the Morro Bay Estuary Nature Center at 601 Embarcadero.