Welcome to Morro Bay, where there's history on every street.  You may know what the city looks like today, but have you ever imagined what this area may have been like in the past?  Follow this historic downtown buildings and sites walking tour (download the complete tour here) and learn more about Morro Bay history.   
Recommendation:  start your walking tour of historic downtown at the Morro Bay Library.  From here Morro Bay Boulevard and Main Street, the two main thoroughfares of downtown, are walkable and easily accessible.  You'll also find plenty of parking.  Be sure to check out the mosaic mural Yesterday, Today & Tomorrow along Shasta Street before setting out on your tour.  If you're interested in exploring more of Morro Bay's Mural Mile you can download the tour here.   
Main Street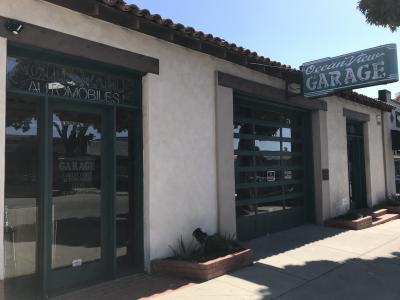 Did you know that Historic Highway 1 use to run right through Morro Bay?  What is now the downtown portion of Main Street was the old Highway 1 route.  So is it any wonder that an automotive shop put down roots at 936 Main Street?  Ocean View Garage was among the town's earliest garages.  And over the years they serviced a lot of travelers along the coast…maybe even a celebrity of two on their way to Hearst Castle.  The shop, with its garage doors still on display, acts as a check-in location for the annual Cruisin' Morro Bay Car Show each May. 
Just a couple doors down at 900 Main Street you'll find Morro Bay's longest continuously operated business.  Originally Happy Jacks, then the Fuel Dock, and now The Siren.  Next time you're inside for a bite to eat, drink, or concert take note of the neon light…it's a nod to the building's history.
A dance hall, roller skating rink, pool hall, and now a bar?  The corner of Harbor and Main Street has always been a hub for social activity in Morro Bay.  You may not find any roller skating inside Legends, but there is a pool table to keep the site's history alive. 
Also, located along the Old Highway 1 is one of Morro Bay's earliest hotels.  Originally two stories, only one story remains at 787 Main Street.  No longer a hotel, this restaurant continues to bring the community together over good food and a family friendly outdoor patio.
Morro Bay Boulevard
The city block that is surrounded by Morro Bay Boulevard, Main Street, Harbor Street, and Monterey Street holds a treasure.  The oldest house in Morro bay is in the middle of this block.  See if you can spy it from the street.  In addition to the oldest house, this block was also home to the Rock Café – a popular place during World War II, the spot that housed Morro Bay's first department store, original town theater, and the first drug store.  There's lots of history in this area of town!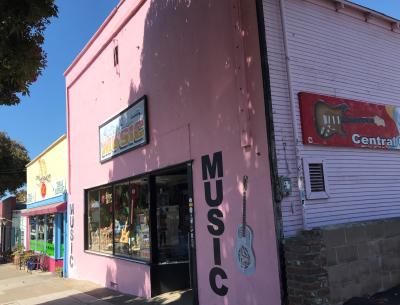 If you look at any old photos or postcards of Morro Bay, you're likely to see The Morro Bay Variety.  This location, built in the early 1900s, has gone through some evolutions over time from the first movie house, to a live theater venue, a dance hall, and today a music shop.  Head to 365 Morro Bay Boulevard and step inside where you can still see the stage and projectionist's booth of yesteryear.
The Bay Theater – Morro Bay's current movie theater – was built in the early 1940s.  It was constructed as a single screen motion picture theater and still operates that way today.  There have been some technology upgrades throughout the years, but the historical integrity and charm have been preserved.  Catch the newest film at any of the twice daily showings (with three runs on Sunday) for a travel back in time.  And even if you choose not to venture inside, the marque out front is picture perfect.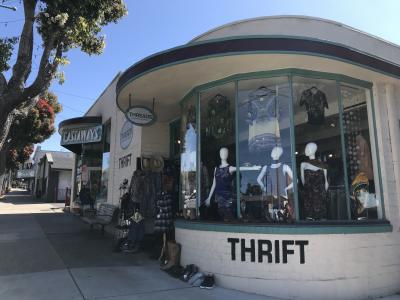 At 400 Morro Bay Boulevard you'll discover the building, with unique curved features, that housed the old soda fountain on the 1940s.  Can't you just imagine going in and sitting at the counter for an ice cream soda?  Now a days it's more likely that you'll pop into Buttercup Bakery (just next door) for a coffee before doing some shopping at Threads & Castaways thrift stores currently occupying the building. 
Bonus:  You'll need to hop in the car or on a bike for this one!  Did someone say Pink Art Deco?  This distinct Morro Bay building is not located in downtown but can be found along Highway 1 in north Morro Bay.  If you're looking for the perfect vintage photos, you can't ask for a better backdrop.  And the current antique shop on site is the perfect spot for props and home décor.  If you pass by at night you may be greeted by a blue glow as the building come to life with colored lights.
Take a stroll down memory lane and through Morro Bay.  A historic downtown walking tour is a great way to spend the afternoon learning and enjoying the charm of the town.    
 
**Special thanks to the Morro Bay Historical Society for their work in compiling the historic tour