Pacific Gold Oysters thrive in the cold, nutrient-rich waters of Morro Bay. The strong wind and currents of the Pacific Ocean habitually greet the peaceful streams that flow from age-old volcanic aquifers all day long in the bay. This perfect convergence carries constant changes in salinity, temperature, nutrients and tides, resulting in a healthy home for robust oysters. Occasional rainfall on our coast drops the salinity levels in the oyster beds, creating a flavor known for having a distinct melon-finish and a taste you cannot find anywhere but Morro Bay, California.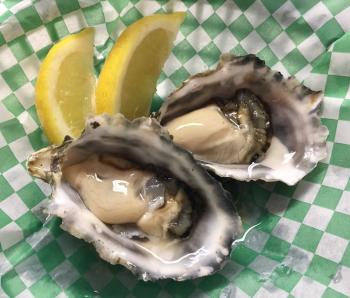 Aside from guests to city who travel far and near to indulge on our gems of the sea, Morro Bay's residents celebrate mother nature's gift to our bay through development of oyster farms, gourmet oyster dishes and annual oyster-eating competitions. Come celebrate our oyster-mania and indulge through one of the local oyster-peddlers:
Upcoming: Gio's "Down the Hatch" Oyster-Eating Competition:
During this year's Harbor Festival located on the Embarcadero, come enjoy or participate in Gio's 13th annual oyster eating competition. Located on the main stage of the festival, the top three contestants will be celebrated with trophies, prizes and bragging rights. Come out to join the fun on Saturday, October 7th, at 1:45pm. This festival has FREE admission and opens at 10am with dozens of seafood booths, local vendors and live entertainment all day. For more information on the festival, click HERE.
Our Oyster Farms: 
Since 2004, founder Neal Maloney has worked relentlessly to produce the freshest oysters possible for Morro Bay. Harvested by hand, the Pacific Gold Oysters spend 6 to 8 months in a highly-monitored nursery to prepare them for the harsher waters of the bay. Once of age, the oysters are then transferred to the bay in large mesh bags to allow plankton to freely swim through the farm. After 12-18 months, the oysters are then harvested and allocated to some of the best seafood restaurants in town as well as local farmers markets. 
A family-owned farm conceived in 2009, Grassy Bar is proud to deliver carefully-produced oysters to Morro Bay locals and restaurants as well as other nearby coastal cities. Additionally, they are also available nationwide with overnight shipping directly from the farm. The oysters grow on the mudflats of the bay's intertidal zone, creating a strong briny taste with an unmistakable hint of garden cucumber. Best served with a fresh-squeezed lemon, the flavor is uncopiable. 
Delicious Oysters Ready-to-Eat: 
A popular treat in Morro Bay, there are several locations that serve up oysters just the way you like them. Here are some of our favorite spots to enjoy:
Oyster Special at Windows on the Water:
Tuesday evenings are special with $0.75 oysters and an unbeatable view of the bay and Morro Rock, famous for showing spectacular colors at sunset. Windows on the Water hosts $0.75 oysters on Tuesdays from 5pm until closing exclusively at their oyster bar. Eat them raw off the shell, fried, or shooter-style to tie-over your oyster craving.
Home of the giant barbecued oyster, Tognazzini's Dockside Too is a fresh fish market with outdoor dining on the waterfront. With live music almost every day, Dockside Too makes for a special location to eat lunch or dinner with your family (four-legged friends welcome, too!). Taste fresh Morro Bay Pacific Gold Oysters on the half-shell, or enjoy a giant barbecued oyster the size of your fist! Paired with fresh lemon and homemade cocktail sauce, you'll want more than one.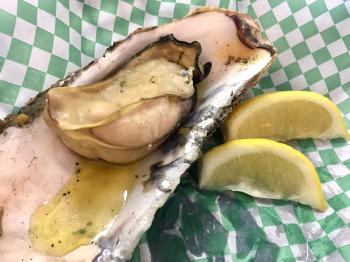 Dutchman's Family-Style Oysters:
Straight from the bay, Dutchman's serves up a family-style tray of half-dozen oysters on the shell. Paired with your favorite sauces and fresh lemon, this is the perfect appetizer for a family of seafood-lovers.