The spirit of the season resonates town-wide with the Lighted Boat celebration setting the stage for month-long magic and cheer. Excited children, parents, friends, (even grandma), can be seen gazing upon the bay wrapped in a warm blanket, with a steaming hot cocoa in-hand during the first weekend of December.
A challenge fit for holiday fanatics, the three days of lighted boat parades are made for those who can't seem to hang enough lights on their house. Show off your decorating skills and finally be rewarded for your holiday-light obsession.  Bring a decorated vessel to glide along the waterfront delivering a fantastic parade of shimmers, glitters, and dazzling lights. The best boats win prizes. Check out the schedule of events for the Lighted Boat Weekend below: 
FRIDAY, DECEMBER 1st, 2017 at 6pm
This year, there is a full weekend of lighted boat events, starting on Friday evening with the Lighted Boat Cruise. Join this non-competitive cruise along the waterfront to try-out your lights before the big parade day to follow. Friends and family should book a dinner reservation NOW to secure a table by the window for a perfect viewing location. They can enjoy local seafood for dinner while watching the show of lights as the boats glide along the bay. The cruise will begin at 6pm.
SATURDAY, DECEMBER 2nd, 2017 at 6pm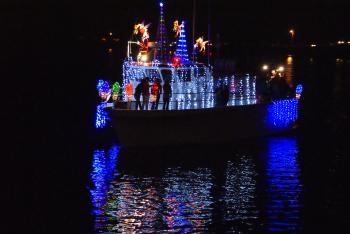 Participate in a procession of 40+ beautifully-decorated holiday skiffs, yachts, fishing boats, cutters, and sailboats parade through the bay. There will be $1,000 worth of cash and prizes that will be awarded to winners. The tall ship, Lady Washington, will be a part of the parade as well. Have your family watch you parade and enjoy hot cocoa, a performance from the White Cap Band, and visit Santa in his house. The parade starts at 6pm. 

Come early to see the simultaneous lighting of Morro Bay's many holiday trees, including our festive crab pot trees. The city-wide celebration begins at 5pm, with all locations being lit at 6pm. Locations are: City Park, Downtown, T-Pier, Anchor Park and other various places around town. 
SUNDAY, DECEMBER 3rd, 2017 at 1pm
Join the fun as our paddle-powered vessels get a chance to parade. Bring your own paddle board, kayak or non-motorized vessel, or rent one from local shops to participate. Suit-up in your elf attire or Santa gear, and turn your board into a holiday sleigh. $1,000 worth of cash prizes will be awarded to the best décor and costumes. On land, there will be paper boat building, along with other family-friendly activities. The parade starts at 1pm, and will begin at Tidelands Park. 
For more information on the Lighted Boat Weekend, click HERE. 
To see a full list of WINTERFEST events, visit http://morrobaywinterfest.com/