By vehicle, paddle, bike, or feet.  Morro Bay lends itself to exploration by multiple modes of transportation.  So, no matter how you come into town, you'll be able to get around with ease.  Here are some tips on how to make the most of your next visit based on speed, flexibility, accessibility and how you prefer to discover a new place.  Making a return visit?  Try another style of transportation and you're sure to shake up your perspective and find something new to experience in Morro Bay! 
Car
Perfect for: travelers trying to fit everything into a short period of time. 
Make Morro Bay your home base and have numerous day trips right at your fingertips.  Highway 1, Piedras Blancas Elephant Seal Rookery, Hearst Castle, Big Sur, surrounding wine country (both Paso and San Luis Obispo wine country), & Montana De Oro State Park are just a short ride away.  Jump in the car and head to any of the nearby attractions.  Grab your friends and start planning your road trips today! 
Public Transportation
Perfect for: visitors who want to put their feet up, leave the logistics to someone else, and take in the landscape as it passes by.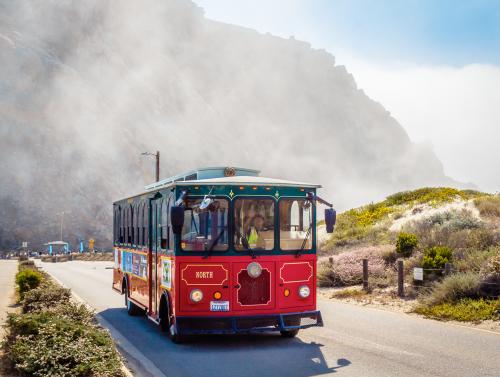 Did you know Morro Bay Transit has its own bus route around town?  The entire route from one end of Morro Bay to the other takes about an hour, and from the stop at City Park you can connect to the Regional Transit Authority (RTA) routes which serves the surrounding areas.  Don't want to wait at the bus stop for the fixed route?  Use call-a-ride and schedule your pickup time and pickup location.  All that's left to do is sit back and relax and be transported where you want to be.  Local transportation is  an affordable option.  You'll even find an old-fashioned trolley running throughout downtown and the embarcadero during the summer for an extra fun way to move around Morro Bay! 
Pedestrian
Perfect for: those who want to really get a sense of Morro Bay and who are looking for the most local interaction.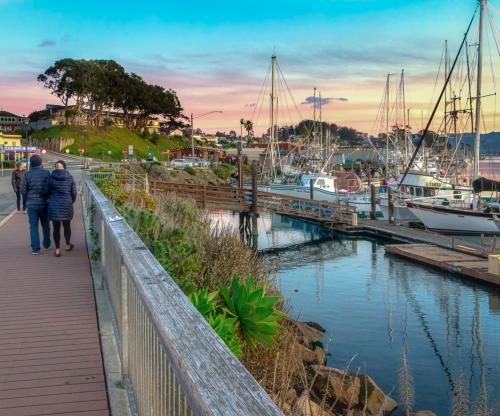 Morro Bay's downtown and waterfront make walking around town easy!  You'll find numerous shops, restaurant, and viewing platforms right along the sidewalk, and within steps of each other, for your enjoyment.  Not to mention six miles of continuous sand beach to stroll.  Slow down to really take everything in – the sights, tastes, and sounds of Morro Bay. 
Bike
Perfect for: the wanderer.  Get further than walking but maintain the flexibility of lots of stops along the way. 
Bring your own bike, utilize the ones supplied at your hotel, or rent from the diverse selection at local hire shops.  However you find yourself on two wheels we encourage you to take the scenic route.  Explore the trials, paths, roads, and beaches while feeling sea air on your face and the wind in your hair.  For example, ride from the south end of the Embarcadero along the waterfront and out towards Morro Rock utilizing the Harbor Walk.  When you get to Coleman Park take the path before the parking lot at the Rock and head north.  This trail will take you over Morro Creek and through Cloisters Park.  On the way back into town stick to the sand (mountain or fat tire bike required) and cruise along the beach.  There are also great paths in Morro Bay State Park if you'd rather cruise along the Estuary and Back Bay.  Or just head to downtown and take a leisurely cruise to the movies or around to the shops.
Complete bike map here.
Local Tip: Morro Bay has the rental shop for you based on your preferred bicycle style! 
Fat Tire Bikes - Estero Adventures
Surreys (perfect for families and groups) – Beachfront Kites, Surreys & More
Electric Bikes – Morro Bay Bike Shop
Paddle
Perfect for: The water adventurer.  Someone who wants to be active and see the area in a way that not everyone gets to experience. 
If you're looking to see a more hidden side of Morro Bay, see it from the water!  Rent a paddleboard, kayak, or electric boat and take in the sights how the harbor seals and otters do.  From behind a paddle you'll be able to explore the estuary and the animals that call the bay home.  From the water you can also access the Sandspit, the secluded dune peninsula in the middle of the bay – only accessibly by paddling across the bay.  Looking to launch your own craft?  Morro Bay Marina and Morro Bay State Park are great spots for easy access to explore the Estuary.  Tidelands Park and Coleman Beach are great for those who want to stick to the Embarcadero and Sandspit.  You can even launch from Morro Beach if you're up for an adventure and looking for open water paddling.     
Local Tip: book a paddling nature tour and have your own personal tour guide.
Morro Bay is easy to navigate and can be explored by numerous transportation methods.  Don't let transportation be a limiting factor on your trip to Morro Bay.  With this as your guide you'll be able to make the most of your experience.  Short on time? Stick to four wheels – either car or bus.  Interested in experiencing the true flavor of Morro Bay?  Slow down and take a walk around town.  Or maybe you're interested in experiencing our city in a unique or different way – rent a bike or paddleboard.  For more information on how to plan your next trip to Morro Bay call the Visitor Center at (805) 225-1633.