All aboard the Pacific Surfliner, Amtrak's ticket to the unreachable California coastline. Let the Pacific Surfliner be your travel guide as it takes you through a gorgeous beachfront journey unattainable in your car.
Riding the Pacific Surfliner is the easiest (and most fun) way to travel to Morro Bay from Southern California. The train tracks hug the coastline, delivering beautiful coastal views and beachfronts you've likely never seen. With comfortable seats, free wifi, and no travel stress, you will enjoy the journey just as much as the destination.
The Pacific Surfliner makes a stop at the station in San Luis Obispo, only 11 miles from the sand and sunshine in Morro Bay. Take an Uber to town and continue your seaside vacation with miles of uncombed beach to explore. 
Now that you're in Morro Bay… No car? No problem!
The majority of Morro Bay's hotels are walking distance to the downtown area, Embarcadero and beaches. To see which hotels are closest to your favorite Morro Bay hangouts, check out our visitor guide HERE. 
Morro Bay's streets and residents also cater well to bicyclists. Travel with your bike on the train and use it as a quick means of transportation when you arrive into town. With many bike racks and trails, biking around Morro Bay is an enjoyable way to see the entire city. 
November or December are our favorite travel months, as Morro Bay hosts a quiet city with no summertime traffic as well as some of the best weather of the year. Autumn sunsets kiss Morro Bay goodnight in vivid color with temperatures that will let you play outside into nighttime. These months also hold several great DEALS. Check them out below:
Kids Get Stuff FREE! 
Bring the family to stay in a Morro Bay hotel this November or December, and all kids 12 and under receive a passport to FREE goodies! They'll enjoy FREE sportfishing, bay tours, ice cream, hot chocolate, toys and more! Check out the deal HERE.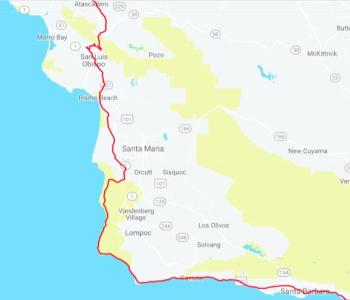 Amtrak Deals:
Kids 2-12 get 50% off daily on Amtrak rides.
Seniors and students receive 15% off with valid photo ID.
All AAA members receive 10% off most fares.
For more information on these deals, click HERE.
Click HERE to purchase your train tickets.
Click HERE to check out a list of Morro Bay hotels.