Your Guide to a Full Day in Morro Bay
As summer approaches and the weather begins to warm, there is no better time to spend a full day in Morro Bay. Located right on the Central Coast, Morro Bay is the perfect place for a weekend getaway or road trip stop. With beaches, state parks, watersports, delicious food and so much more, Morro Bay is a place you won't want to overlook.
Must-See  Things  In  Morro  Bay
Morro Bay's #1 Must-See is Morro Rock
This 581-foot volcanic plug is one of the nine volcanic plugs located within the San Luis Obispo area. The rock is located right alongside Morro Strand Beach and the bay. If you want to get a closer look you can take a stroll along the Harborwalk or if you enjoy spending time in the water, surfing provides stunning views of the rock. 
Look for Local Wildlife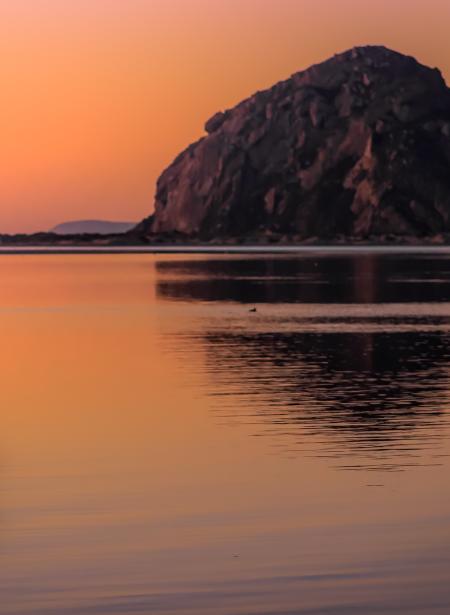 Sea Otters: These are some of the most popular marine life in the bay. Typically, these cute creatures are found near the South T-Pier, and if you're lucky you can spot 20 to 30 otters at a given time.
Sea Lions: You can find them at the sea lion dock in the bay. The sea lion dock can be viewed from the Estuary Nature Center's wildlife viewing station or even on the live webcam!
Whales: If you happen to visit when the whales are migrating (which is almost year-round) you may be able to take a whale-watching expedition to get a closer look at these magnificent animals. Humpbacks can be seen from late March through April into May. Blue Whales can be seen from April into summer and Orcas are seen any time.
Birds: Morro Bay is a popular place for many bird watchers as it is home to many unique birds. Local birdwatchers tend to visit places like the Morro Bay State Park Marina and Morro Bay National Estuary for the best views.
Take in the Scenic Surroundings
Morro Bay Strand Beach: This 3-mile long stretch of beach has plenty of space to explore. From dunes to the ocean there is always something to do. Try surfing the rock or looking for sand dollars on the beach.  
Morro Bay State Park: The perfect place for outdoor activities. This park offers opportunities to hike, bike, fish, sail, and bird-watching. For more fun, there is even an 18-hole public golf course located within the park.  
Tidepools at North Point Beach: Right off Highway 1, the tidepools at North Point Beach can be found during the low tide and are located right off the base of the stairway at the end of Toro Lane.
Montana de Oro State Park: If you have time to venture a little further Montana de Oro or MDO as the locals like to call it, is a beautiful nature oasis. With beaches, trails, and dunes this place offers views like no other.
Things  To  Do  in  Morro  Bay
Watersports on the Bay: Enjoy some time on the bay with kayaks or stand-up paddleboard rentals. This is a classic Morro Bay adventure and allows you to get great views of both Morro Rock and wildlife like sea otters and sea lions.
Shopping on the Embarcadero: The Morro Bay Embarcadero offers a wide variety of stores ranging from clothing and accessories to home goods and decor. Or if you're looking for classic Morro Bay souvenirs there are plenty of places to chose from.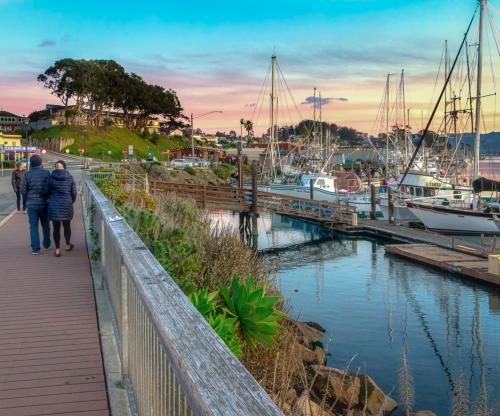 Go for a Walk or Hike: The Central Coast is one of the most beautiful destinations and offers so many hikes and outdoor adventures that are suitable for any activity level. Check out a more detailed list of hikes HERE.
Book a Whale Watching Tour: This is one of the most unique experiences anyone can have, but especially for visitors looking to spend time on the water and see some of the largest sea animals on earth! 
Look for Murals Throughout Town: There are over 20 murals throughout town that reflect the City's artistic community. If you're looking for photo ops these murals are perfect! You can even find a full tour map HERE
Rent a Surrey Bike or Boat on the Bay: If you're looking to go on a self-guided adventure, rental bikes or boats are the perfect options! Whether you're visiting with a group or just a couple of other people, there are plenty of options for every type of visitor. 
Places  To  Eat
Fresh Seafood: Morro Bay is known for fresh seafood and oysters. If you're looking to try the famous seafood of Morro Bay there are plenty of places to chose from on the Embarcadero. Some of the most popular spots include Giovanni's Fish Market, Tognazzini's Dockside, and Galley Seafood Grill & Bar. 
Local Cafes: If you're craving something different from seafood, there are plenty of local cafes and restaurants. Check out Bayside Cafe, Frankie and Lola's, Dorn's Original Breaker's Cafe, or Shine Cafe.
Coffee Shops: A coffee or tea is the perfect way to kick start your morning. Or maybe grab a drink and enjoy a walk on the beach or Embarcadero. Some popular local coffee shops include Skipper's Brew, Top Dog, Morro Bay Coffee Co., or Rock Espresso Bar. 
Wine & Beer: The Central Coast is known for its variety of local wineries and breweries. If you're looking to taste some of the best local wine and beer, check out Three Stacks and A Rock Brewing Co., Libertine Pub, STAX Wine Bar, Absolution Cellars, or The Savory Pallet. 
Tips  For  Visiting
If you want to beat the weekend crowds, visiting during the week will provide you with lower lodging rates and fewer crowds. 
If you're visiting in the warmer spring and summer months, you still may want to have a sweater or light jacket on hand. The mornings in Morro Bay tend to be cool and foggy until the sun begins to shine through in the afternoon. 
Check out the local Farmer's Markets Thursday and Saturday. You can find more information HERE.