Live like a Morro Bay local and order a whole live or cooked crab to take back to your vacation rental, or dine out at one of the many restaurants offering the freshest seafood along the waterfront
Morro Bay, CA, December 19, 2019 – Fresh, sweet Dungeness crab is ready and waiting for your holiday menu in Morro Bay, CA. Written up in the New York Times for leading the way nationwide in sustainable small fleet fishing practices back in 2014, Morro Bay offers a plethora of local fresh fish, Morro Bay oysters and crab for the holidays at seafood markets and restaurants up and down the waterfront. It's time to get cracking!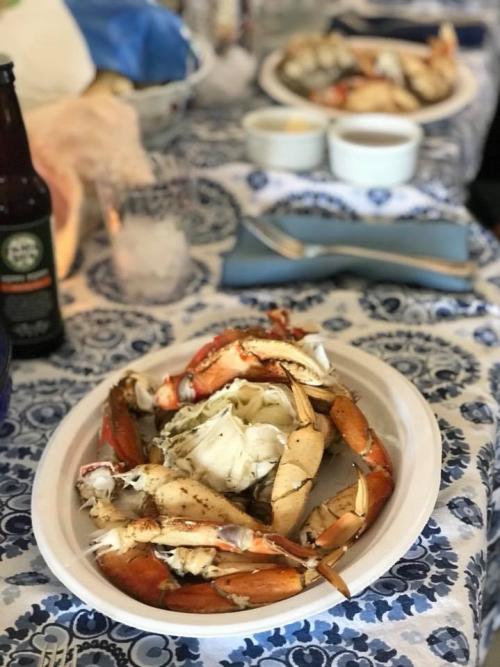 Pre-Order Crab for the Holidays
If hosting a large gathering this season, nothing expresses a casual Coastal California holiday more than a cracked crab dinner in your home. Call one of Morro Bay's two waterfront seafood markets to hear what was just unloaded on the docks for the fresh fish of the day, or to order crab, Morro Bay oysters and fresh fish to go. Dungeness is priced at approximately $10 a pound and our local seafood markets sell over 2,000 lbs. of crab per day on Christmas and New Year's Eve, so call a few days in advance to ensure product availability.
Giovanni's Fish Market has been family owned and operated in Morro Bay for over 25 years and is a local favorite. Dine-out on Giovanni's patio where you can pick your whole live crab, then they cook it, crack it and serve it right on the spot. If you'd rather do the cooking yourself, you can buy whole live crab and take it home, or call (805) 772-2123 ahead of time and they'll have your live or cooked order ready when you get there.
Tognazzini's Dockside Fish Market is a local favorite offering live music on the patio every day. They are family owned and operated and take great pride in offering the highest quality local seafood available. Boats arrive to their dock daily and the catch is transferred directly from the boat to the market. Step right up and pick your fresh cut of fish, crab or oysters and decide how you'd like it prepared – fried, grilled, in a sandwich or with some chips, just to name a few options. Call (805) 772-8120 for the catch of the day items and to pre-order your holiday favorite.
Find Fresh Crab, Crab Cakes and Seafood on the Menu in Morro Bay
From Dungeness crab cakes, cold crab cocktails, and crab and seafood salads, to hot tomato-y cioppino filled with fresh seafood and Dungeness crab claws, Morro Bay oysters by the dozen, and fresh daily caught fish, locals and visitors will find plenty of great places that feature ocean-to-table cuisine. The Morro Bay restaurant crab cake scene is abundant and crawl worthy! Great American Seafood Company, The Galley, Dorn's Original Breakers, STAX Wine Bar, Dutchman's, Rose's Landing, Windows on the Water and Harbor Hut offer fresh Dungeness crab cakes so unique and delicious (Cajun cakes, gingered cakes, pan seared cakes topped with red pepper & herb coulis are some examples), you'll want to do a crab cake crawl up and down the waterfront and taste them all! Then of course Bayside Café, Blue Sky Bistro, Lil Hut, Taco Temple and House of Ju Ju are also brimming with seafood tacos, sandos, burritos and so many other menu items that are perfect for a quick holiday meal while enjoying Morro Bay's beautiful winter weather.
For more information on visiting Morro Bay, go to www.morrobay.org.
###
About Morro Bay
A true gem, this seaside fishing village with bustling waterfront offers a picture-perfect getaway for travelers who seek food, wine and outdoor adventures found in a gorgeous natural setting. Located along coastal Highway 1 in San Luis Obispo County just south of Big Sur, midway between Los Angeles and San Francisco, Morro Bay offers year-round activities in an unspoiled slice of California. From ocean-side golf, kayaking, sailing, hiking, fishing, surfing, biking, and bird watching, to kite flying, shopping, dining, wine bars, local craft brews and miles of unspoiled beaches, there is something for everyone.
Sitting majestically between the beach and the harbor lays the iconic and historic landmark Morro Rock, welcoming travelers from miles away as they approach Morro Bay. Located just minutes from world-renowned Hearst Castle, historic missions, breathtaking Montana de Oro State Park, and surrounded by vineyards from Paso Robles to Edna Valley, Morro Bay is a destination designed to fit any style and budget for families, couples or groups. Morro Bay also offers a myriad of year-round events including food, wine and music festivals, art fairs and car shows unique to the town. For more travel information visit www.morrobay.org or follow Morro Bay on Facebook, Instagram, twitter and Pinterest.
###