Wildlife Viewing
Morro Bay is brimming with wildlife waiting to say hello!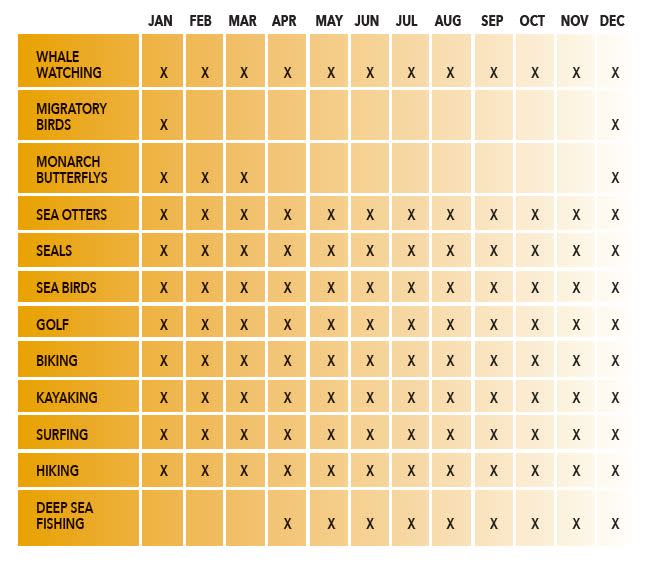 Sea Otters
Morro Bay has an active sea otter population year-round.  They tend to stick close to shore making for excellent, and safe, viewing.  Near South T-Pier, along the Harbor Walk, and next to Target Rock are some of the most popular spots to spy these Morro Bay sea'lebrities.  You can help to keep the population healthy by not creating any disturbances – if the otters change a behavior or swim away, you're too close.  Pupping occur throughout the year, with peak period of pupping October - January, and a secondary peak in March and April.  Be sure to visit during these peaks for all the otter pup cuteness!
Under the surface
Lots of creatures call the bay home, and the majority of them reside just under the surface.  The tide pools in North Morro Bay are a great place to observe these aquatic creatures up close without causing them any harm.  For a more active experience, take a paddleboard or kayak nature tour with one of the rental companies.  Local guides will show you exactly where to look and what you're looking at.  You can also see and learn more about all the most common species online with this web guide. 
Whale Watching
Throughout the year a variety of whales swim off the coast of Morro Bay.  Although sometimes visible from our beaches, a whale watching tour is the best way to experience these giants.  Tours depart from the Embarcadero daily.   
Grey Whales // December – April
Humpback Whales // April – December
Blue Whales // June – October
Monarch Butterfly Migration
Flying thousands of miles during their migration, Monarchs cluster together in the Morro Bay State Park Eucalyptus groves to stay warm and roost/rest.  Usually visiting between December and March, it's a sight not to be missed!
Birding
A designated National Audubon Society's Important Bird Area, Morro Bay is a vital stop over for many sea and shore birds during their migrations.  Although prevalent all year, winter affords the greatest variety of bird species to our area.   
More information
Learn more about the natural environment and the animals that call Morro Bay home at the Museum of Natural History and the Morro Bay Estuary Nature Center.  Also be sure to keep an eye on our event page for educational nature walks hosted by the Central Coast State Parks Association.