Morro Bay's EIGHT Pristine Beaches, Unspoiled Back Bay and Stunning Harbor Are Waiting for You,
Check-Out Not-To-Miss Spring Events and Engaging Museums,
Save On Kayak Rentals, Whale Watching and Sportfishing Tours 
In 2018 Coastal Living Magazine named Morro Bay one of "The Best Little Beach Towns to Visit in Spring" and there are abundant reasons for this great distinction! Morro Bay has incredible aquatic districts where getting outside is a must. You can't miss the town's EIGHT pristine beaches, some with and some without waves which equals a beach for everyone! Plus, the captivating harbor, and the Morro Bay State Park & National Estuary located in the back bay, each offering its own set of outdoor activities, events, fun tours, watchable wildlife and incredible experiences to share.
Morro Bay State Park & Back Bay National Estuary Preserve
Morro Bay National Estuary Preserve and its unique 800-acre wetland with salt marshes and mudflats are home more than 250 species of land, sea, and shore birds and dozens of endangered species all winter long, including Peregrine Falcons. Rent a kayak at the Kayak Shack and paddle through the waters of the back bay to see the wonders of this extraordinary natural haven. Discover two working oyster farms, meander through the back bay estuary channels that take you to a wildlife wonderland at high tide, or pack a picnic lunch and head out to the sand spit for a day on the beach. A visit to Morro Bay State Park is not complete without a stop at The Museum of Natural History, serving between 45,000 and 50,000 people annually, including 5,000 school children in programs that support California's required science and social studies standards. The museum offers cultural history, Native American life, geology, and oceanography exhibits and activities for all ages: nature walks, exhibits, lectures, puppet shows, videos, docent led tours and special events.
Hiking Trails in Morro Bay State Park:
Take a beautiful light hike out on the Marina Peninsula Trail boardwalk, which starts at the south end of the back bay Marina. This .7-mile loop overlooks the National Estuary where you can see the channels and wildlife playing; it is picture perfect, really a sight to see.
Black Hill is a moderate short trail that takes you to the summit from the Morro Bay State Park campground. This 3-mile round trip from the campground includes an elevation gain of 660 feet to the summit where you'll enjoy a spectacular view of the entire bay, the sand spit and the rock – super photo op!!
Morro Bay Harbor & Bustling Embarcadero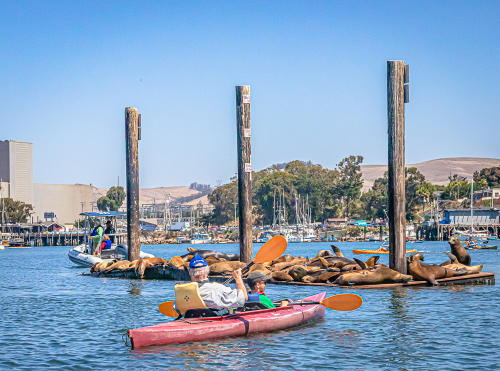 Morro Bay has a working harbor where fisherman return with daily catches, unloaded each morning and served at Morro Bay's locally owned and operated restaurants. In this recreational protected bay, kayaking, sailing, paddle boarding and sea life abound. If you want to get out on the water, no need to bring your kayak or paddle board on vacation – adventure sport rental companies line the Embarcadero and offer local insider tips on the best spots for wildlife watching, picnicking on the sand spit or kayaking through the back-bay channels. Not to mention finds electric boat rentals, bay cocktail cruises, whale watching and a weekly Saturday brunch cruise. Also, several sport fishing companies are located along the Embarcadero offering half and full day packages and contests for whoever truly caught the big one of the day!
Morro Bay is brimming with wildlife from sea stars under the bay's surface, to Peregrine falcons flying overhead and nesting at Morro Rock. But the main staple of this oceanside community, and the most photographed residents in Morro Bay, are the California Sea Otters. The otters are an important part of the Morro Bay ecosystem, playing a crucial role in keeping the estuary's sea grass healthy. These furry creatures are also just cute to watch grooming, sleeping, and hunting their day away. Viewable from the water or from the Embarcadero's many public docks, sea otters bask in the sun while harbor seals bark to let the animal kingdom know who's boss. Make sure to watch for Plein Air artists all along the harbor during the First Annual Plein Air Festival in Morro Bay this April. 
Save When you Get Outside in Morro Bay this Spring!
Morro Bay is known for its low-key funky vibe, tons of waterfront lodging, boutique shopping, fresh local seafood, owned and operated restaurants and #outdooradventure. This spring Morro Bay is offering some great deals from local adventure sports and touring companies. If you are looking to GET OUTSIDE this spring break, Morro Bay is the destination for you! Also, visitors don't have to break the bank when they visit Morro Bay this spring thanks to a variety of hotel offers and discounts.*
Line up of Exciting 2020 Spring Events:
Morro Bay City Wide Yard Sale                                
April 3 – 5
Don't miss this widely anticipated 17th annual event April 3rd ,4th & 5th. This is an excellent way to meet the locals and explore the entire town. Sellers will open at 8:00am each day.
NEW: First Annual Plein Air Art Festival                
April 13 – 16
From April 13th - 16th, the Inaugural Morro Bay Plein Air Festival welcomes painters and visitors to Morro Bay, California to capture on canvas and explore the town's charm.
Morro Bay Kite Festival                                                
April 24 – 26
Discover one of the most fun FREE events on the Central Coast. Watch kites of every size and color including huge octopuses. This is a family affair perfect for all ages and lifestyles.
Crusin' Morro Bay Car Show                      
April 30 – May 3
Celebrating its 24th year in 2020, this popular car show starts Thursday evening when rare cars begin arriving in Morro Bay for registration.
For more information, visit www.morrobay.org.
###
About Morro Bay
A true #outdoorhub, this active seaside fishing village with bustling waterfront offers a fun and funky getaway for travelers who seek great wine, seafood and outdoor adventures filled with wildlife watching and pristine nature experiences. Located along coastal Highway 1 in San Luis Obispo County just south of Big Sur, midway between Los Angeles and San Francisco, Morro Bay offers year-round activities in an unspoiled slice of California.  From ocean-side golf, kayaking, sailing, hiking, fishing, surfing, biking, and bird watching, to kite flying, shopping, dining, wine bars, local craft brews and miles of unspoiled beaches, there is something for everyone.
Sitting majestically between the beach and the harbor lays the iconic and historic landmark Morro Rock, welcoming travelers from miles away as they approach Morro Bay. Located just minutes from world-renowned Hearst Castle, historic missions, breathtaking Montana de Oro State Park, and surrounded by vineyards from Paso Robles to Edna Valley, Morro Bay is a destination designed to fit any style and budget for families, couples or groups. Morro Bay also offers a myriad of year-round events including food, wine and music festivals, art fairs and car shows unique to the town. For more travel information visit www.morrobay.org or follow Morro Bay on Facebook, Instagram, twitter and Pinterest.
###
MEDIA CONTACT:
Susan Hartzler
Public Relations Manager
Mental Marketing
818-585-8641
shartzler@mentalmarketing.com
PUBLIC CONTACT:
Jennifer Little
Morro Bay Tourism Manager
Morrobay.org
805-225-1570
jlittle@morrobayca.gov