Witness Newborn Sea Otter Pups Frolicking in the Bay with their Mommies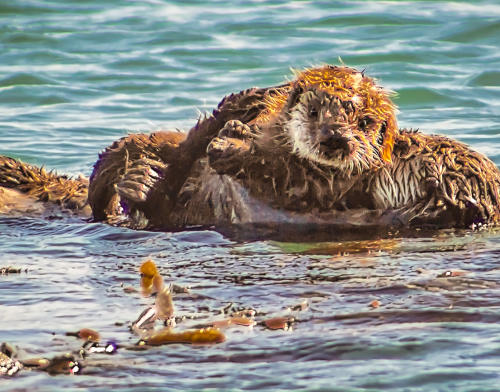 January 28th is national #PlanForVacation Day and if seeing newborn California sea otter pups frolicking in their natural habitat is on your bucket list, now is the time to plan your visit to Morro Bay! Mommas and newborn babies are everywhere eating, grooming and playing with each other as if no one is watching. A raft of between 20-30 otters can be seen floating together in the harbor at any given time.
"Morro Bay is one place you can almost always see Otter moms and pup pairs," says Mike Harris, Senior Environmental Scientist/Sea Otter Biologist, California Department of Fish & Wildlife station in Morro Bay.
In fact, large gatherings of otters have been attracting tourists and locals for the last few years who want to experience otters living and thriving in their natural habitat.
Where to Watch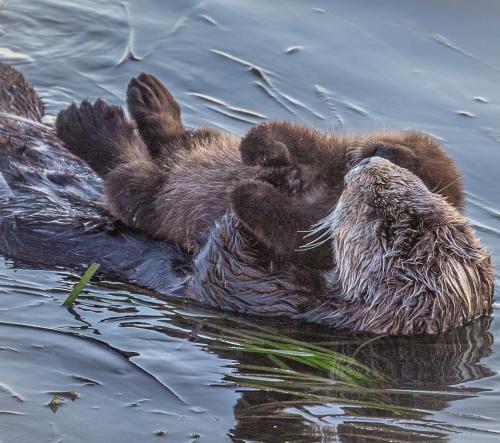 Morro Bay makes it easy for visitors to watch otter antics from the many public viewing docks along the Embarcadero, or while strolling or biking along the Morro Bay Harbor Walk out to Morro Rock. Those who are up for an adventure in cuteness can rent kayaks or paddleboards at Kayak Horizons, Rock Kayak Rentals, Sub Sea Tours and Kayak, Estero Adventures and the Kayak Shack and get up close and personal, just not too close, please. They may be super adorable, but otters are wild animals. Or, just plop down a beach chair Coleman Beach and you'll find them floating around on their backs and enjoying life in Morro Bay.
Visitors can also take a bay tour with Lost Isle Tiki boat, Sub Sea Tours or Captain Stew's to see otters and witness the mommies teach their babies how to use rocks and other tools to break open crab. Or rent a boat at Bay Cruisers and Electric Boats or Estero Adventures  and just observing them swimming and playing together. And when a mommie floats by hugging her baby to her stomach, be sure to have your camera ready!
For information on all the exciting things to do and see in Morro Bay, visit www.morrobay.org.
###
About Morro Bay
A true #outdoorhub, this active seaside fishing village with bustling waterfront offers a fun and funky getaway for travelers who seek great wine, seafood and outdoor adventures filled with wildlife watching. Located along coastal Highway 1 in San Luis Obispo County just south of Big Sur, midway between Los Angeles and San Francisco, Morro Bay offers year-round activities in an unspoiled slice of California.  From ocean-side golf, kayaking, sailing, hiking, fishing, surfing, biking, and bird watching, to kite flying, shopping, dining, wine bars, local craft brews and miles of unspoiled beaches, there is something for everyone.
Sitting majestically between the beach and the harbor lays the iconic and historic landmark Morro Rock, welcoming travelers from miles away as they approach Morro Bay. Located just minutes from world-renowned Hearst Castle, historic missions, breathtaking Montana de Oro State Park, and surrounded by vineyards from Paso Robles to Edna Valley, Morro Bay is a destination designed to fit any style and budget for families, couples or groups. Morro Bay also offers a myriad of year-round events including food, wine and music festivals, art fairs and car shows unique to the town. For more travel information visit www.morrobay.org or follow Morro Bay on Facebook, Instagram, twitter and Pinterest.