How do I love thee?
Let me count the ways… immersed in surreal romance in Morro Bay, California.
The unscathed beauty of Estero Bay is a timeless backdrop to all the moments we wish would never end. Celebrate your connection this Valentine's Day waking up next to fresh coastal sunshine that warms the glittering waters in the bay. This will set the stage for a day filled with love, whether you find love amongst the shade of trees or at the table of your favorite seafood restaurant. There are several places in Morro Bay perfect for pairs. Here are 9 of many ways to celebrate love in Morro Bay:
1. Score a love-birdie at the Morro Bay Golf Course
Treat your love to a round of golf at the most scenic golf course on the Central Coast. With a 360 degree view of Estero Bay, the Morro Bay Golf Course enchants guests with the recipe for a perfect afternoon. Get up-close glimpses at Monarch butterflies living on the course before they migrate home at the end of February. Finish off your game with a cool draft, juicy cheeseburger and French fries at the clubhouse. For more information, click HERE. 
2. Pre-Dinner Bite and Drink at STAX
As our Valentine, we'll be giving you a bottle of wine and a delicious ratatouille appetizer from STAX Wine Bar and Bistro. All hotel and motel guests staying on Valentine's Day will be greeted with a gift certificate to these items. Enjoy before indulging on a romantic seaside dinner. Just north of STAX is our South T-Pier, a popular hangout spot for otters in the late afternoon. Feel free to stop by and say "hello!"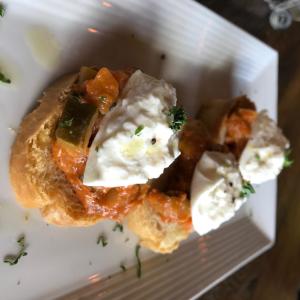 3. Picnic by the Rock
Of course you will want to gaze upon the striking Morro Rock when you're in town. The Rock was formed some 23 million years ago from the plug of a long extinct volcano. It was an important navigational aid for mariners as its massive size was visible from far away. Several picnic tables, benches and beach access are available next to the Rock for picnicking. Be sure to #MorroBay all of your gorgeous pictures on social media, we'd love to see them.
4. Paddle together: Tandem Kayak
Couples that paddle together, stay together! Take a tandem kayak in the morning when the tide is low to explore the magic of Estero Bay. Paddle toward Morro Rock to get a glimpse of harbor seals and otters playing in the water. Or, adventure toward the estuary to find snowy egrets and other birds in their natural environment. For more information about the estuary, click HERE. 
5. Black Hill Hike
After you grab a bite to eat at the clubhouse, head to the top of the golf course to find the start of Black Hill trail. This trail is famous for its irreplaceable panoramic view reaching from Montana de Oro and Los Osos to Cayucos. Perfect for all skill levels, this trail is a short hike with plenty of vantage points to enjoy the fantastic view. 
6. Sweet-Tooth Central
Valentine's Day is not complete without a little sugar. Name your favorite sweet treat and one of Morro Bay's bakeries or restaurants is likely to have it. Cuddle up with your sweetheart and two forks to share a homemade dessert after your day in paradise. Or, take one to-go for a late night snack at your hotel room. This will be the cherry on top of your special day. 
7. Cruise the Bay on Papagallo II
Indulge your sweetheart with a romantic evening onboard the classic Motor Yacht Papagallo. You'll be enchanted by the special ambience of an evening Yacht Cruise while gazing upon the sparkling lights of the bay as seen only from the water. Local favorite Steve Meyers will be entertaining you with live music. Steve brings rich life to 60's and 70's classics such as Simon & Garfunkel, Bruce Springsteen and the Beetles, among other all-time greats. Book your reservation in advance HERE, as space is limited. 
8. Restaurant Passport
Now through the end of February, all hotel guests will receive an exclusive passport to more than $80 in savings at our local restaurants. With several 2 for 1 offers and lots of delicious treats to share, the passport is a perfect way to discover your new favorite dish. Click HERE to see more about the restaurant passport. 
9. Massage it out
Take your state of serenity to the next level at one of Morro Bay's quality spa and massage locations. Our local experts are masterful at creating a personal massage experience that will cater to you and your partner's specific needs. Some locations are along the waterfront allowing guests to enjoy the view of the bay as they relax. 
For more advice on planning your special Valentine's Day in Morro Bay, call the Morro Bay Visitor Center at (805) 225-1633.