Catch yourself in Morro Bay! 
There are many ways to experience seafood in Morro Bay: learn more about the native habitat and fish species at the Museum of Natural History, join a fishing charter to try your hand at catching dinner, or enjoy fresh seafood and local recipes at waterfront restaurants during this self-guided food tour. 
Gather up your fellow seafood lovers, put on your walking shoes, and head down to the waterfront to enjoy the salty air and the flavors of Morro Bay.  This tour includes multiple stops and many chances to indulge in Morro Bay seafood along the way!  Feel free to take the recommendations listed or order something else off the menu.  This seafood tour is just a guide, and you have the flexibility to create your own perfect food tour experience.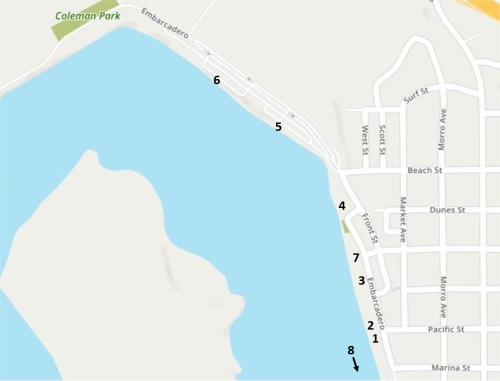 Total Tour Time: allot 3-5 hours (depending on your leisure pace)
          *if you don't have three hours the route can be adjusted accordingly
Distance: ~ 2 miles
 
1.  Blue Sky Bistro
699 Embarcadero
What to order: Mexican Shrimp Cocktail
Start your journey of flavors by finding a seat on their outdoor patio and ordering up an appetizer.  A shrimp cocktail is a classic first course, but Blue Sky Bistro puts a twist on this dish with a Mexican influence.  Not a fan of shrimp?  Consider the Salmon Crostini.  Enjoy your choice with great views of Morro Rock and sounds of the bay.      
2.  Dutchman's Seafood House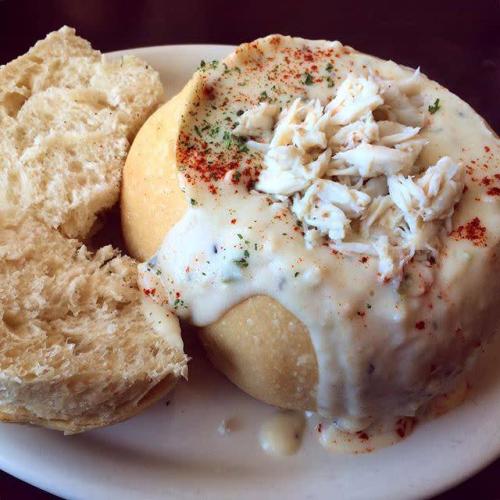 701 Embarcadero
What to order: Clam Chowder
Right next door you'll find Dutchman's Seafood House.  Settle into the modern dinning room overlooking the water with some of their famous clam chowder.  Creamy and packed with potatoes and clams, you can even get your chowder topped with shrimp and/or crab for extra seafood goodness! 
Bonus Stop!  You can't miss the murals at 833 Embarcadero.  Take a photo with the Mermaid and if you're interested in seeing more of the Morro Bay Mural Mile check out the map here.  
3.  Chateau Margene / MCV Wines
845 Embarcadero
What to order: Tasting
It's time for a wine break at one of Morro Bay's tasting rooms where you'll find local wine and knowledgeable staff.  Chateau Margene produces highly rated Cabernet Sauvignon and serves their entire family of wines.  MCV Wines makes high quality, small lot wines creating unique and interesting blends with a Petite Sirah focus.  Stop in one or both locations for a great example of Central Coast wine.   
4.  Giovanni's Fish Market & Galley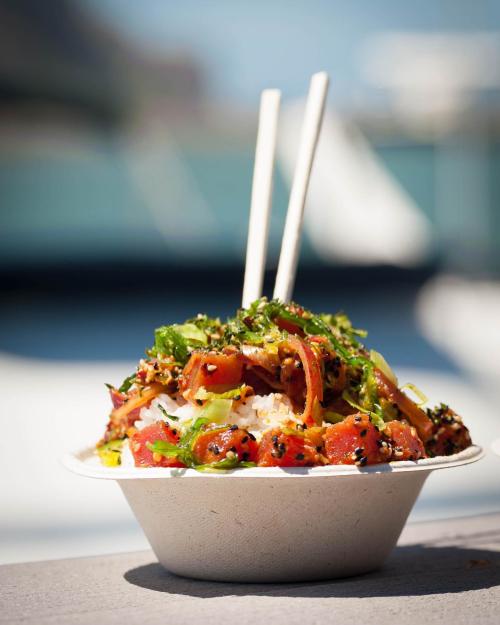 1001 Front Street
What to order: Poke
Giovanni's Fish Market has been family owned and operated for 30 years.  With access to fresh local sustainable seafood directly from their fishing fleet, you're in for a treat.  Try the poke bowl with Ahi, Salmon, or a combo.  Whatever fish you don't get a chance to try off the menu you can always get shipped directly to your door - seriously.  Before heading onto the next location stop for a photo between the clam shells and pick up some salmon candy for the road. 
Bonus Stop!  As your making your way further down the Embarcadero towards the Rock, keep an eye on the water.  Our resident otters are often found relaxing near the shore between the piers – get your cameras ready.  Learn more about our sea'lebrities here.  
5.  The Great American Fish Company
1185 Embarcadero
What to order: Crab Cakes
Built over the water and looking out onto the fishing pier, The Great American Fish Company is a traditional spot with maritime décor to go along with your seafood selections.  Dungeness crab is a popular Morro Bay favorite – especially over the holidays – so we insist you try an order of GAFCO's famous crab cakes.  You can thank us later.   
6.  Tognazzini's Dockside Too
1235 Embarcadero
What to order: The Catch of the Day
Dockside Too is a casual and fun all outdoor dining experience.  Enjoy the live music and whatever happens to be in the fish case today (fish commonly caught in Morro Bay includes: rockfish, lingcod, halibut, tuna, and salmon).  Ordering is simple.  Select your fish and how you would like it prepared – grilled or fried, taco or fish & chips.  Then grab a table for a front row seat to the fishing boats as they come into the harbor the seals swimming by.      
This is the point in the tour we've come to the end of the restaurant row.  Feel free to walk on to explore Morro Rock and the six miles of beach to the north, or turn the group around and head back down the Embarcadero.  To make the journey back that much more enjoyable we've included one final stop along the way.   
7.  Port House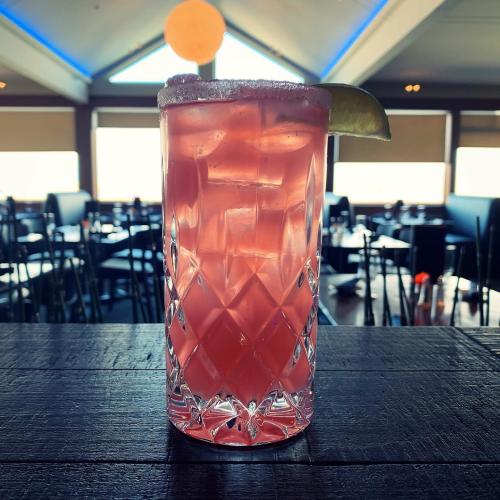 885 Embarcadero
What to order: Anchor Management
On your way back down the Embarcadero check out Morro Bay's newest restaurant!  Port House is open for cocktail hour Tuesday-Friday from 3 – 5 pm and is the perfect spot to watch as the afternoon slips by with a freshly made cocktail in hand…and maybe something from the raw bar if you still have room for more Morro Bay seafood. 
This one is for the adventure groups (with an additional 1.5 miles) who want to travel a little off the beaten path --
8.  Bayside Café 
10 State Park Road
What to order: Scallops on Fried Green Tomatoes (pictured above)
Located inside Morro Bay State Park at the Marina, Bayside Café is a local favorite offering delicious home cooked recipes in a causal indoor/outdoor dinning area looking out onto the bay.  The menu features a variety of seafood and classic café selections.  And if you're looking for something sweet to finish the afternoon, look no further than a piece of their made from scratch cream pies!    
For more great seafood options in Morro Bay that didn't make this tour, check out:
This walking seafood tour is the perfect way to celebrate the maritime history and sample the sights and flavors of Morro Bay.  With so many unique restaurants located right on the water, many with their own docks or lifts to unload the daily catch, you won't find fresher seafood than what you can enjoy along the Embarcadero. 
Book your trip today!  For more information visit morrobay.org or call the Visitor Center at (805) 225-1633.