All the latest places and experiences you need to check out in 2020!
The core of Morro Bay will never change…but, there have been some new additions that will make your next visit all the better.  Here are a few of the new businesses and activities to discover on your next trip into town - just in time for the new year.   
Food
From fresh menu items to completely brand-new restaurants, check out the newest flavors of Morro Bay at these locations:
Port House
885 Embarcadero | (805) 225-1428
Port House is Morro Bay's newest waterfront restaurant along the Embarcadero.  Featuring seafood, steaks, pasta, craft cocktails, and water views.
Avocado Shack
2790 Main Street | (805) 369-4724
This spot in north Morro Bay offers fresh, local, and affordable produce.  You'll find at least five varieties of avocados at the Avocado Shack on any given day in addition to over 100 other fruit and vegetable offerings.   
Pizza Port
787 Main Street | (805) 772-9540
For over 25 years, Pizza Port has been serving up fresh, quality pizza, sandwiches, and salads in Morro Bay.  Now cooking up an Artisan Menu in addition to their tradition offerings.   
Tacos el Viejon
2780 Main Street | (805) 225-1559
Tacos el Viejon is the prefect spot to get your traditional Mexican food fix in Morro Bay.  Tacos, burritos, tortas, and nachos they have it all.
Activities
With additional locations for your next tour or rental, there are even more reason to get outside and adventure on the water.
Morro Bay Paddlesports
551 Embarcadero | (805) 225-1497
Formally Morro Bay Stand Up Paddleboarding, Morro Bay Paddlesports has a new name, new location, and now offers kayak rentals!  Located on the Embarcadero with a private craft launch on site.
Morro Bay Whale Watching                         
699 Embarcadero | (805) 772-9463
Morro Bay Whale Watching has added a new boat – The Freedom – to their fleet for even more whale watching adventures! 
Lost Isle Adventure
845 Embarcadero | (805) 771-9337
Now you can climb aboard Lost Isle Adventure's go-fast adventure tour boat and experience the open ocean like you never have before! 
Estero Adventures
501 Embarcadero | (850) 772-1500
Estero Adventures offers rentals to cruise the bay or the boardwalk at Estero Inn.  Rentals include electric pontoon boats, fat tire bikes, kayaks, and paddleboards with an easy launch area for ocean sport rentals. 
Health
Whether you're looking for an exercise class or a self-care activity, here are a couple new businesses that will keep you healthy:
Blooming Rose Day Spa
845 Embarcadero | (805) 539-8598
Relax and indulge in a facial or massage at the Blooming Rose waterfront spa, or book a mobile treatment and let the treatment come to you! 
Omni Studio
698 Morro Bay Boulevard | (805) 215-4565
Offering a variety of classes Omni Studio offers yoga, Zumba, barre, dance, and more in a zen studio for all ages. 
Retail
Apparel, furniture, kitchen goods, and art.  Check out Morro Bay's newest shopping destinations:
David J Rogers Fine Art Gallery
407 Morro Bay Boulevard | (805) 225-5077
David is a world class watercolorist and the studio gallery features a vast collection of his work.  The gallery also hosts a monthly watercolor workshop where you can learn the David J Roger method of painting.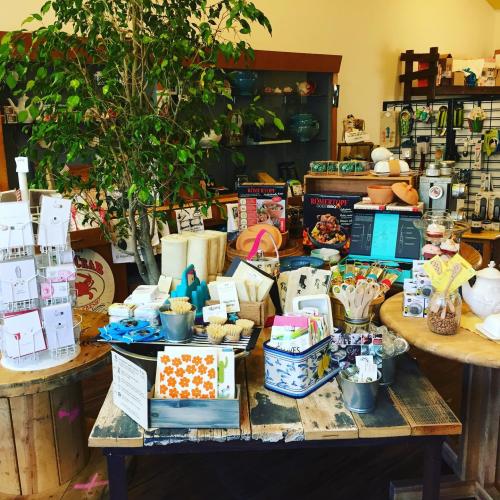 The Clock Shop
291 Harbor Street | 9805) 801-0778
Clock repairs and antique clock and windup train shop right in downtown Morro Bay. 
Goin' Coastal
315 Morro Bay Boulevard | (805) 439-4545
Goin' Coastal is an eclectic coastal themed store featuring women's fashions, shoes, and accessories that are handpicked for comfort, quality and geared for everyday life.
The Hermit Crab Kitchen Goods
898 Main Street | (805) 225-1110
Hermit Crab Kitchen Goods is Morro Bay's one stop kitchen shop specializing in eco-friendly kitchen gadgets. 
Events
You won't want to miss the first year for these new Morro Bay events!  Say you've been there since year one by attending in 2020. 
SLO CAL Open at Morro Bay
February 27th – March 1st | surfersoftomorrow.org
Brand new World Surf League Men's and Women's QS1000 event at Morro Rock – where you'll find some of the most iconic Central Coast surfing. 
Morro Bay Art Association Plein Air Festival
April 13-16th | morrobaypleinairfestival.org
The Inaugural Plain Air Festival will host artists from around the country for demonstrations, workshops, paint out, quick draw competition, art auctions, and special "meet and greet" with international plein air artist Guido Frick. 
Hotel
Remodels, new amenities, and a brand-new build with waterfront views.  Book your stay today!        
Salty Sister at Morro Rock
1170 Front Street | (805) 900-6000
Morro Bay's newest hotel and closest hotel to Morro Rock, Salty Sister is a boutique hotel offering stunning panoramic waterfront views and a unique property layout ideal for your group. 
Museums
You're sure to be entertained and learn something new at Morro Bay's museums.    
Morro Bay Skateboard Museum
783 Market Avenue | (805) 610-3565
Don't miss the new location for the Morro Bay Skateboard Museum featuring the complete history of the sport from the 1920's to present day including over 300 boards and rotating exhibits. 
With the New Year comes new possibilities.  Including new places to visit in Morro Bay.  New restaurants, stores, spas, water sport rentals, events, and more are now open and waiting for your next trip.  With so much to try, start putting your itinerary together today!  For more information call the Visitor Center at (805) 225-1633.