Epic wildlife viewing awaits you in Morro Bay.  Plan your coastal safari today!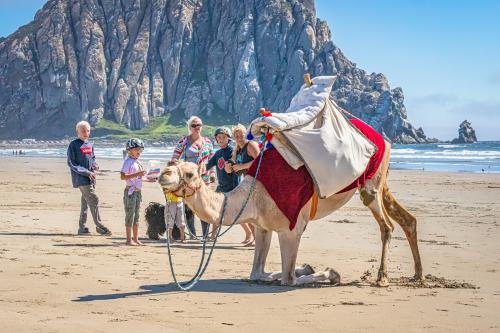 If you're looking for another reason to travel to Morro Bay, we've got a few.  The stunning natural beauty, and the diverse range of animals that thrive because of this natural setting.  Get out in nature and experience some epic wildlife viewing. 
Much of the area has been strikingly unchanged.  Especially when compared with other wetlands in the area. And there are large swaths of natural areas protected and set aside.  Including state parks, beaches, and a National Estuary.  This means that animals thrive here in their natural habitats.  And when animals thrive, it makes for exceptional opportunities for visitors to safely observe them.    
Just around the bend from the vibrant downtown, or a couple feet from where you're dinning, you'll find some of the most popular Morro Bay locals.  Migratory birds and whales, as well as year-round residents such as sea lions, seals, otters, and a variety of marine life can all be found around Morro Bay.  Whether you're seeking out one kind of animal in particular, or want to experience the diversity of life, here's your guide to a very Morro Bay Safari. 
Note: Camels are a rarity on the beaches in Morro Bay, but other animals (such as horses) are not! 
Here are the best viewing spots and all the information you'll need to plan your perfect trip:
Birds
Although birds are diverse in Morro Bay – shore to land birds can be found from one end of Morro Bay to the other, the back bay and estuary and where you'll find some of the highest concentration of our winged residents.  You'll also find a pair of Peregrine Falcons who nest at Morro Rock and Snowy Plovers on the dunes of the Sandspit.  We have so many migratory aviary visitors each year that Morro Bay even hosts its own Bird Festival!     
Butterflies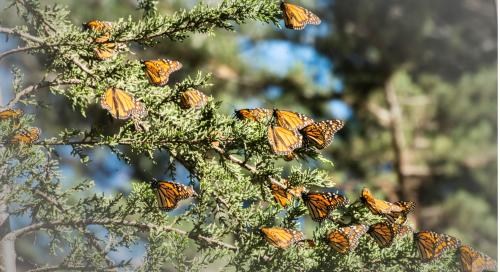 The migrating monarch butterflies stop by the Morro Bay State Park & Golf Course eucalyptus groves each year.  Orange butterflies fluttering between trees make this a magical sight not to be missed.  The monarchs are generally in town November – March depending on the weather.  You can also find even more eucalyptus groves in Montana de Oro State Park.  
Oysters
There are two oyster farms that call Morro Bay's back bay home.  However, they also have dockside locations which are great places to see the oyster growing process and take home some of the freshest oysters you could imagine! 
Harbor Seals
These earless mammals love to swim the bay and lay out in the sun.  If you're trying to tell them apart from the sea lions in the bay, they do not walk on their flippers.  They can be spotted all year round enjoying the great plethora of food that the bay offers.  
Local Tip: Rent a kayak, paddleboard, or electric boat and see the wildlife from the water.  Just be sure to maintain good viewing etiquette and keep your distance – for your safety and the safety of our local animals.
Sea Lions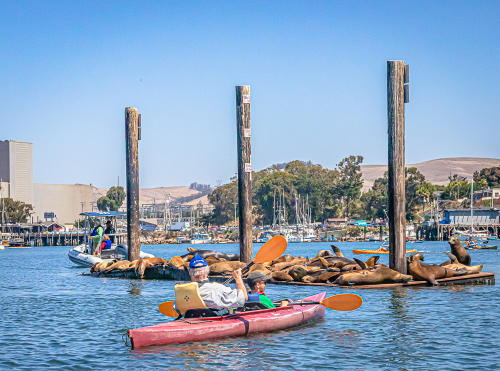 Their barks can be heard from along the Embarcadero.  Follow these barks, and more often than not, you'll find a group of California Sea Lions lounging on the City's Floating Dock in the middle of the Harbor.  Set your gaze towards the Sandspit and you're likely to spot these eared mammals taking a dock break. 
Fish
Morro Bay has a diverse and thriving fishery.  Perhaps best known for rockfish & lingcod.  You'll also find halibut, tuna, salmon, and more in the waters off our coast.  And many more species in the Estuary.  Including the recovering Steelhead Trout population.  In addition to perch, sanddabs, and stingrays!  If you are interested in swimming among our fish, stop by the Visitor Center for a scuba diving map.   
Whales
Whale watching trips leave from Morro Bay harbor daily.  You can see California Gray Whales, Humpback Whales, Blue Whales, Finback Whales, and Orcas off the coast of Morro Bay.  Because of this diversity, you can spot whales in Morro Bay year-round.  Take a whale watching tour to see these magnificent creatures in action.  During migrations the mothers and calves tend to stick to the shallow safer waters off the coast making it possible to watch whales from on land (head to the bluffs in north Morro Bay) as well.   
Otters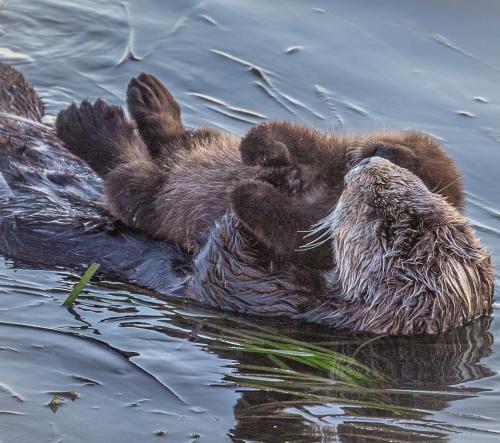 Morro Bay otters are unique.  There's a large population of female otters that call our waters home.  Although they can be seen throughout the bay, the best spots to see all the otters and new otter pups are the T-Pier and Target Rock.  Because you're on land you'll be able to look at the otters from a close distance without causing disturbances.  And right now, there are so many baby otters in the bay – what are you waiting for?
Sand Dollars
Did you know that deep brown to purple-red sand dollars are really alive?  Here's a video of one enjoying a stroll at  Morro Rock Beach.  
Travel along any of the 6 miles of continuous beach and you'll stumble upon sand dollars along the shore.  You can also find more of their relatives - starfish and sea urchins - at the tide pools at North Point. 
Elephant Seals
About 30 minutes north on Highway 1 towards San Simeon you'll find the Piedras Blancas elephant seal rookery.  This area boasts over six miles of shoreline with lots of viewing areas for visitors.  There's lots to observe year-round, but for a break down of what to expect month by month check out the elephant's calendar here. 
Be sure to use these marine wildlife viewing guidelines to ensure a safe and fun experience for you and the animals. 
Morro Bay is the ultimate animal lover travel destination.  And now's a perfect time to visit all the critters.  Seasonal birds, monarch butterflies, and whales are migrating through, while year-round residents such as our sea otters are raising new pups.  Book your room today.  If you need any help planning your wildlife viewing trip call the Visitor Center at (805) 225-1633.