For better or for worse, the end of the year is just around the corner and sooner than we think the holiday season will be upon us.  You know what that means?  It's time to start your holiday shopping.  And what better way to cross some items off your gift list than with a shopping trip!
Holiday shopping can be fun, but oftentimes it becomes just another thing added to our busy schedules.  Below are a few reasons why heading to Morro Bay for this year's holiday shopping will make your shopping experience a breeze!  Head to Morro Bay for #nobigboxstores.  Instead expect small and one of a kind local shops.  
Shop Local 
Stores in Morro Bay are locally owned and one of a kind.  There are no box stores here.  Morro Bay offers tons of variety and unique gifts.  You'll find great boutiques like The Indie Collective for décor and accessories and Poppy for clothing and jewelry.  Smoobage even carries fair trade items so you can do good while you shop.
If you're in it for the deals, you'll want to plan a visit during Morro Bay's Open House.  Retailers are holding extended hours, offering specials, discounts, food, drink, and live music to make your shopping that much more exciting.
Be sure to check out the Waterfront Market and weekly Main Street Farmers Market for handcrafted items.  You'll find thing that you truly won't find anywhere else.  Products that are hand made locally in San Luis Obispo County. 
These days it is all about the experiences over the material goods, so why not treat that special someone on your list to a hotel stay or tickets to an upcoming concert or event?  And of course, gift certificates are always a crowd favorite – especially when they give the recipient an excuse to take a trip to Morro Bay. 
For an extra special gift may we suggest the Official Morro Bay 2020 Calendar.  This glossy 12-month calendar features hand selected art photos by local photographer Danna Dykstra-Coy, a city map, and city events.  You can find these individually packaged gifts at the participating local retailers listed below.  They make the perfect souvenir as well as the perfect present! 
Beads by the Bay - 333 Morro Bay Boulevard 
Coalesce Bookstore - 845 Main Street
Junque Love - 699 Embarcadero
The Mermaid Boutique - 725 Embarcadero
Under the Sea Gallery - 833 Embarcadero
Intimate and Personal Shopping Experience
When you shop in Morro Bay, you're assured a personal experience.  Many store owners sit behind the check-out counter and provide excellent customer service.  They are happy to answer your questions and tell their stories about the store and their products.  This makes the gift giving process even more meaningful when you can tell your friend or family member all about the item you selected specially for them.  
Amenities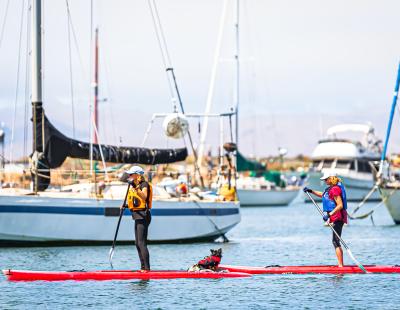 Some people are natural born shoppers able to spend hours on their feet searching for the treasures that make it all worthwhile.  However, if you aren't quite as keen, here's the secret: go where you enjoy being and take frequent breaks with other activities that will revitalize your shopping enthusiasm.  When your eyes start to glaze over, find an outdoor patio for great food and drink where you can enjoy the beautiful weather this time of year.  Or take advantage of the plethora of outdoor adventures that are at your fingertips in Morro Bay.  And these restaurants and businesses are also locally owned and provide a personal experience.  A day filled with paddling on the bay, fresh seafood, and some shopping sounds like the perfect balance. 
Proximity  
When you're hitting the stores, access is key.  Morro Bay is extremely walkable.  You can easily find free parking close to the shops – no need to keep moving the car and you'll be able to drop the bags off easily between locations.
Start Shopping Early  
The earlier you can start to put away gifts, the more time you can spend with family and friends during the holidays.  So, what are you waiting for?  Book your shopping holiday in Morro Bay today.    
Turning your holiday shopping into a Morro Bay shopping holiday just makes sense.  It's the perfect spot to find unique gifts for everyone on your list this year.  You'll find variety, walkable shops, present and helpful shopkeepers, and lots of fun activities to fill your time between all the shopping.  For more information, and to plan your perfect shopping vacation, visit morrobay.org or call the Visitor Center at (805) 225-1633.