Morro Bay Maritime Museum offering tours on one-of-a-kind 85-foot US P-520 Crash Boat starting July 1;
Discover history of WWII P-520 Crash Boats in Morro Bay and Avila Beach; Celebrate new
Patriots' Pride Week Monday, July 1 – Saturday, July 6, 2019; Visit other great #MorroBayMuseums this summer
Morro Bay, CA, June 19, 2019 – Looking for fun all week long over the 4th of July holiday? Morro Bay, CA has dubbed Monday - Saturday, July 1 - 6, 2019 Patriots' Pride Week for the historic 85-foot long WWII Crash Rescue Boat that will be in the harbor offering tours starting Monday, July 1, 2019. P-520 Crash Boats served on the west coast during WWII and some were stationed in Morro Bay where they trained infantrymen in landing operations with the Landing Craft Vehicle Personnel (LCVP) or "Higgins" boats. Because of this incredible event, Morro Bay has quite a bit of patriot pride and they want to share it with veterans and guests.
 
Patriots' Pride Week
Morro Bay welcomes veterans and visitors to celebrate Independence Day Monday, July 1 - Saturday, July 6, 2019.  Enjoy FREE trolley rides for veterans and hotel guests the entire weekend, starting Thursday.  Docked in the Morro Bay harbor between the Great American Fish Company and the Harbor Hut on the north end of the Embarcadero, WWII P-520 Crash Boat tour tickets will be available at the Morro Bay Maritime Museum for $5 - $7 starting Monday, July 1, 2019. Many waterfront restaurants and businesses will offer specials on July 4th for Veterans. See all the Patriots' Pride Week specials here.
More 4th of July Family Fun
Visitors will enjoy the patriotic bicycle parade down the Embarcadero, paddle parade along the bay, skateboard race near the beach, family carnival with dunk tanks, Harbor Department Boat Tours and live music at Tidelands Park on the 4th of July. Find FREE popcorn stands along the Embarcadero, FREE hotdogs for Veterans and FREE Otter Pops along the harbor to celebrate our local Sea'lebrities: CA Sea Otters. Morro Bay is truly animal friendly, and a great place to bring Fido and the whole family to celebrate Independence Day in a safe and relaxed environment.
Patriotic History at the Morro Bay Maritime Museum
After 25 years of planning, fundraising and building, the Morro Bay Maritime Museum opened its doors in the fall of 2018 offering interpretive exhibits focusing on Morro Bay's military history, the waterfront, the harbor, fishing, marine commerce and everything that has to do with Morro Bay's relationship with the sea. They have a fleet of four vessels including a U.S. Navy rescue submarine, a manmade submersible, a U.S. Coast Guard surf rescue boat and the most prized vehicle - the tugboat Alma, which helped rescue survivors of the Union Oil tanker Montebello after it was attacked and sunk by a Japanese submarine off the coast of Cambria during World War II.
VOLUNTEERS NEEDED: The Morro Bay Maritime Museum is looking for volunteers to help with P-520 tours and other vital activities before the tours begin. Please email Larry Newland at slonewland@gmail.com if interested.
ABOUT P-520 CRASH RESCUE BOATS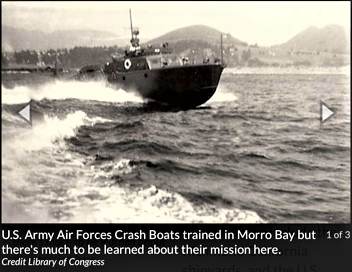 The P-520 Boat is a United States Army Air Forces Crash Rescue Boat from WWII, commonly referred to as "crash boats" since they were intended to retrieve downed pilots and crew. P-520s served on the west coast during WWII and some crash boats were stationed in Morro Bay where they trained infantrymen in landing operations with the Landing Craft Vehicle Personnel (LCVP) or "Higgins" boats. The P-520s were rescue boats not meant for offensive operations, but did carry some armament including two mountable, operational .50 caliber Browning machine guns in "gun tubs." Physically the boat is 85-feet long, with a 20-foot beam. Crash boats look very much like the famed PT Boats of WWII often shown on the McHale's Navy television show during the 1960's.
This particular P-520 arriving in Morro Bay also served a stint at Avila Beach for a period in 1944 and undoubtedly came into Morro Bay during that time. It was built in Southern California and is the only, fully intact, restored US Crash Boat in the world. The P-520 was restored by the current owner and his late father over the course of 10-12 years. The owner offered to let the Morro Bay Maritime Museum use it as an educational and fundraising platform from the week of 4th of July through the Annual Morro Bay Harbor Festival the first weekend of October.  
Other FUN #MorroBayMuseums to Visit This Summer
Morro Bay Skateboard Museum
781 Market St, Morro Bay, CA 93442; (805) 610-3565
With more than 200 skateboards on display, from the earliest steel wheelers to more modern setups, plus an assortment of skateboard memorabilia, visitors can easily spend several hours at the Morro Bay Skateboard Museum oohing and aahing. Now in its new location overlooking the Embarcadero, the museum has become something of a meeting spot for skateboarders traveling up and down the coast. Old-school legends are often sighted, including Stacy Peralta, creator of skate documentaries "Dogtown and Z-Boys" and "Bones Brigade: An Autobiography." Founder and curator Jack Smith says the museum, which opened in 2012 in the heart of Morro Bay's Embarcadero, receives 40,000 to 50,000 visitors annually, half of which are skateboarders. Visitors are greeted with the "world's second-largest skateboard," a 12-foot metal monster. The Skateboard Museum is open every day from 10 a.m. to 5 p.m. except major holidays and admission is FREE. They will be serving FREE Otter Pops after 12 noon on July 4th.
Morro Bay Natural History Museum
20 State Park Road, Morro Bay, CA 93442; (805) 772-2694
Sitting on a bluff in Morro Bay State Park, the Morro Bay Natural History Museum offers panoramic views of the bay and Morro Rock as well as hands-on opportunities to learn more about the area's ecology and geology. Through interactive exhibits, visitors can learn about tidal forces, erosion and human impacts on the environment. Build a sand dune, create a food chain and operate the water cycle. Touch screens can tell you what Mother Nature is up to that moment. Docents also lead FREE walks on a variety of topics. Find the schedule at www.ccnha.org/awn. The museum is open from 10 a.m. to 5 p.m. every day except major holidays. Admission is $2 for adults and FREE for children 16 and under. 
Morro Bay Estuary Center
601 Embarcadero, Morro Bay, CA 93442; (805) 772-3834
The Morro Bay Estuary Nature Center invites visitors to experience the beauty of the estuary and learn about protecting its sensitive habitats and wildlife. At the Nature Center, you can view aquariums of steelhead trout and eelgrass, and learn about the threats they face. Visitors can use the Estuary Nature Center to get a close look at Morro Rock or the many birds, otters, and sea lions swimming by. You'll see 3-D images of the estuary, learn about the watershed that supplies it with freshwater, and much more. Visitors can also enjoy the spectacular view and take advantage of the center's binoculars to do some wildlife watching.
Hearst Castle
750 Hearst Castle Road, San Simeon, CA 93452; (805) 927-6811
Culture vultures visiting Morro Bay don't have to travel far to explore Hearst Castle, a museum like no other. William Randolph Hearst started to build his fabulous estate on the ranchland he owned overlooking the village of San Simeon in 1919. He called the estate "La Cuesta Encantada" - Spanish for The Enchanted Hill. By 1947, the hilltop complex included a twin-towered main building, three sumptuous guesthouses, and 127 acres of terraced gardens, fountains, and pools. Today this monumental attraction provides an opportunity for individuals and groups alike to experience what life was like as a guest of W. R. Hearst. Open daily at 9 a.m., ticket prices start at $25 for adults, $12 for children age five to twelve and FREE for those under five years of age. Find help with travel to the castle from Morro Bay here.
For a full listing of museums and arts in Morro Bay, please visit https://www.morrobay.org/things-to-do/museum-arts/.