Morro Bay, CA, November 21, 2019 – Whatever Morro Bay creates, they do it in their own style. This goes for holiday events, gifts for everyone on your list, and fun new ways to get moving outdoors! Brimming with 15 holiday trees made from old crab pots, brightly decorated boats sailing the harbor, and Santa Claus hanging out in his house on the waterfront Embarcadero, Morro Bay celebrates its true nautical roots during this festive period.
This year the Friends of the Harbor Department will build a huge Crab Pot tree made of commercial crab pots on the waterfront in Anchor Park.  Anchor park is in the heart of the Embarcadero with uninterrupted views of the bay and Morro Rock – perfect for the family holiday photo-op. 
Getting out of town during the holidays can offer a much-needed change of pace, and the chance to make completely new and unforgettable holiday memories.  Take part in any of the Morro Bay holiday events during December, complete your holiday shopping in Morro Bay's unique boutiques, and find the perfect outdoor activity for everyone in your family along the Embarcadero.    
Winterfest 2019 Events
Visit Santa's House
Every Friday and Saturday | December 7 – 22, 2019
Santa's coming to the Embarcadero! Come visit and get a picture with Jolly ol' Saint Nick.  Take a photo with St Nick with you, your kids or your fur-kids at no charge. You can find the man of the season in his house located next to the Giant Chess Board on the Embarcadero every weekend in December until Christmas. Hot coco and snacks will be available for purchase by various non-profit organizations.
City Wide Holiday Tree Lighting Celebration
December 6, 2019 | Beginning at 3:30 pm | City Park & City Wide
Starting at 3:30 pm in City Park, enjoy holiday performances and festive treats.  There's a chance to visit with Santa, and of course the main event…the lighting of the City Park tree for the holidays. Crab pot trees throughout town will also be lit, so after the celebration explore the village and see if you can find them all.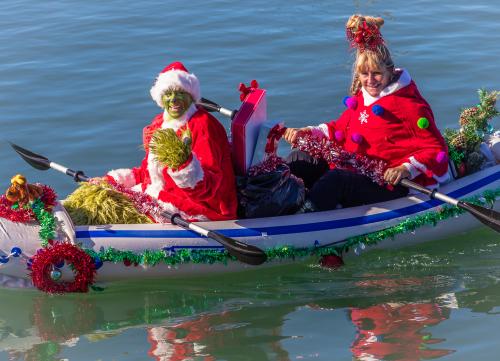 Lighted Boat Parade Weekend! Participate or just enjoy the fun:
Friday Night Lights
December 6, 2019 | 6 – 8 pm | Embarcadero
Make your dinning reservation for a night of great food and holiday sights as local large vessels and commercial boats cruise up and down the Embarcadero waterway.  U.S, Coast Guard Cutter, Pappagallo, Chablis, Black Pearl, Sub Sea vessels 1 and 2, Morro Bay Harbor Patrol and the crowd pleaser Bonnie Marie. The parade of holiday spirit starts at dusk. A local affair, Friday Night Lights is brought to you by these waterfront restaurants: Blue Sky Bistro, Dutchman's Seafood House, , Giovanni's Fish Market & Galley, Hofbrau, The Libertine Pub, Port House, Toggnazini's, STAX Wine Bar & Bistro, Window's on the Water. Be sure to call and make reservations in advance! The public is welcome to join in the fun with their lighted vessels from 6-8 pm but this is not the official lighted parade.
Lighted Boat Parade
December 7, 2019 | 6 – 8 pm | Embarcadero
Don't miss the 34th Annual Lighted Boat Parade along the waterfront. The Morro Bay fishing, leisure, and yachting community compete for cash prizes by stringing up mesmerizing lights that celebrate holiday cheer.  It's the night to celebrate holiday wonder along the Embarcadero. The parade is sponsored by the Rotary Club of Morro Bay. Watch from a waterfront hotel room, restaurant or on a commercial vessel offering tours. Register your own boat for a chance to win! 
Holiday Paddle Parade
December 8, 2019 | 11 am – 1 pm | Embarcadero
The 3rd year of the non-motorized paddle parade rounds out a great weekend of festive parades on the bay. Open for anyone to join, Kayaks, Standup Paddleboards, small sailboats, surfboards, or any craft that floats take to the water. Sign-up to paddle a vessel for a chance to win cash prizes or come watch the spectacle and feel the holiday spirit. Either way, costumes, boat décor, and lots of fun are in store!  The Annual Paddle Parade is brought to you by The Rock community radio station – a local Morro Bay non-profit. All funds raised from the paddle go to support the station. Your Grand Marshall on the water will be The Paddleboard Co owners Sandi and Ken Twist. To register click here.

Locally Made Artisan Holiday Shopping #morrobaymakers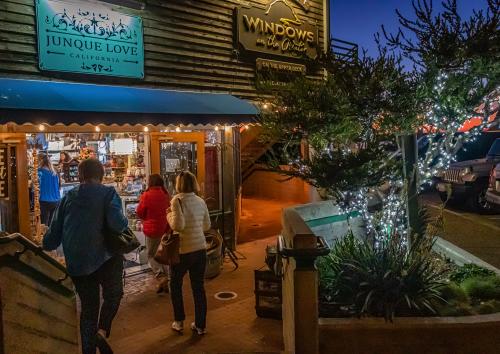 If you're looking for gifts outside the big-name box shopping centers, discover Morro Bay's artisan makers. From handmade glass beads, craft olive oils, baked goods to custom leather goods and fresh saltwater taffy, Morro Bay has a distinct #craftculture and is filled with unique products that make great gifts for the holidays. Click here for more holiday shopping ideas!
Fantastic #OutdoorGoals Holiday Destination
If you like to travel, get out and make waves in the winter, Morro Bay is your holiday destination! Mild weather and an abundance of outdoor activities keep locals and visitors moving and shaking over the holidays. From hiking, cycling and kayaking, to kite surfing or paddleboard yoga, there is an adventure to suit everyone in your active family. Check out these #outdoorgoals video shorts!
Click here to find rates and availability!

For more travel information follow Morro Bay Tourism on Facebook, Instagram, Twitter and Pinterest.
###
About Morro Bay
A true #outdoorhub, this active seaside fishing village with bustling waterfront offers a fun and funky getaway for travelers who seek great wine, seafood and outdoor adventures filled with wildlife watching. Located along coastal Highway 1 in San Luis Obispo County just south of Big Sur, midway between Los Angeles and San Francisco, Morro Bay offers year-round activities in an unspoiled slice of California.  From ocean-side golf, kayaking, sailing, hiking, fishing, surfing, biking, and bird watching, to kite flying, shopping, dining, wine bars, local craft brews and miles of unspoiled beaches, there is something for everyone.
Sitting majestically between the beach and the harbor lays the iconic and historic landmark Morro Rock, welcoming travelers from miles away as they approach Morro Bay. Located just minutes from world-renowned Hearst Castle, historic missions, breathtaking Montana de Oro State Park, and surrounded by vineyards from Paso Robles to Edna Valley, Morro Bay is a destination designed to fit any style and budget for families, couples or groups. Morro Bay also offers a myriad of year-round events including food, wine and music festivals, art fairs and car shows unique to the town. For more travel information visit www.morrobay.org or follow Morro Bay on Facebook, Instagram, twitter and Pinterest.