It's that time of year when the events are rolling-in here in Morro Bay – the perfect time to prepare for and plan your upcoming visit.  Check out the breakdown of all the major upcoming events this winter and spring, along with recommendations on how to make the most of your travels with some easy preparation before leaving home and when you first arrive in town.  Come for the events and stay for the fresh seafood, water adventures along the Embarcadero, to shop the original downtown makers, and more!  
How to prepare for your visit –
1.)  Research events:
Yachts decorated in twinkling lights for the holidays cruising in the bay, giant sea creature kites floating overhead in the beach breeze, the first annual epic World Surf League competition, and more!  We've broken down all the major upcoming events below, so get out your calendars and start planning your perfect itinerary at the coast. 
City Wide Holiday Tree Lighting Celebration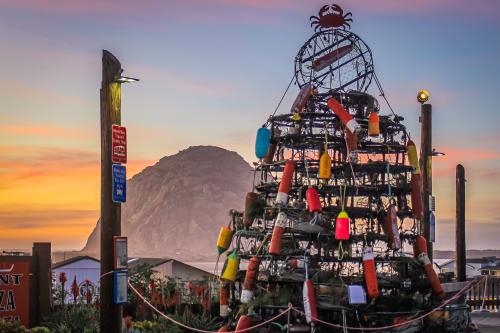 Date: December 6
Location: City Park and beyond
Start time: 3:30 pm
Perfect for: families and anyone who enjoys the feeling of community around the holidays
Starting at 3:30 pm in City Park, enjoy holiday performances and festive treats.  There's a chance to visit with Santa, and of course the main event…the lighting of the City Park tree for the holidays.  Crab pot trees throughout town will also be lit, so after the celebration take a trip around town and see if you can find them all.  Don't miss is the large crab pot tree made with commercial fishing pots lit and located at Anchor Memorial Park along the Embarcadero.    
Santa House
Date: Every Friday & Saturday December 6 – 21
Location: Centennial Park at the Giant Chess Board
Perfect for: family photos
Santa's coming to the Embarcadero!  Come visit and get a picture with Jolly ol' Saint Nick.  You can find the man of the season in his house located next to the Giant Chess Board on the Embarcadero throughout December.  There's no charge for photographs with Santa.
Friday Night Lights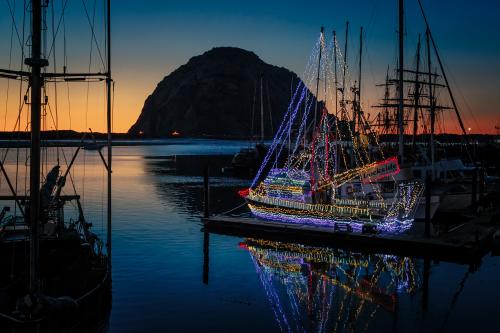 Date: December 6
Location: The Embarcadero
Start time: dusk
Perfect for: date night…did someone say dinner and a show?
Make your dinning reservation for a night of great food and holiday sights as local large vessels and commercial boats cruise up and down the Embarcadero waterway.  The parade of holiday spirit is brought to you by these waterfront restaurants: Blue Sky Bistro, Dutchman's Seafood House, The Great American Fish Company, Giovanni's Fish Market & Galley, Hofbrau, The Libertine Pub, Port House, STAX Wine Bar & Bistro, Window's on the Water.  Be sure to call and make reservations in advance! 
Lighted Boat Parade with cash prizes for best lights
Date: December 7
Location: The Embarcadero
Start time: dusk
Perfect for: anyone looking to get into the festive spirit
Don't miss the 34th Annual Lighted Boat Parade along the waterfront.  The Morro Bay fishing, leisure, and yachting community compete for prizes by stringing up mesmerizing lights that celebrate holiday cheer.  It's the night to celebrate holiday wonder along the Embarcadero.  We recommend arriving by 4 pm to get the perfect viewing spot!    
Paddle Parade with cash prizes for best costumes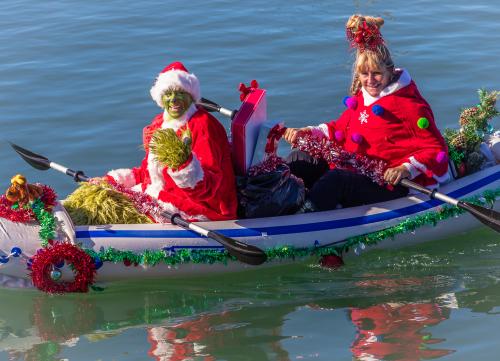 Date: December 8
Location: Coleman Park
Start time: 11 am
Perfect for: the fun loving who enjoy costumes 
The non-motorized paddle cruise rounds out a great weekend of festive parades on the bay.  Kayaks, standup paddleboards, small sailboats, surfboards, or any craft that floats take to the water.  Costumes, boat décor, and lots of fun are in store!
Caroling Cops
Date: December 9- 11
Location: Morro Bay
Time: 5 – 9 pm
Perfect for: the original seekers
Join local police employees, Santa, and the Morro Bay Trolley for a truly unique holiday experience.  This is the ONLY such event in the entire County!  There will be singing in the streets and gift for the kids – so bring the family.  To join the fun, plan ahead and request information from Morro Bay Police Department.     
Winter Bird Festival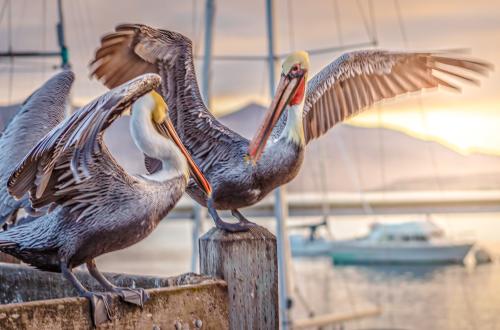 Date: January 17-20
Location: Community Center
Perfect for: ecotourists and bird lovers
Morro Bay is an ideal spot for birders.  Recognized as a globally important bird area, Morro Bay is located along the Pacific Flyway and receives an influx of migratory birds this time of year.  The Festival includes over 140 events such as field trips, workshops, and presentations.  Register early to reserve your spot in hosted events, come for your own birding itinerary, or take advantage of "Family Day" on Saturday that is open to the public (doesn't require pre-registration). 
SLO CAL Open at Morro Rock
Date: February 27 – March 1
Location: Morro Rock
Perfect for: avid surfers and surfing fans
With miles of wide-open, unspoiled, sandy beaches offering awesome surf breaks – Morro Bay is a popular place to catch a wave. Watch up and coming surfers from around the world compete at the iconic Morro Rock during this World Surf League event! 
City Wide Yard Sale
Date: April 3 – 5
Location: Morro Bay
Daily start time: 8 am
Perfect for: treasure hunters and bargain shoppers
One city, one weekend, hundreds of sales!  Guilt free shopping at its finest, you'll never know what treasures you'll discover at the Morro Bay City Wide Yard Sale.
Plein Air Still Life & Landscape Workshop with Guido Frick
Date: April 14 - 15
Location: Art Center Morro Bay
Perfect for: artists of all levels
International, plein air artist and instructor Guido Frick will teach students his impressionistic style during this hands-on, two-day workshop.  Day 1 will consist of a still-life subject and Day 2 will be a plein air landscape in Morro Bay.  All levels are welcome.  Students may choose to paint in oil, acrylic, or watercolor.  Pre-registration is required for the course with Frick who has been described as the "living" Bongart. 
Morro Bay Kite Festival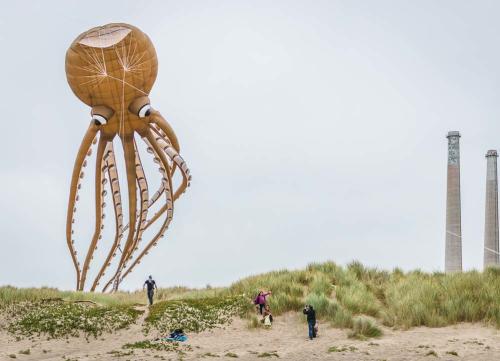 Date: April 24 – 26
Location: Morro Beach
Perfect for: all ages and all kite flying abilities
FREE annual event for kite enthusiasts and families.  Spend the day at the beach as giant and colorful kites take to the sky overhead.  There will also be food, toys, and all sorts of activities to try! 
Cruisin' Morro Bay Car Show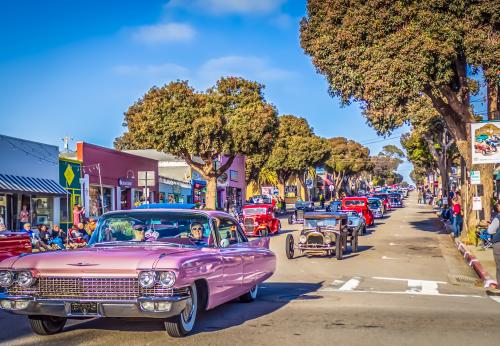 Date: April 30 – May 3
Location: Downtown Morro Bay
Perfect for: car aficionados
Buckle in for a weekend of cruises, displays, and of course prizes.  The Morro Bay Car Show hosts more than 500 stunning vehicles (from California and beyond) with the beautiful bay and Morro Rock as the backdrop.  Come enjoy the City buzzing with classic cars all week long.    
2.)  Check out deals/promotions:
Save a little so you can enjoy more things while you're in town!  Don't miss out on any of the specials being offered in Morro Bay.  Some of the best deals will be mid-week – a great excuse to extend your stay.  Find all the current deals here. 
3.)  Book a room:
Be sure to reserve your accommodation in town as most Morro Bay hotels are within walking distance to event locations.  With a variety of rooms, you're sure to find a hotel to check all the boxes. 
4.)  Arrive:
Let all your stress fall behind as Morro Rock comes into view.  Take in the salty breeze and feel the sand between your toes, by heading to the beach before making the short trip to your hotel for check-in. 
5.)  Event optimization:
After you drop off the bags, it's time for registration packet pickups, map strategizing, and last-minute weather checks before the festivities kick off.  This varies by event…read the event details for more information.    
6.)  Food break:
There are so many great eating options in Morro Bay that this step won't be hard.  However, you'll want to make sure to prioritize trying some fresh seafood while you're in town – salmon, Dungeness crab, Morro Bay oysters, and lingcod are some local favorites.
7.)  Round out the itinerary:
Morro Bay has so many fun ways to get moving and explore the areas' natural beauty.  Water adventures ranging from kayaking and paddleboarding, to whale watching and fishing, are all at your fingertips.  Hiking, biking, and trail running are also great ways to experience some of the off the beaten path locations around town. 
Inspired by all the upcoming events, start preparing for your winter and spring Morro Bay getaways now!  For more information visit morrobay.org or call the Visitor Center at (805) 225-1633.