Spring Break is on the horizon and it's time to plan your coastal getaway.  Take advantage of time off school and work in Morro Bay – the perfect escape for the entire family.  Nice weather, a variety of beaches, abundant outdoor activities, and perfect sunsets.  Morro Bay is your spring break destination.  Morro Bay is family friendly, convenient for college visits, offers alternative spring break activities, great savings, and transportation here is easy.
 
Here's why you should spend spring break in Morro Bay:
Family Friendly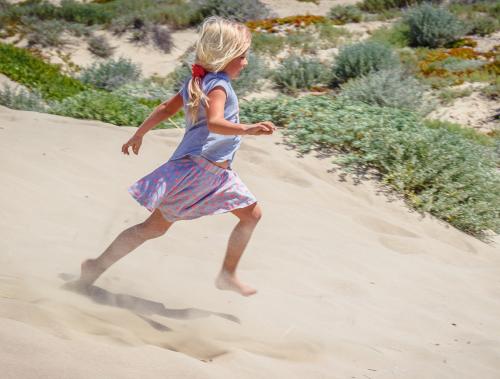 The coast is great place for the whole family to rest and recharge.  Head to the beach for a day of relaxation on the sand.  Spend time outside with the perfect activities that everyone will enjoy and create fun family memories!  For example, hop on a surrey that easily fits a family a four for a quick and quirky way to explore the town.  Head out to the Rock for a short ride or take a spin around the Embarcadero and enjoy the sights, sounds, and shops along the waterfront.  Or rent an electric boat and take the whole family out for a sunset cruise – check out the rental options here.  
Convenient for College Visits
Take advantage of spring break with your student and explore the local colleges.  Spring is the perfect time to visit, as classes will be in session and you'll get a good feel of the campus (unlike during summer break).  Morro Bay is the place to stay and easily visit Cal Poly and Cuesta College.  You'll be able to enjoy the area and get a feel for what these schools have to offer.  And next year when your student chooses to study on the Central Coast, Morro Bay is the perfect spot to stay that is close to campus but far enough away to provide a break from the hectic campus life.  It's also a must stop when taking a college tour road trip between San Francisco and Los Angeles!
Alternative Spring Break
With tons of natural beauty and protected lands, Morro Bay offers exciting alternative spring break opportunities as well.  Enjoy the fresh seafood and the beach, but also, make a difference by learning more about the natural environment and spending some of your break volunteering.  Stop by one of our four museums to learn more about Morro Bay's natural and cultural history.  After you know more about the ecology here and how important the natural environment is, pick up your own beach cleaning kit from the National Estuary Nature Center.  You'll be surprised how much of an impact you can have when you spend even an hour cleaning up the sand.  It's also a great excuse to really look around and observe the plants and animals that live here.
Game idea : see who can spot the most sand dollars during the beach clean or try to fill up your clean up bucket in a certain time frame and reward the group with a treat – did someone say Morro Bay saltwater taffy?
Local tip : If you're looking to dive into learning more about the natural environment try a nature tour.  They are offered from the state park on diverse topics.  Alternatively, head out on the water for a paddleboard nature tour – this tour is sure to keep everyone moving and engaged! 
Spring Deals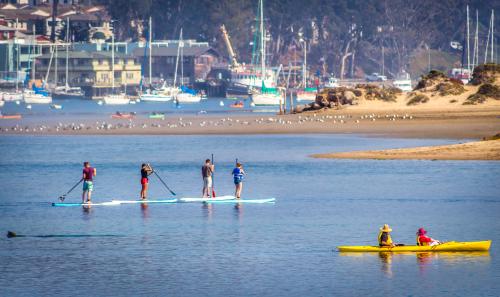 When you book your spring break in Morro Bay expect hotel deals and mid-week savings.  You'll also find savings March – May on outdoor activities around town with the Get Outside promotion.  Money off on kayak, paddleboard, bike, surfboard, and boat rentals, as well as, savings on whale watching, fishing trips, and bay tours!  With all these savings you'll be able to pack in even more fun activities.  
Road Trip
Another reason to pick Morro Bay?  It's easy to get to.  Located just off Highway 1, Morro Bay is effortless to access, but feels like a true escape along the coast.  Pack up the kids in the car and hit the road – we're just a short drive away.  Or take advantage of the SLO County Regional Airport and the Amtrak Pacific Surfliner if planes or trains are more your style. 
Whether you're looking for a spring break destination that has outdoor fun for the whole family, makes college visits easy, or offers alternative learning and volunteering spring break activities, Morro Bay is your spring break destination!  And now you can take advantage of great spring deals.  Book your trip today.  For more information call the Visitor Center at (805) 225-1633.