Oyster farming in Morro Bay began in the early 1900s and has been a part of our rich aquaculture ever since.  In honor of National Oyster Day we've included where to find ready-to-eat Morro Bay oysters in local restaurants, as well as, some fantastic oyster recipes so you can buy your own Morro Bay oysters and prepare them at home.  
Locally Grown:
Oysters thrive in the cold, nutrient-rich waters of Morro Bay.  This perfect convergence of fresh and salt water carries constant changes in salinity, temperature, nutrients and tides, resulting in a healthy home for robust oysters.  
Morro Bay is known for cultivating two varieties of homegrown oysters in the bay: Pacific Gold and Grassy Bar.  They both call our bay home, but the flavor profiles can be quite distinct.  Their shell colors make it even easier to tell them apart.  Grassy Bars commonly have a green swirl whereas Pacific Golds display a touch of purple. 
Flavored by the water in which they grow, Oysters are filter feeders.  They clarify the bay, making them an environmentally friendly seafood.  Morro Bay oysters often have a cucumber-melon flavor from the volcanic, nutrient-rich, soil's minerality, and a sweetness due to the fresh water flowing into our bay.  These conditions create a combination of tastes you cannot find anywhere but Morro Bay, California.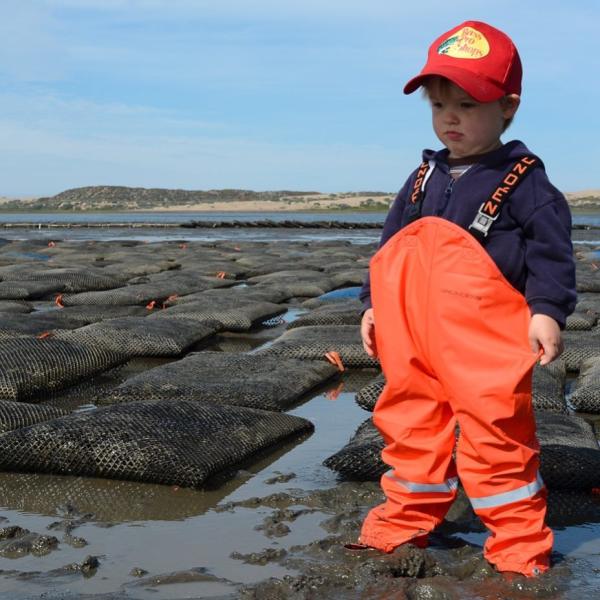 Grassy Bar Oyster Company –
A family-owned farm conceived in 2009, Grassy Bar is proud to deliver carefully-produced oysters to Morro Bay locals and restaurants as well as other nearby coastal cities. Additionally, they are also available nationwide with overnight shipping directly from the farm. The oysters grow on the mudflats of the bay's intertidal zone, creating a strong briny taste with an unmistakable hint of garden cucumber. Best served with a fresh-squeezed lemon, the flavor is uncopiable. 

(Photo courtesy of Grassy Bar Oyster Company where oyster farming is truly a family affair)
Morro Bay Oyster Company –
Since 2004, founder Neal Maloney has worked relentlessly to produce the freshest oysters possible for Morro Bay. Harvested by hand, the Pacific Gold Oysters spend 6 to 8 months in a highly-monitored nursery to prepare them for the harsher waters of the bay. Once of age, the oysters are then transferred to the bay in large mesh bags to allow plankton to freely swim through the farm. After 12-18 months, the oysters are then harvested and allocated to some of the best seafood restaurants in town as well as local farmers markets.  The oyster company has recently added Pacific Reserves to their oyster beds.  Reserves are tide tumbled, increasing the stress on the oysters and resulting in a sweeter flavor.
Delicious and Ready-to-Eat:
A popular treat in Morro Bay, there are several locations that serve up oysters just the way you like them.  Here are some of the best spots to enjoy –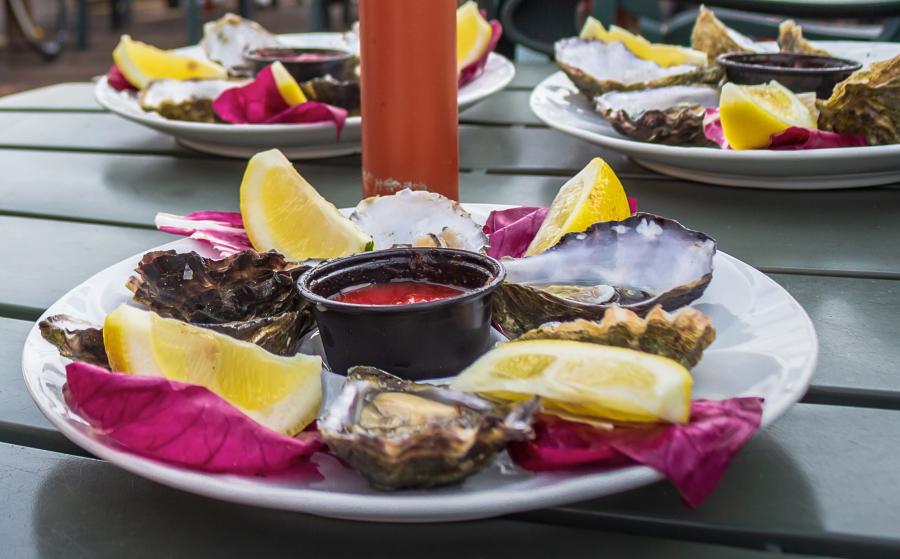 Windows on the Water Oyster Tuesdays:
Windows on the Water hosts $0.94 oysters every Tuesdays from 5pm until closing exclusively at their oyster bar. Eat them raw off the shell, fried, or shooter-style to tie-over your oyster craving.
Tognazzini's Dockside Too Barbecued Oysters:
Home of the giant barbecued oyster, Tognazzini's Dockside Too is a fresh fish market with outdoor dining on the waterfront.  Taste fresh Morro Bay Pacific Gold Oysters on the half-shell, or enjoy a giant barbecued oyster the size of your fist! Paired with fresh lemon and homemade cocktail sauce, you'll want more than one.
Dutchman's Family-Style Oysters:
Straight from the bay, Dutchman's serves up a family-style tray of half-dozen oysters on the shell. Paired with your favorite sauces and fresh lemon, this is the perfect appetizer for a family of seafood-lovers.
Giovanni's Oysters and Chips:
Looking for something more than traditional Fish and Chips?  Giovanni's Fish Market & Galley had deep fried oysters & chips on the menu along with four preparations of bbq'd oysters. Their outdoor patio, with views of Morro Rock, is a great place to spend a tasty afternoon.  And if you can't get enough of their oysters,  ask about their annual oyster eating contest in October.      
Great American Fish Company Oyster Shooters:
Great American Fish Company serves up their oyster shooters the traditional way, with spicy cocktail sauce, as well as, a version with vodka.  Their menu also includes the more common on the half shell and bbq'd preparations.  
Dorn's Breakfast Oysters:
You may think you've had oysters in every way possible, but have you had oysters for breakfast?  Stop in at Dorn's Original Breakers Café and order the Hangtown Omlette stuffed with sautéed pacific oysters, garlic, onions, mushrooms and white wine.  Served from 7 am – 1 pm every day.  
STAX Oysters and Wine:
Enjoy a dollar off all raw oysters at STAX Wine Bar with your glass of local vino during weekday happy hour (between 3pm and 6 pm) and every Sunday during Bubbles Tasting. 
Take home your own Morro Bay oysters and try these local recipes:
Champagne Drunk Oysters
By Teri Bayus
Pick a dozen or two live oysters up from the fishmarket and take them to the pier.  Sit on the side and watch the otters.  Suck the oysters,  rinse them with champagne, causing them to get drunk and to wash away shell pieces. Then add one dab of horseradish, a squeeze of lime, and one drop of Tapatio sauce (optional).  Slurp an oyster and take a sip of champagne.  Then break off a piece of French bread.  Repeat.  
Oyster Stew
By Giovanni's Fish Market
In a 4-quart stock pot, over low heat, melt butter, and add onions, mushrooms, and garlic.  Sautee until glazed.  Add clam juice, parsley, dill, salt and pepper.  Bring back up to temperature, and add carrots, potatoes and oysters with juices.  Let it simmer for about 5 minutes.  Wisk together flower and half and half and then add mixture to the pot and cook on med-low for 5-10 minutes until soup thickens slightly.  Remove from head and serve immediately.  Garnish with dash of paprika.  Find the complete recipe here.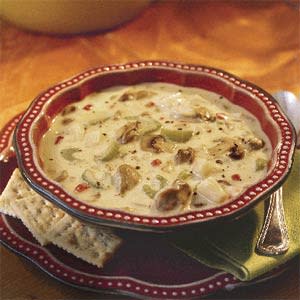 Caviar Oysters with Melted Leeks & Chervil
Submitted by Carole Truesdale from a recipe by Craig Deihl
The Distinctive contrast of salty caviar and creamy oysters makes this a truly special dish.  Buttery "melted" leeks add richness and makes a lovely presentation nestled in the bottom of the oyster shell.  Click here for the full recipe.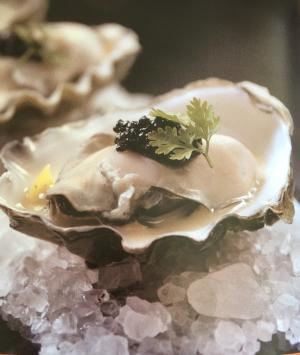 Barbequed Grassy Bar Oysters
By Grassy Bar Oysters
BBQ Grassy Bar Oysters with garlic butter, panko, parmesan, cayenne pepper and parsley. Serve with a sliced baguette and cucumber salad for a complete meal.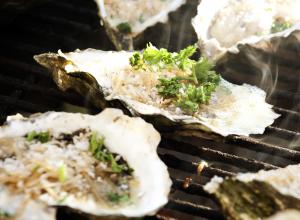 Pacific Gold Oysters with finger lime and Crème Fraiche
By Morro Bay Oyster Company
Put a small dollop of crème fraiche on, squeeze a small sized finger lime on top and finish with 1-2 sprigs of micro cilantro.  Find the complete recipe here.
Whether you enjoy your oysters here at Morro Bay restaurants or when cooking your own recipes at home, imaging these oysters thriving in the bay's cold, nutrient-rich waters. Picture the strong wind and currents of the Pacific Ocean routinely greeting the peaceful streams that empty into the bay. Then serenely smile, as down the hatch they go.