Join us for three days of fun on the waterfront.  With a new location and extended line-up, there are many reasons the 38th annual Harbor Festival is an event not to be missed.  But not everything is changing, the heart of the festival – celebrating Morro Bay's maritime industry and history – is here to stay. 
Morro Bay Harbor
The harbor is a vital part of what makes Morro Bay's waterfront bustling with activity.  Commercial and sport fishing charters, whale watching and boat tours, as well as otters, seals, and birds all use the harbor today and help to create the town's identity.
"The primary purpose of the Morro Bay Harbor Festival is to celebrate…Morro Bay and its Harbor: the local fishermen, fisherwomen, and marine related industries, the harbor department, Coast Guard, and the National Estuary Program. The aim is to share the health and prosperity of all things harbor related, past, present and future." – Morro Bay Harbor Festival
Three Days! 
This year's Harbor Festival, October 4, 5, & 6th, features an extended line-up for three days of excitement.
Music – With nearly 20 shows throughout the weekend, including a sunset kickoff concert Friday night, there's something for everyone.  Find the complete line up here.   
Food – It wouldn't be a Harbor Festival without fresh seafood!  And whether you are interested in entering or just watching, be sure to stick around Saturday afternoon for the annual "Giovanni's Down the Hatch" Oyster Eating Contest.
Drink – Check out the beer and wine garden that will make you feel like you've entered a traditional old-style German Beer Garden.  There will be local wine available as well.
Fashion – The Hawaiian Shirt Contest is a tradition at Harbor Festival.  Check out the ten categories, plan your outfit, and head to the stage on Sunday to show off your patterns and win prizes. 
Stay & Save 
Staying at a local hotel makes it easy to get to the event grounds all weekend, and to take advantage of local water adventures.  For a bonus, when you book a two-night stay during October you'll receive a complimentary bottle of wine on us!  Extend your stay to really get a taste of Morro Bay and enjoy mid-week savings.  
New Location
This year's festival grounds are located along the Embarcadero next to the Morro Bay Maritime Museum.  The "pedestrian event zone" is on the waterfront making it easily accessible.  Utilize the free parking and shuttle service available from Morro Rock, or the free trolley servicing all of Morro Bay.  Park the car at your hotel and jump on the trolley or bike in and utilize the bike valet!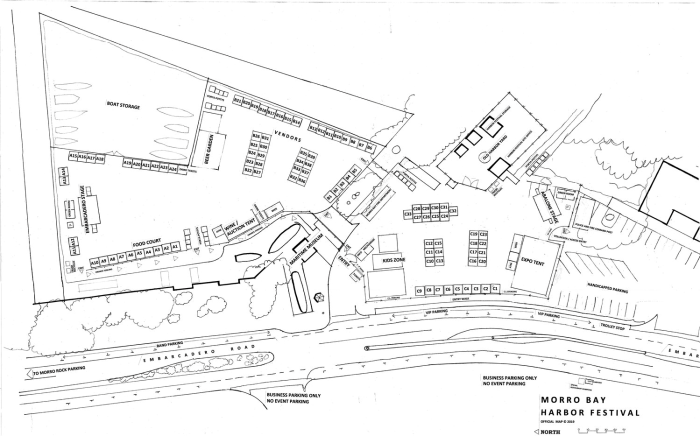 Bring the Whole Family
The kids have their own entertainment and programing on the Abalone Stage.  There will also be inflatable rides, face painting, balloon art, food, drink, and more to keep everyone engaged all weekend long!  
Visit Morro Bay for three days of waterfront fun by booking a room and reserving your Harbor Festival tickets today!  For more information visit morrobay.org or call the Morro Bay Visitor Center at (805) 225-1633.